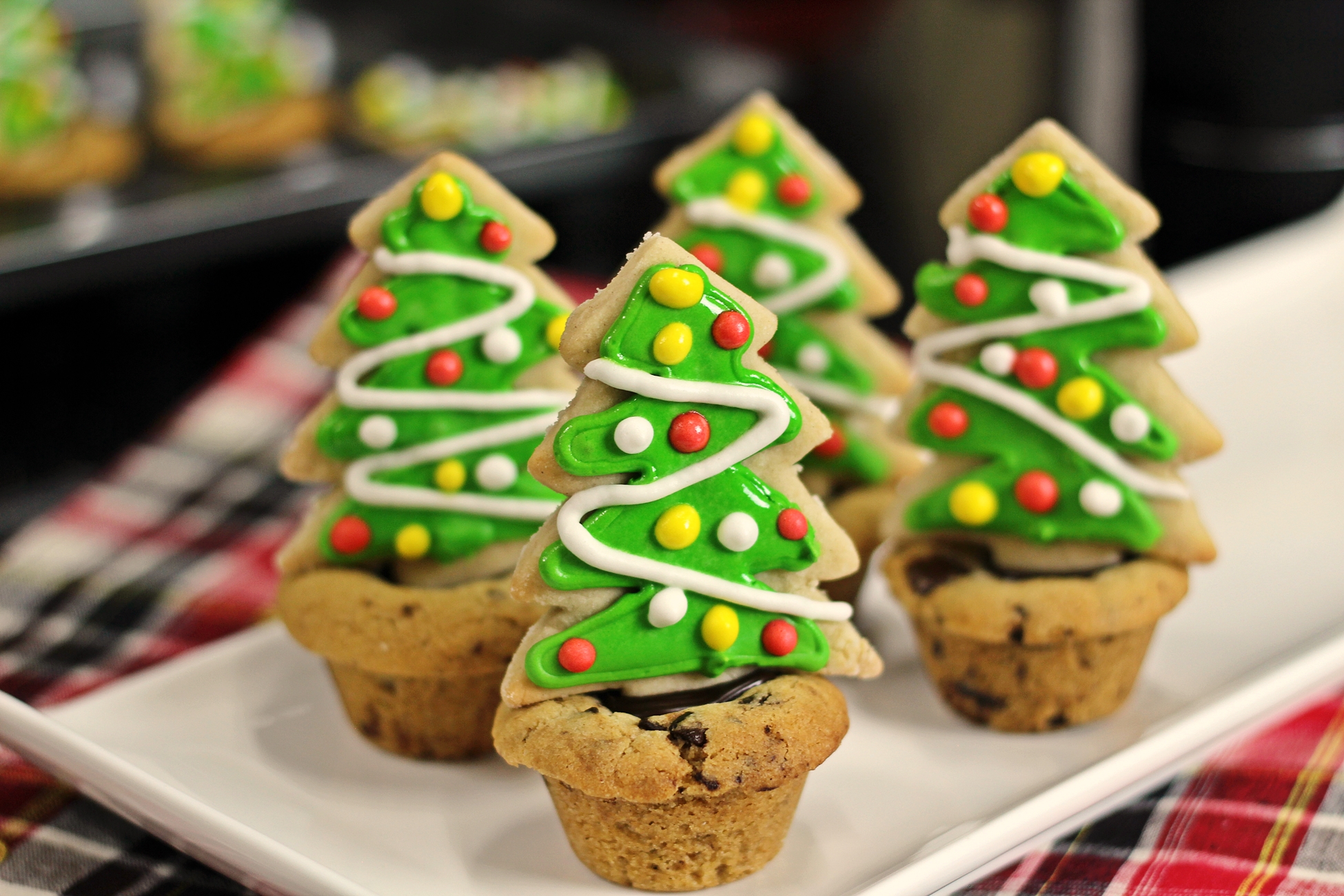 Chirstmas Tree In a Pot – Christmas Cookie
Christmas is around the corner!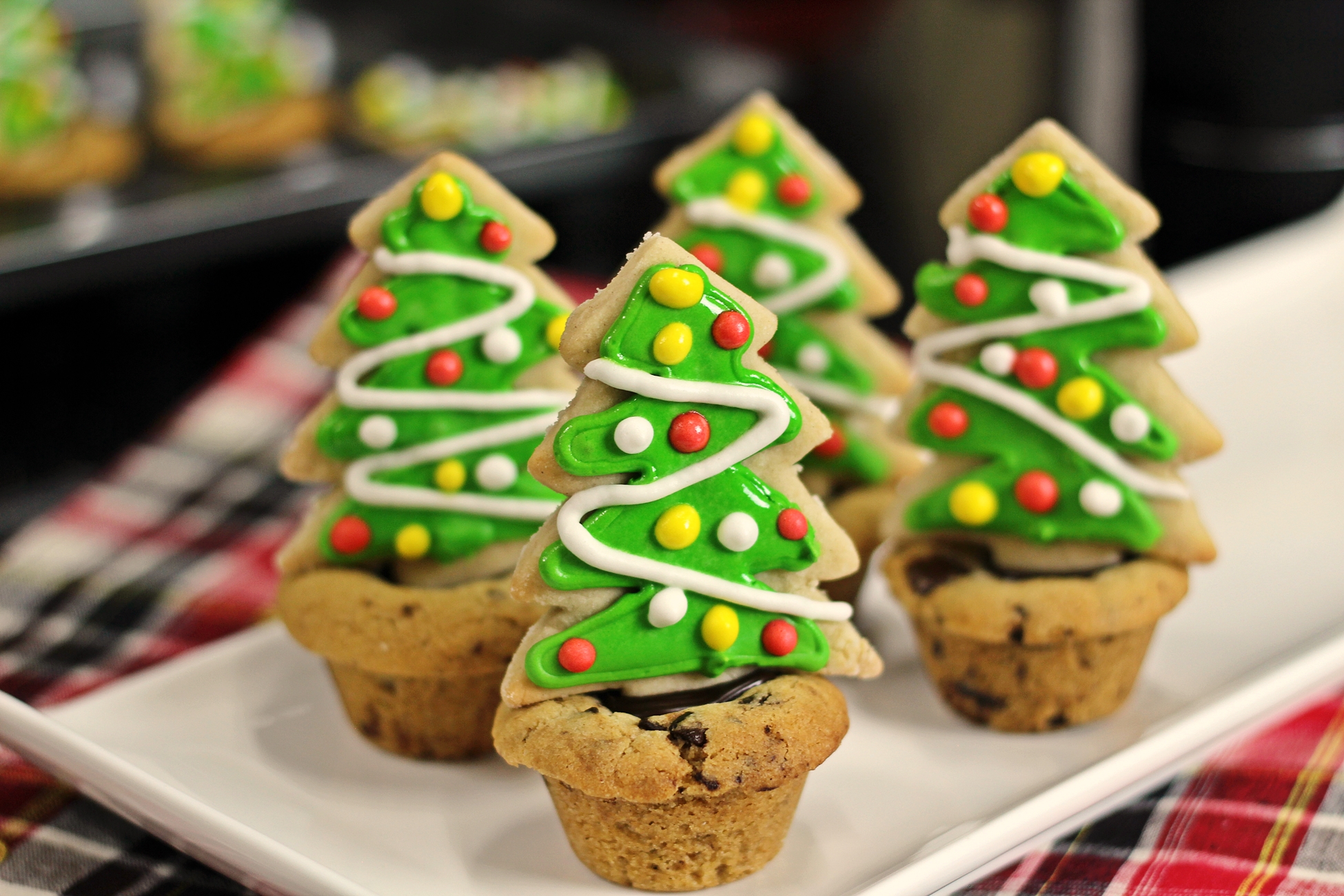 For this year 2014, I will show you guys how to make these cute little Christmas Tree In a Pot sugar cookies that will sure to impress everyone. It is also great to be wrapped as a Christmas gift! Just a warning, these little cookies comes with a price of your time even though they are fairly easy to make, it is very time consuming. Make sure you have the time!
There are 3 parts for this recipe, Christmas tree cookie, royal icing and pot cookie. So make sure you organize the time yourself for this recipe to make sure things are going along smoothly! Don't worry, everyone will appreciate your hard work and 不舍得吃 (could't bear to eat it).
Basically, you will have a sugar cookie, and a chocolate chip cookies that has been infused with a slight touch of cinnamon to bring up the festive session for each and every Christmas Tree In a Pot Christmas Cookie.
I'm sure this Christmas you will sure be loved by all your family and friends with your hard work. To be honest, I had to rush this recipe out due to my surgery on the 12th of December 2014. (it's not easy as it was my idea from my brain and had to present it in real life. Initially I wanted the Christmas tree to be made out of baked-donuts but it turned out horribly ugly and I messed my whole kitchen. Erhh….)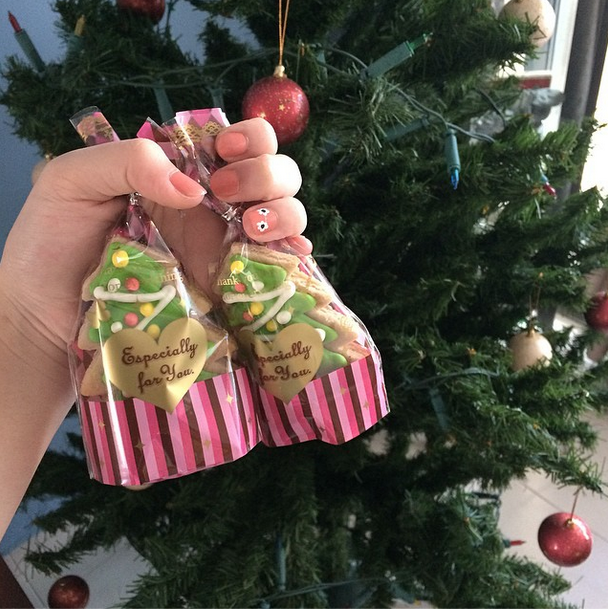 Christmas Tree In a Pot
2014-12-12 16:21:55

Serves 12
Christmas Tree Sugar Cookies
1/4 cup of unsalted butter, room temperature
½ cup of icing sugar
1 egg
1 cup of plain flour, plus more for rolling
1/4 tsp. of baking powder
1/8 tsp. of salt
½ tsp. of vanilla extract
¼ tsp. of cinnamon
Royal Icing
1 egg white
1 ½ cups of icing sugar
½ tsp. of vanilla extract
1/8 tsp. of salt
Green, red, yellow food coloring
Pot Cookies
1 ¼ cups of pain flour
½ cup of unsalted butter, room temperature
¼ cup of white sugar
¼ cup of light brown sugar
1 egg yolk
3 tbsp. of dark chocolate, chopped
1 tsp. of vanilla extract
¼ tsp. of cinnamon
1/8 tsp. of salt
¼ tsp. of baking soda
Decorations
2 tbsp. of dark chocolate, melted
To make the Christmas tree cookies
In a large bowl, whisk together plain flour, baking powder, salt and cinnamon. Set aside.
In a mixing bowl, lightly cream butter and icing sugar until light and pale.
Mix in one egg and vanilla extract.
Throw in flour mixture and mix on low speed until just combined. Transfer into a cling wrap and let it cool in the freezer for 20 minutes.
Dust your countertop with some flour, roll out your dough until half a centimeter thickness. Cut out shapes using a Christmas tree cutter that has been coated with flour. Re-roll if needed to repeat.
Transfer into a baking tray lined with baking paper. Let it set in the fridge while you preheat your oven to 180C or 160C-fanforced.
Bake it in the oven for 10 to 12 minutes.
Let it cool while you make your royal icing.
To make the royal icing
Beat egg white, vanilla extract and salt together until frothy.
Gradually add in icing sugar while beating the mixture on high speed.
Beat on high speed for about 5 minutes until thick, glossy and stiff.
Divide the icing into 4 parts, 1 tablespoon for white, red and yellow icing respectively. While the rest for green.
Color them using food coloring. Wrap it with cling firm if you are not using any moment as it will dry out.
Transfer your royal icing into a piping bag individually. Pipe an outer layer of green icing for each Christmas tree. This is call outlining
Let the icing set for at least 5 minutes before filling it up with green icing that has been slightly diluted with some water for easy flooding.
After filling it up, let it set for at least an hour until the whole green icing has been set.
Decorate the cookies with the different color of icing to your liking. Let it set.
To make the Pot Cookies
In a bowl, whisk together plain flour, cinnamon, salt, and baking soda. Preheat oven to 180C or 160C fan-forced.
In a mixing bowl, cream together butter and both sugars until light and fluffy.
Add in one egg yolk and vanilla extract.
Gradually mix in some flour mixture until combined. Fold in chopped dark chocolates.
Transfer tablespoonful worth of dough into mini cupcake pan.
Bake it in the oven for 8 to 10 minutes.
Once it's out from the oven, immediately coat the end of every Christmas tree with melted chocolate and squash it into the center of every pot cookies.
Let it cool in the fridge and serve. Or wrap it up as a Christmas gift.
TheZongHan https://thezonghan.com/
If you have kids, ask them to join you in to help you roll out the deliciously pot cookie into balls to be baked in a mini cookie pans. Or let them do the decorations. It will not be perfect, but will sure to have some fun family bonding session together.
Get a special 'Christmas Frosting Kit' as gift with purchase of the iconic KitchenAid 4.8 L Tilt Head Stand Mixer from 1st-31st December 2014, and make delectable memories this Christmas. For more details, visit www.christmas.kitchenaidapac.com #KitchenAidTurnsSanta