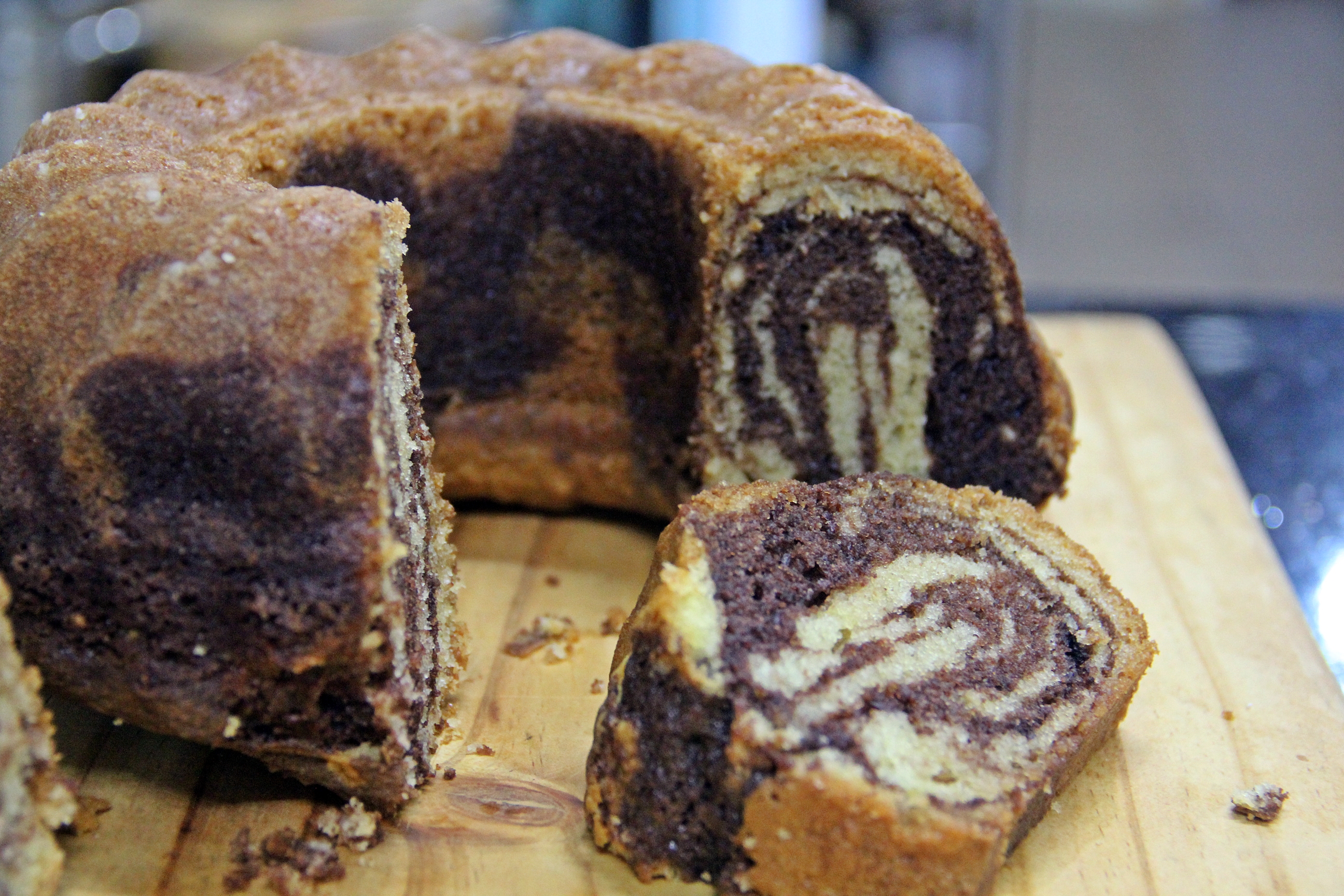 Marble Cake, gets best of both world, vanilla and chocolate. It's like, when you are in the mood for vanilla yet chocolate is your favorite too. This recipe is really delicious, made with real chocolate instead of cocoa powder. And with some tip and tricks, you will get the most beautiful swirl in the cake which makes it look elegant. You sure will impress your family and friends.



This cake goes great with ice cream!


Marble Cake
2014-11-16 14:57:22

Serves 10
Ingredients
80 grams (1/2 cups) of semi-sweet chocolate
150 grams (1/2 cups) of unsalted butter
200 grams (1 cup) of white sugar
3 eggs
2 tsp of vanilla extract
250 ml (1 cup) of buttermilk
325 grams (2 ¼ cups) of plain flour
1 tsp of baking powder
1 tsp of baking soda
¼ of salt
Instructions
Preheat your oven to 160/140C fan-forced.
Melt the chocolate in a microwave. Set aside.
In a large bowl, whisk in your dry ingredients, plain flour, baking powder and soda and salt. Set aside.
In a jar, light beat your eggs and vanilla extract
In your mixer bowl, add in your butter and sugar. Cream on high till light and fluffy. About one and the half minutes.
On medium speed, slowly add in your egg mixture. Then your buttermilk. (If the batter curdle, don't worry as it is normal.)
Add in your dry ingredients on slow until combined and smooth. But do not over-mix, 20-30 seconds is fine.
Divide your batter into 2. Stir in your melted chocolate into one of it and mix well.
Grease your 10-cup (2.5 L) bundt or tube pan either by brushing some oil and flour or non-stick spray.
To make the swirl, on the 1st layer, add in a layer of vanilla batter. On the 2nd layer, add in a layer of chocolate batter. Than vanilla, than chocolate. Lastly with vanilla. This makes 5 layers.
Using a chopstick or knife, make a big circle from the outer of the pan to the inner of the pan. Then, swirl around the batter to give that marble effect. Drop the pan lightly to release the air bubbles.
Bake it in the oven for 55 to 65 minutes.
Let it cool completely than remove the cake from pan to rack to further cooling.
Notes
To make a good cake, all ingredients must be at room temperature.
TheZongHan https://thezonghan.com/