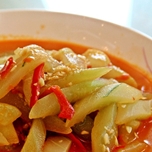 This spicy cucumber is my home-made favorites! When I was young, my mother usually cook this spicy cucumber at least twice a week! This goes great with rice. Cucumber can also be a vegetable dish! It's soft, spicy and tasty!
Apparently, someone on YouTube thought that it was a curry dish. LOL I did not mention the word 'curry'. So, no! It is not a curry dish but rather spicy vegetable dish. I am sure not many have heard of this dish, so don't be skeptical and give it a try if you like spicy!

Spicy Cucumber
2014-11-11 12:05:47

Serves 2
Ingredients
650 grams of cucumber
1 teaspoon of chili powder
1 large chili
2 cloves of garlic, minced
Salt to taste
Mushroom Extract to taste (or any seasoning will do)
1 small chili padi (optional)
Instructions
Using a peeler, peel the skin of the cucumber.
Cut of the sides.
Divide the cucumber into half and half again.
Remove the seeds and cut halves cucumber into bite size pieces.
Soak and wash the cucumber to remove any dirt.
Drain the cucumber well.
Cut the large chili into small pieces.
Minced a small chili padi.
In a wok/pan, add in oil and heat up.
Add in garlic and on top of the garlic add in salt. This will bring out the garlic flavor.
Stir fry garlic till slightly roasted.
Add in chili and cucumber.
Season the cucumber according to taste.
Add in chili powder and continue to sauté for a few minutes to let the cucumber to absorb the favor.
Add in large chili and mix evenly. Add in 1 cup of water and bring it to a boil, simmer for 10 minutes.
Stir occasionally.
After 10 minutes, add in about 1/3 of water and season the gravy according to taste.
Bring it to a boil and shut the heat off.
And now it's done!
Notes
a few teaspoon of sugar if it is too spicy for your tasting helps.
TheZongHan https://thezonghan.com/