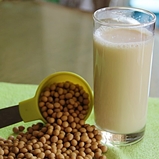 My whole family loves to drink soy milk. In the past, I use to remember my mum often buy fresh soy milk packet in a clear plastic bag from a wet market and it was so good. I also heard from my sister that soy milk is really good for girls, I think what she meant was it boast one's female hormones. Anyway, anyone can drink and should drink because it is damn delicious and nutritious. Just remember to get non-GMO soy beans. Those made from GMO crops are nasty, and you want to avoid that.
Singapore is also known for its beancurd. There are two main kinds of bean curd. One is the traditional version (which is much known in world wide), and the other one is the Lao-Ban version. I do love both. The traditional one taste light and bland which is great for breakfast or a light snack, while the Lao-Ban version taste much more sweet and creamy which is great for dessert. Both texture wise are very much differ too. Traditional one have a silken-tofu like texture while Lao-Ban have a more pudding like texture. Some love the traditional, some love the Lao-Ban style one. I may (been thinking) create a recipe for one of these beancurd soon. But I just dislike the idea of using instant jelly powder for Lao-Ban version as it is made up from carrageenan which have linked to some kind of cancer. Meh….. I may try it with agar agar which is a much better substitute and agar agar aids our digestive system!

Homemade Soy Milk
2014-11-11 12:42:21

Serves 1
Ingredients
1/2 cup of soy beans (soaked overnight)
5 - 6 total cups of water (5 cups for more soy taste, 6 cups for much ligher taste)
2-4 tbsp. of sugar
Instructions
Soak soy beans overnight.
Drain the soaked soy beans and add it into a blender. Add in 3 cups of water and blend well.
Strain using a strainer, squeezing out as much liquid as you can.
Pour back the leftover soy pulp back into the blender.
Add 3 cups of water and blend well.
Strain using a strainer, squeezing out as much liquid as you can.
In a pot, add in raw mixture and sugar, turn the heat to medium high, let it boil for about 5-8 minutes. Stir continuously so that the bottom won't get burnt. Skim of the form on top.
Shut of the heat and strain the mixture again
And now it's done! Chill in the fridge if you wan
Notes
To have gain-free soy milk, it is best to use a strainer and a cheese cloth if you have.
TheZongHan https://thezonghan.com/