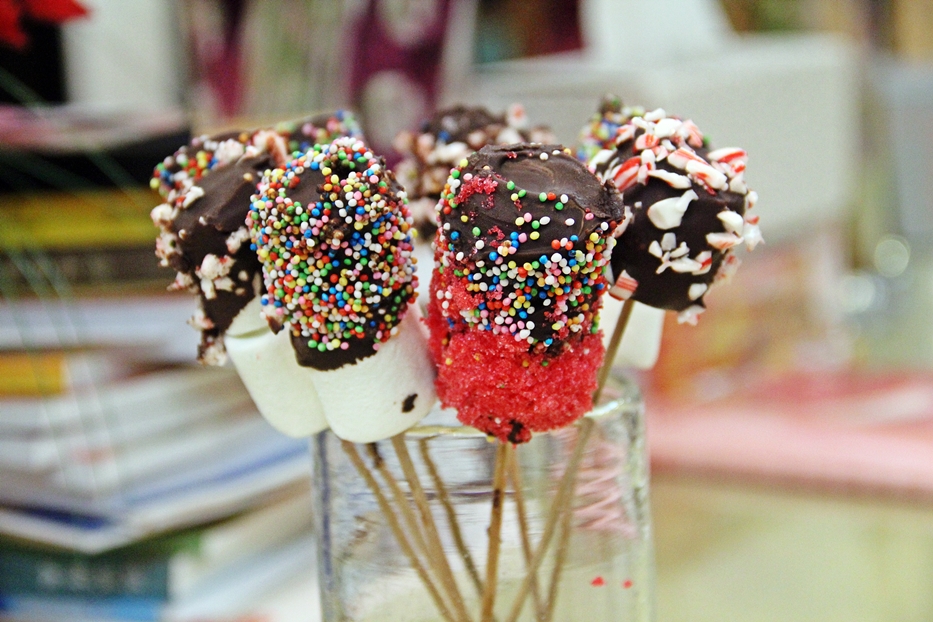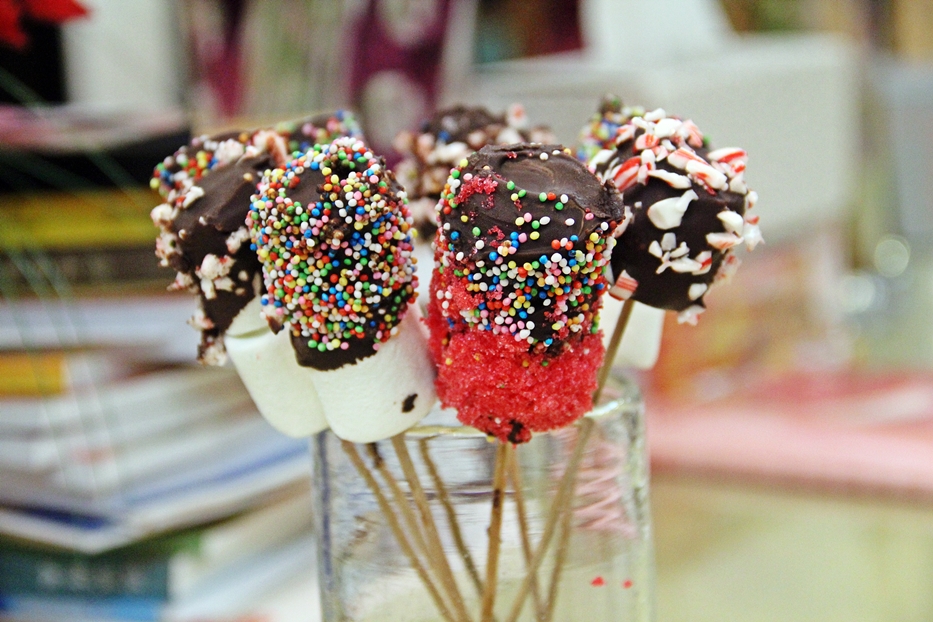 Marshmallow coated with yummy chocolate, It the best of both world. During Christmas season, I would served marshmallow pops to my fellow guests. This recipe goes great with any occasion! I'm not into perfect, I like to get to the result fast, so mine is not perfect. But is okay, It's home-made, right? I hope you give this a try! I mean it looks good, yet easy to make. And the best thing is, your family and friends will sure love it!

It just so happened that it was my mum's friend's birthday and they bought a cake. So we celebrated on that day with a cake and marshmallow pops. I loved the mint one as it was very minty. It is quite funny during the recording process as I am still getting used to recording. The camera actually moved while I banged the candy because I put my camera on the same table. LOL
My friend asked me about how to make sugar sprinkles on one of the marshmallow pops shown in the picture. It is very easy and cost-saving, all you have to do is to mix some food coloring and sugar together. Just a little bit of food coloring will do a big batch. It works and look beautiful on cupcakes etc etc. I will do a video about that someday though.

Marshmallow Pops
2014-11-11 13:28:47

Serves 15
Ingredients
15-25 marshmallow (depending on preference, may differ)
2-3 tablespoon of oil
1 cup of semisweet chocolate chips
Sticks
Choice of sprinkles
Christmas Peppermint Candy
Other sprinkles your prefer
Instructions
Melt the chocolate chips with oil in a sauce pan over low heat. (As low as possible) (Or you could microwave it) Transfer to a bowl.
Coat the tip of the stick with chocolate, stick the stick into a marshmallow.
Freeze for 10 minutes
For the peppermint candy, in a double zip lock bag, add in peppermint candy. Crush them into bits.
Dip the marshmallows into the chocolate, shake off the excess.
Sprinkle with sprinkles and place on waxed paper-lined baking sheets.
Freeze them till harden.
And now it's done!
Notes
I suggest melting in a microwave on low, interval OR melt in a bain-marie.
I have no idea why my old stove could gracefully melt it.
TheZongHan https://thezonghan.com/