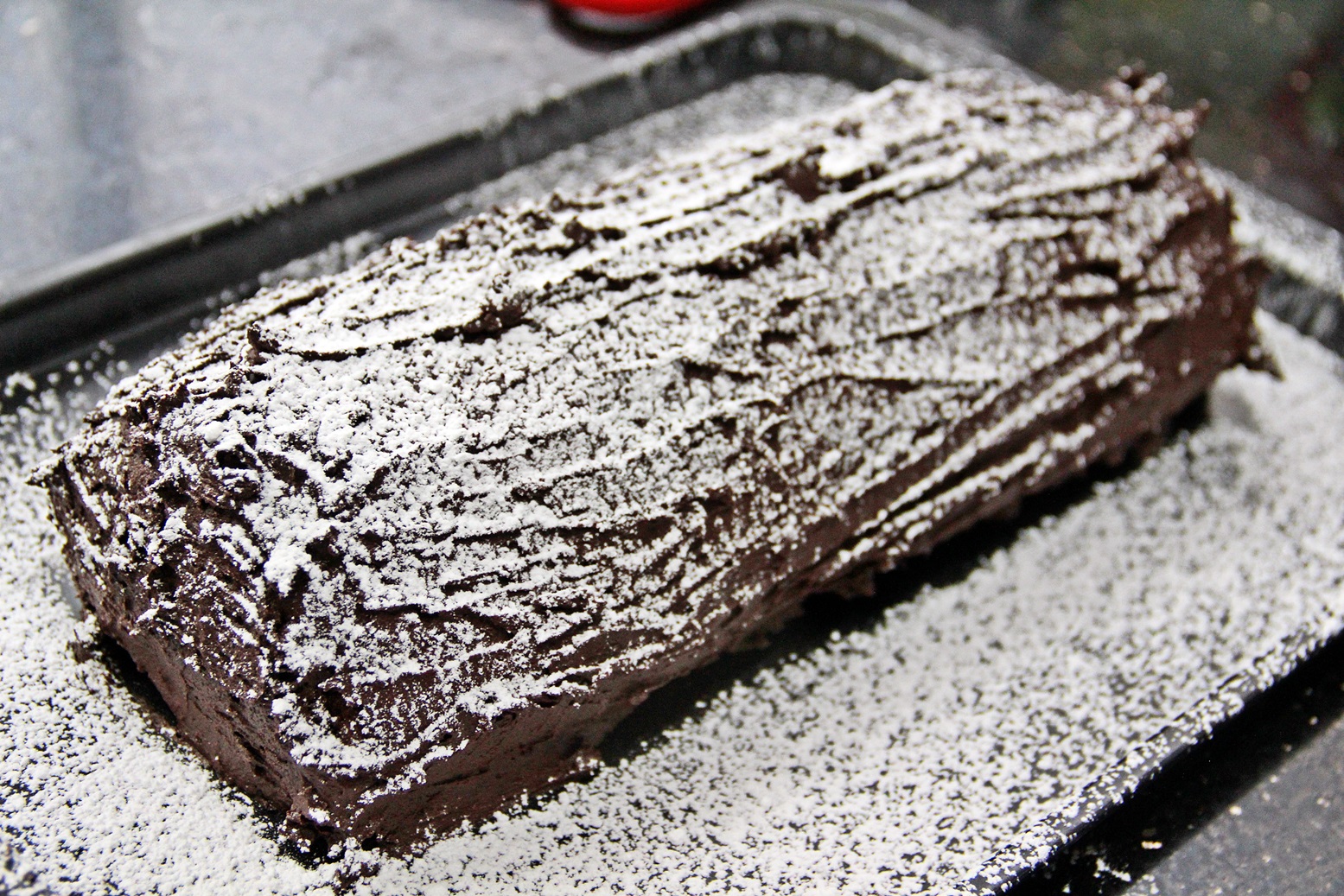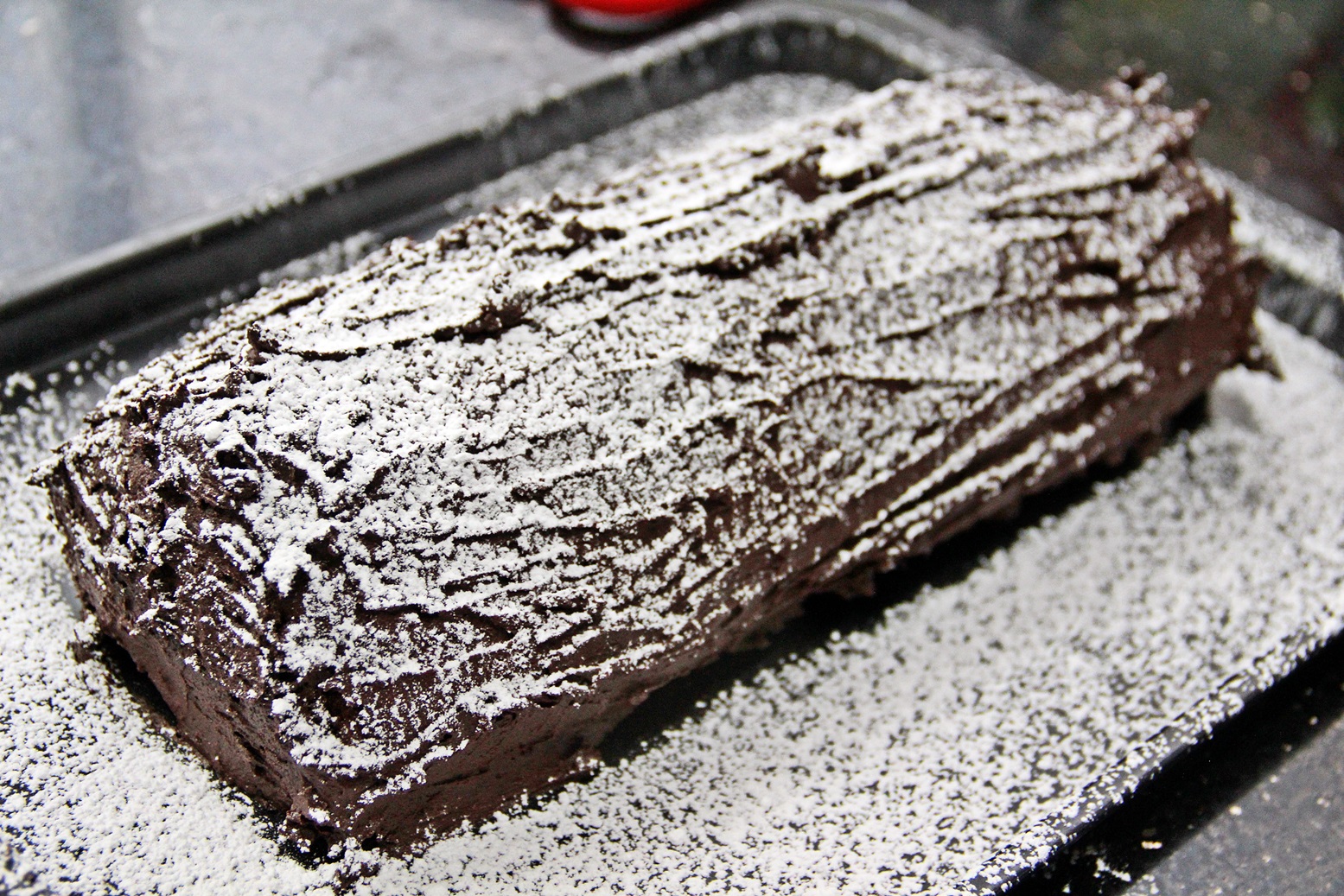 My recipe for the Yule Log Cake is fairly simple to prepare. It is a great choice for Christmas. You can be creative and customize into any size and shape. You also will need my Chocolate Buttercream Frosting to cover the cake.



Yule Log Cake
2014-12-03 02:42:53

Cake
4 eggs
1 tsp. of vanilla extract
5 tbsp. of white sugar
4 tbsp. of cocoa powder, plus extra for dusting
60 grams of cake flour
Syrup
2 tsp. of honey and 4 tsp. of warm water, mix well
Filling (Chocolate cream)
250 grams of whipping cream
100 grams of dark chocolate, melted
1 tbsp, of white sugar
Frosting
For the frosting check my chocolate buttercream here,
URL:http://www.youtube.com/watch?v=kA0LQtrStBM
Cake
Preheat your oven to 200/180C fan-forced.
In your mixer bowl using your whisk attachment, whisk eggs, sugar and vanilla extract on high for a good 5 minutes until white pale and double in volume.
Sift in cake flour and cocoa powder into the air mixture.
Fold dry ingredients into the mixture gently until combined.
Lined your Swiss-roll pan with parchment paper. Pour the batter from heights of about 20 cm into the pan and smooth it using a spatula. Drop the pan lightly on the counter to raise the air bubbles out of the batter.
Bake it in the oven for 8 -- 10 minutes.
Remove the cake with parchment paper to a wire rack, lightly dust with cocoa powder. Prepare another parchment paper and wire rack on top and flip the cake. Gently remove the parchment paper baked with the cake.
With the help of the new parchment paper below the cake, roll the cake and let it cool on the countertop.
To make the filling
Melt the chocolate in the microwave.
In your mixing bowl using a whisk attachment, add in whipping cream and sugar. Whisk on high until soft peaks.
Turn your mixer down to low and stir in cooled melted chocolate.
Whisk on medium until stiff peaks.
Carefully unroll the cake, brush the cake with honey syrup. (2 tsp. of honey and 4 tsp. of warm water, mix well) Than fill it with chocolate cream. Gently roll it back without the parchment paper.
Wrap the rolled cake with parchment paper, secure it with rubber bands. Cover with another layer of aluminum foil.
Put it in the fridge to set while you make your buttercream.
To make the butter cream
Check my chocolate buttercream here,
URL:http://www.youtube.com/watch?v=kA0LQtrStBM
Remove the aluminum foil and transfer it onto your serving plate. Cut parchment paper into two, let cake sit in between for easily clean up.
Frost the cake using a metal spatula. Make uneven patterns to resemble like a log.
Dust with icing sugar and put it in the fridge to set.
Notes
I'm using a cookie pan, 384 x 260 x 16mm
Frosting
For the frosting check my chocolate buttercream here,
URL:http://www.youtube.com/watch?v=kA0LQtrStBM
TheZongHan https://thezonghan.com/