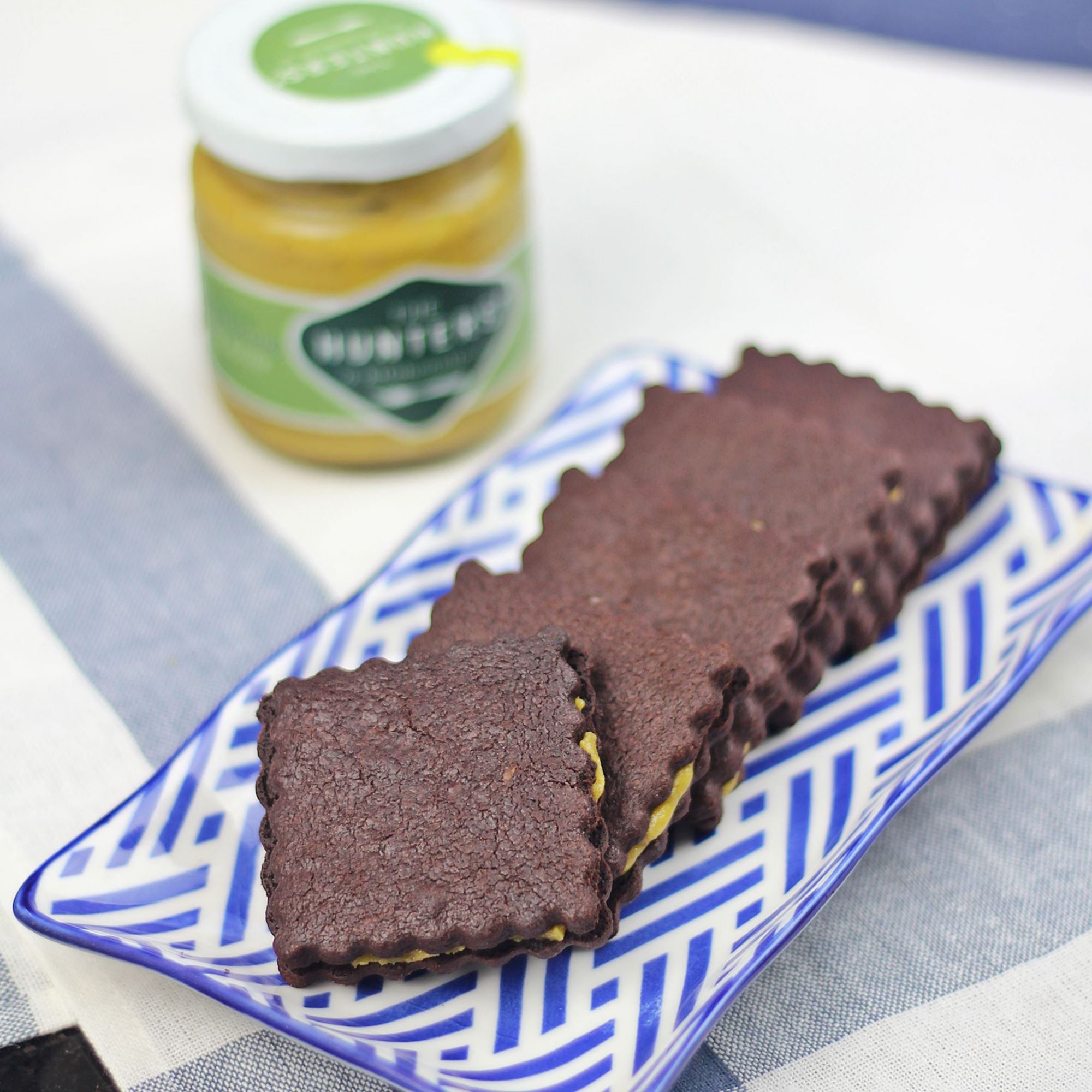 (Giveaway 3) Chocolate Sandwich Biscuits with Pistachio Cream

I am always looking for a light quick bite for my afternoon break. These Chocolate Sandwich Biscuits with Pistachio cream are not only easy to snack on but also at the same time indulgence.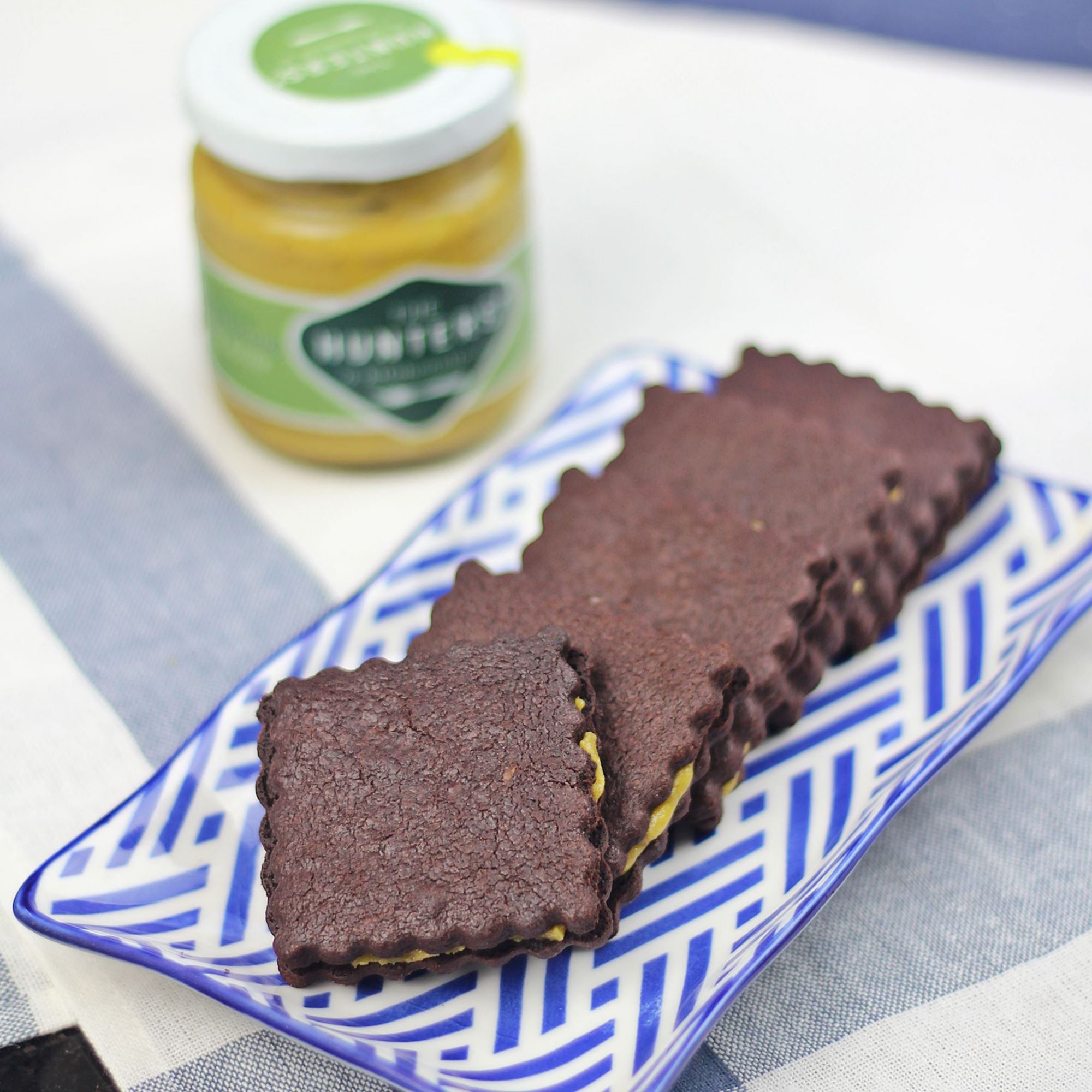 Fo this giveaway, I will be collaborating with The Hunters' Kitchenette. They are our local nut butter company that provide one of the best nut spread in Singapore. Proudly made in Singapore, they focus on using quality ingredients and sophisticated manufacture technique to meet their rigorous standards of quality. By roasting nuts at a low temperature without the need of extra vegetable oil, they are able to intensify the nutty aroma of the nuts. Truly clean eating! For more information of The Hunters' Kitchenette, do visit their website at http://hunterskitchenette.com/

It's the perfect way to spoil yourself and your loved ones, even without any special occasion. Plate these biscuits and serve with a cup of coffee or tea, you will certainly feel like Tai Tai!

The Hunters' Kitchenette and I will be giving away one set of Nut Butter Gift Set worth SGD$35.00! An assortment of 6 types of their nut butters in 40 grams jars, perfect as a gift for any occasion.
* This giveaway is opened to Singapore citizens and all people residing in Singapore. An eligible participant must be an individual and agree to abide by these terms and conditions. Entry to this competition is free.
*You must be subscribed to ZaTaYaYummy Youtube Channel before you enter this giveaway.
* The giveaway is valid from 15 April 2017 to 29 April 2017. All entries must be received before 23:59 hours on 22 April 2017 (GMT +08:00).
*Follow the instructions by liking and following on various social media platforms to increase the chances of winning.
*Each user is only entitled to have one entry in this giveaway.
*One winner will be selected via TheZongHan.com.
*Winners will be announced on TheZongHan.com and social media platforms.
Chocolate Sandwich Biscuits with Pistachio Cream
2017-04-15 05:15:35
Serves 12
Cookie Dough
100 grams of salted butter, softened
125 grams of icing sugar
1 egg yolk
95 grams of plain flour
30 grams of corn starch
40 grams of cocoa powder
¼ cup of baking powder
Pistachio Cream
50 grams of pistachio spread
20 grams of butter
40 grams of icing sugar
Instructions
Cream butter and icing sugar until pale and combined.
Mix in 1 egg yolk.
Then, sift in all the dry ingredients, plain flour, corn starch, cocoa powder, and baking powder.
Slowly stir until it turns a dough, then divide the dough into two and chill for at least 30 minutes.
Roll out the dough to about 0.5-cm (1/4-inch) thickness between two sheets of parchment paper to prevent sticking.
Cut out using a 5-cm (2-inches) cookie cutter. Make sure that the cookie cutter is always dusted with flour.
If the dough is too soft to handle at this point, put it in the freezer as it is for 15 minutes before moving the cut-out dough onto a baking tray.
Reroll and repeat the process. Meanwhile preheat your oven to 180C.
Bake the cookies for about 10 minutes at a preheated oven.
Allow the cookie to cool completely before removing it.
To make your pistachio filling, cream together pistachio spread, soften butter until well combined.
Then, beat in sifted icing sugar.
Pipe out your pistachio filling onto a cookie and sandwich with another.
TheZongHan https://thezonghan.com/
Giveaway has closed. Thank you!
Winner for this giveaway is Elizabeth.