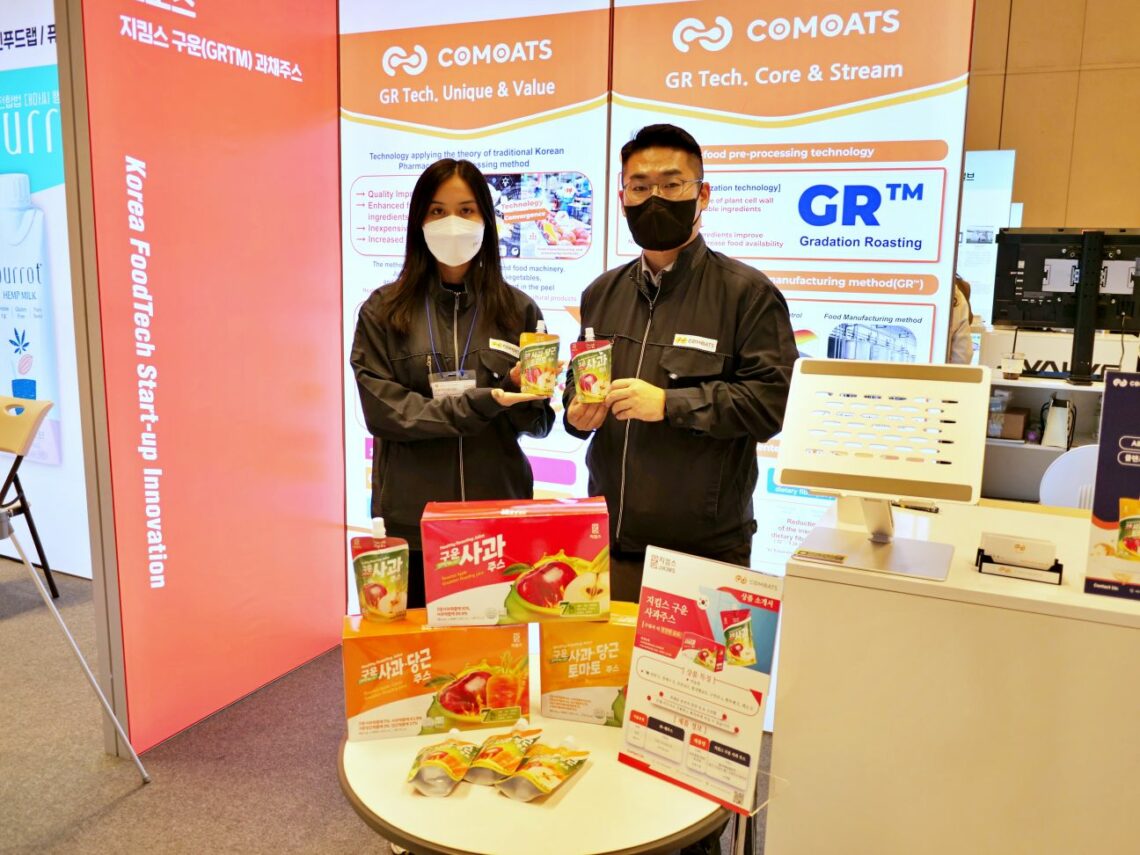 Coex Food Week 2022 set to rise with latest the food tech in Seoul, South Korea

One of the most anticipated international exhibitions, COEX Food Week 2022 kicks off with latest food tech in Seoul, South Korea with a combined of 8 food shows spanning more than 1,000 food companies from 20 countries across the entire COEX hall as the whole food industry can gather at one place and showcase the up and rising food trends.
Let's check out some of the interesting exhibitors that I came across as I travelled all the way down to cover the event last November 2022.
1. ECOSALT

Sodium (or rather sodium chloride which is common salt in this case), is used in our everyday life. Salt is not only used for our gourmet tastebud in making the food flavorful, it also plays a crucial role in maintaining human health. ECOSALT's developed a patented technology, also known as MMPF method, allows the removal of microplastic and reduction of magnesium content for a cleaner and healthier salt product. The unique manufacturing technology is able to control the magnesium to a minimal that will allow the final product to be less bitter and more profound salty taste. Which, previous technique could only produce the same level of magnesium reduction by storing the salt away for 3 to 10 years for a natural loss of magnesium to the atmosphere. ECOSALT has quickly became the leading innovation in the salt industry in South Korea, producing high-quality salt more efficiently.
2. Romansive


If you are having problems with insomnia, Romansive is here to help you out with its natural sleep drinks intended for good sleep. The company developed an effective sleep drink called Lichera, that will help stress-induced insomnia. Using natural ingredients and traditional herbs like Jujuba, the sleep drink will calm down the brain and help the body to produce more melatonin naturally in 30 minutes. The effectiveness of Lichera was collaborated with Seoul National University Research team's technology to improve the effects and absorption rates.
While the spokesperson of Romansive told me that Lichera taste bittersweet with the intention to taste a little like Campari cocktail, a type of cocktail that uses fruits and herbs, I tasted the drinks myself and found it to be an acquired taste.
3. Cheonji Myengin Natural Vinegar Powder



Cheonji Myengin Natural Vinegar Powder by YOUIL FOOD brings you Traditional Korean Medicine with their latest technology that turns the supplement into convenient individual sachet packs for consumers to easily consume the vinegar in powder form. The traditional vinegar that made up of natural extracts of Korean Dendropanax, a native shrub in South Korea that is anti-fungal, and anti-inflammatory properties, Elm tree, Garlic and Onion are naturally fermented traditionally before utilizing their patented technology to process into ready-to-consume powder without the need for any artificial additives or ingredients.
4. WELLFISH



WELLFISH focus on transforming by-products that could be left discard from the fishing industry into brand new sustainable food products to reduce pullulation and food wastage. Their primary products includes Eel Jerky made from leftover trims, Fish Crackers, and also Dried Polluck, a national fish of Korea that is extremely popular in the Korean household.
5. BARAGI



BARAGI is a company that specializes in Korean Traditional Medicine turned into modern convenient supplement products. The company started by husband and wife, both studied Korean Traditional Medicine, wanted to help solve many common illness caused by bad lifestyle habit as they observed while running an oriental pharmacy themselves for 10 years. They came up with BARAGI with the intention of making natural raw materials that are beneficial for the human health accessible and can be also easily integrated into our fast-paced modern lifestyle.
6. Sweet Egg

Metatexture, a food-tech startup company that aims to develop alternative foods that can replace meat, introduce 'SweetEgg', a plant-based egg alternative at COEX Food Week 2022. SweetEgg was launched as an alternative food of egg with 100% plant-based ingredients for consumers who may be allergic to poultry eggs or to suit their dietary needs. In addition, the product was created aimed to also solve the instability of the poultry industry due to Avian Influenza (AI).
The company uses texture implementation technology by analyzing the data when a person chew to recreate the texture of the alternative egg which could replicate to be up to 80% similar to original egg from poultry.
I tasted the product myself personally in the form of Egg Mayonnaise Salad Sandwich which was displayed as sample in the booth and found it to be extremely similar in terms of looks, taste, and texture. Even the scent of the salad felt unbelievably indistinguishable, partly due to their own proprietary recipe of the plant-based egg that consist of the addition of sulfur that gave that familiar pungent we come to associate with poultry eggs.
7. TTcare


Other than food tech, one really interesting booth I came across is TTcare. TTcare primary focus uses AI technologies to check pet's health by taking a photo of it's eye or skin using their mobile application software. It uses data and AI algorithms to analyze those photos to give pet owners result of the likely condition their pets' health status and recommend them if the pet requires immediate medical attention. The great thing about the application is that it also allows the users to find the nearest pet clinic around them based on their location. The team is actively working on to bring in new features such as tele medical consultation in the application so pet owners could consult with professional veterinarian at the comfort of their homes.
8. Little Tea Garden
I came across a pop up café originated from Ulsan, South Korea here at COEX Food Week 2022 and found it to be interesting because of the products offered. The CEO of Little Tea Garden, Min Jung Kim, craft her own artisan blends of tea using array of Korean local dried fruits, herbs and tea leaves. In addition, bakes offered in the café are sugar-free, and gluten-free using naturally sweetened herbs like stevia and homemade protein-packed flour using a variety of grains.
https://www.facebook.com/littleteagarden.official/
9. JIKIMS

JIKIMS, a food-tech start-up is a newcomer to the market with their specialized technology in the agriculture pre-treatment field using a combination of Korean medical theory and food technology. Featuring one of their main product, Healthy Roasting Juice, primary focus in enhancing not only the flavor of the end product but also with increased efficacy of nutrition absorption rate in our body when consumed. the product claimed to be naturally sweetened, with no water added, non from concentrate, no preservatives, artificial colors, flavors and drink from anywhere anytime. As much as I was very interested to give it a taste test, samples were not available at the time of interview.
10. Cheorwon Natural Farming Association Corporation




Cheorwon Natural Farming Association Corporation main ideology is to provide consumers with the most sincere gift through eco-friendly farming, making good products from farmer to people. Aimed at researching and developing products for eating and applying for inner and outer beauty respectively, the company's unique strategy for its products are that the crops yield are grown near the DMZ (demilitarized zone) proclaiming one of the cleanest area in South Korea, with product safety in mind as they cultivate their own ingredients themselves before processing it into final goods for consumers.
In addition, the company introduced Crossbotter K-Food, an international marketplace platform that allows online creators to try, promote and gain sale commision with their products. Sellers on the platform can provide coupons through the platform to creators for them to purchase the products at a discount. In return, they could help these companies promote the products on their respective channels, making affiliate marketing a breeze.
http://cwcosmetic.shop/en/home/