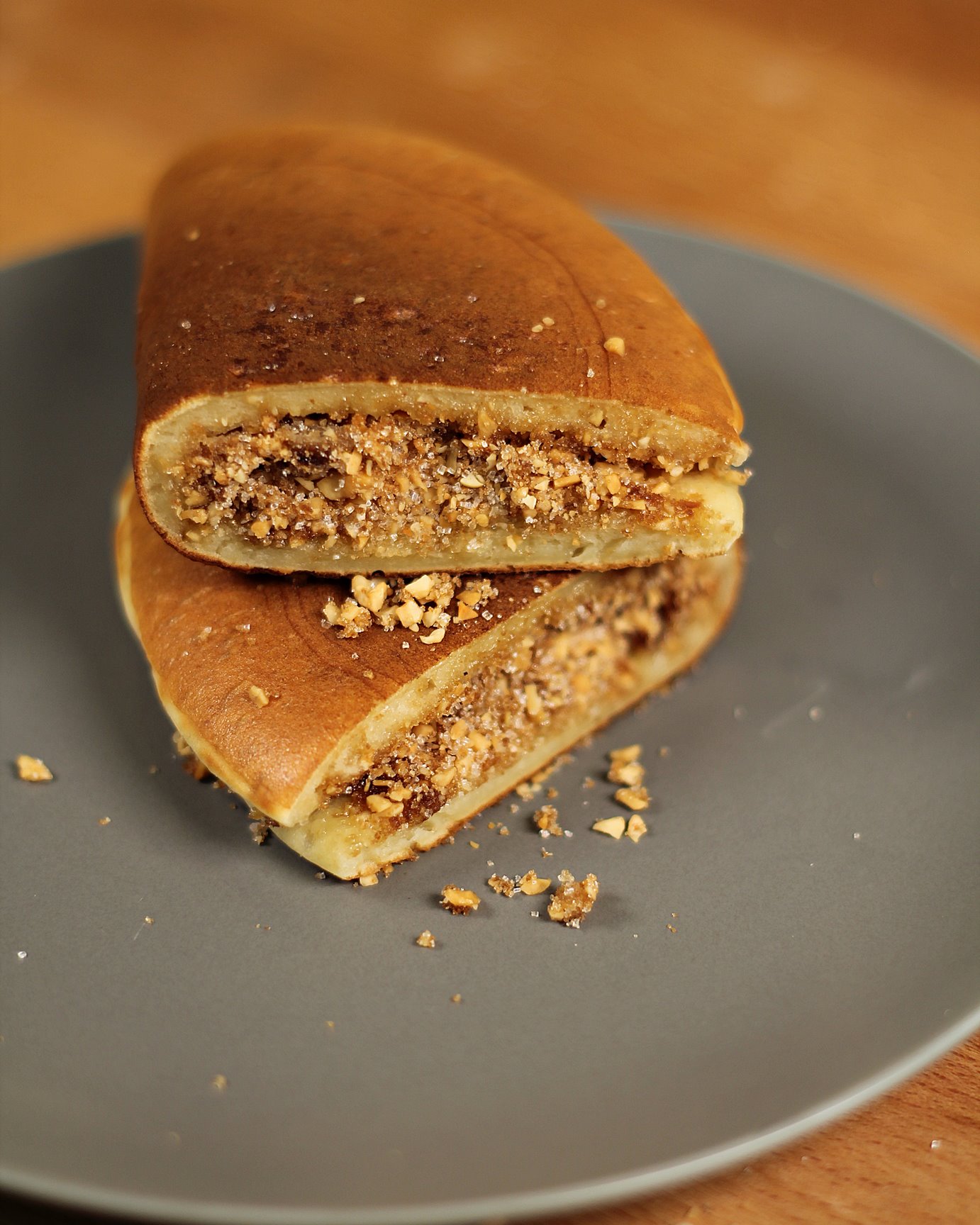 Min Chiang Kueh (面煎粿) / Apam Balik

Min Chiang Kueh (面煎粿), which also can be known as Apam Balik in Melayu is a traditional turnover pancake filled with fillings. It is thought to be common to find these sold on roadside streets throughout Malaysia and Singapore (Well, it's 2019, you can only get these at a hawker centre now). While it's fluffier than the American counterpart, Min Chiang Kueh is like the little sister of the Indonesian Martabak Manis, which still holds in place at the top for its rich variety of fillings and mighty thickness.

In the article, I'll be sharing two types of filling I would typically go for, the traditional classic that calls for crushed peanuts and sugar, and Nutella cheese. While there are a wide variety of fillings you can choose from to incorporate (even making it savoury), these two are my ultimate favourite as it always rings the bell of comfort in my tastebud.

You can make the batter ahead of time (up to 2 days), and put it in the fridge to rest. The recipe is also very easy to make, I think anyone can easily recreate this recipe without any problem. The key thing to take note is the heat applied when frying. You have to make sure that the pan is preheated over LOW heat. Too hot and you will burn your pancake without cooking it fully. I also liked using a good nonstick skillet as it helps me to lift the pancake up easily without a problem. If you like the crust of Min Chiang Kueh, swirl around the pan to give that crisp edge.
Min Chiang Kueh (面煎粿)
Ingredients
Batter
1 1/4

cup

all purpose flour

1/4

cup

starch

2

tbsp

granulated sugar

1

tsp

baking powder

1/4

tsp

baking soda

1 1/2

tsp

yeast

2

tsp

vanilla extract

1

egg

1

cup

warm milk
Peanut-sugar filling
1

tbsp.

of brown sugar

1

tbsp.

of white sugar

2

tbsp.

of crushed/grounded peanuts
Nutella-Cheese filling
2

tbsp.

of Nutella spread

Handful amount of shredded cheddar cheese
Instructions
In a bowl, whisk in all the dry ingredients, plain flour, corn starch, sugar, baking powder, baking soda, and yeast together.

Next, crack in an egg, drizzle in vanilla extract and warm milk. Whisk the batter until is smooth.

Let it rest for at least an hour in room temperature or in the fridge overnight if you are planning to make ahead of time.

Preheat your non-stick frying pan over low heat. Add in about 2/3 measuring cup worth of batter.

Once the batter starts to dry out, sprinkle in your choice of fillings.

Fold the pancake in half and transfer to a platter.
Notes
If you like the crust of Min Chiang Kueh, swirl around the pan to give that crisp edge.