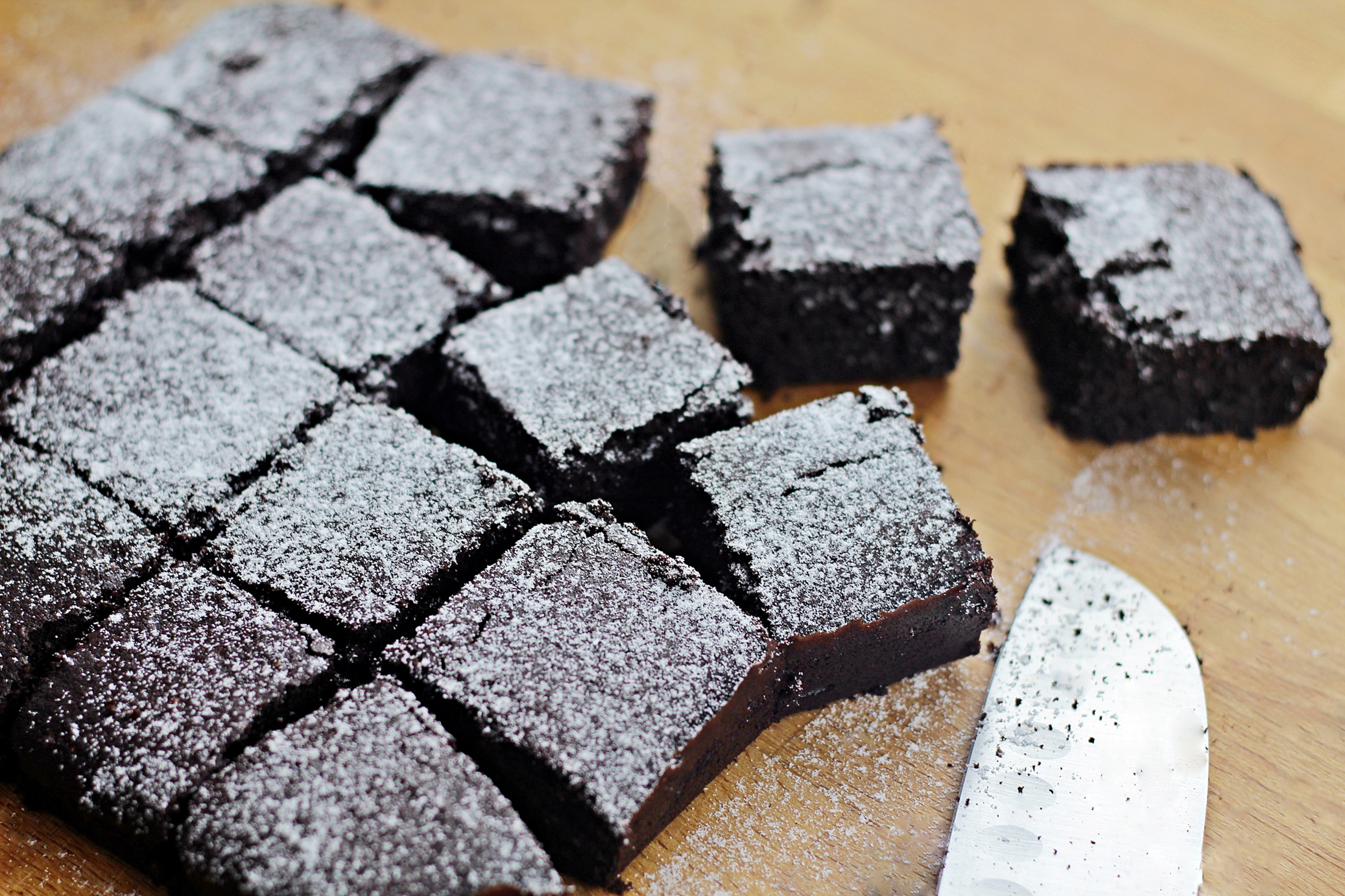 Low-Fat Low-Sugar Brownie – Stevia

Hello! Today, I have a great brownie recipe for you guys! It is my Low Fat, Low in Sugar Whole Wheat Brownie! It's so delish with 40% less the calories and 60% (!) lesser in sugar than typical brownie!

You may think, "Yucks, how can this taste good?"
But it's just that good. What's my secret? Stevia and yogurt!
If you have been following me, I have recently came up a Sugar-Free Banana Bread recipe using only Stevia. It's great. Do check it out!

Some may not get used to the sweetness of Stevia as the taste can vary a little from cane sugar. So in this recipe I have used a combination of dark brown sugar and stevia. It taste wonderfully sweet with the strong almost-like caramel flavor from the dark brown sugar and the extra kick of sweetness from Stevia.
If you don't know what is Stevia, it is a natural herb that is really sweet but has no effect on blood sugar level and has zero calories. So as to make things as natural as possible, I like to use grounded dried Stevia leaves for baking.

As for yogurt, it can be used to replace butter. You can't omit butter for brownie but you can definitely cut back on it. I have used yogurt for many recipes in place of a portion of butter and it works wonderfully. Yogurt help my cakes to remain moist and tender. Do remember to get Fat-Free, Sugar-Free (Sweetener free) yogurt! I like to use set yogurt as it has a really creamy texture but you can use Greek yogurt if you can't find it.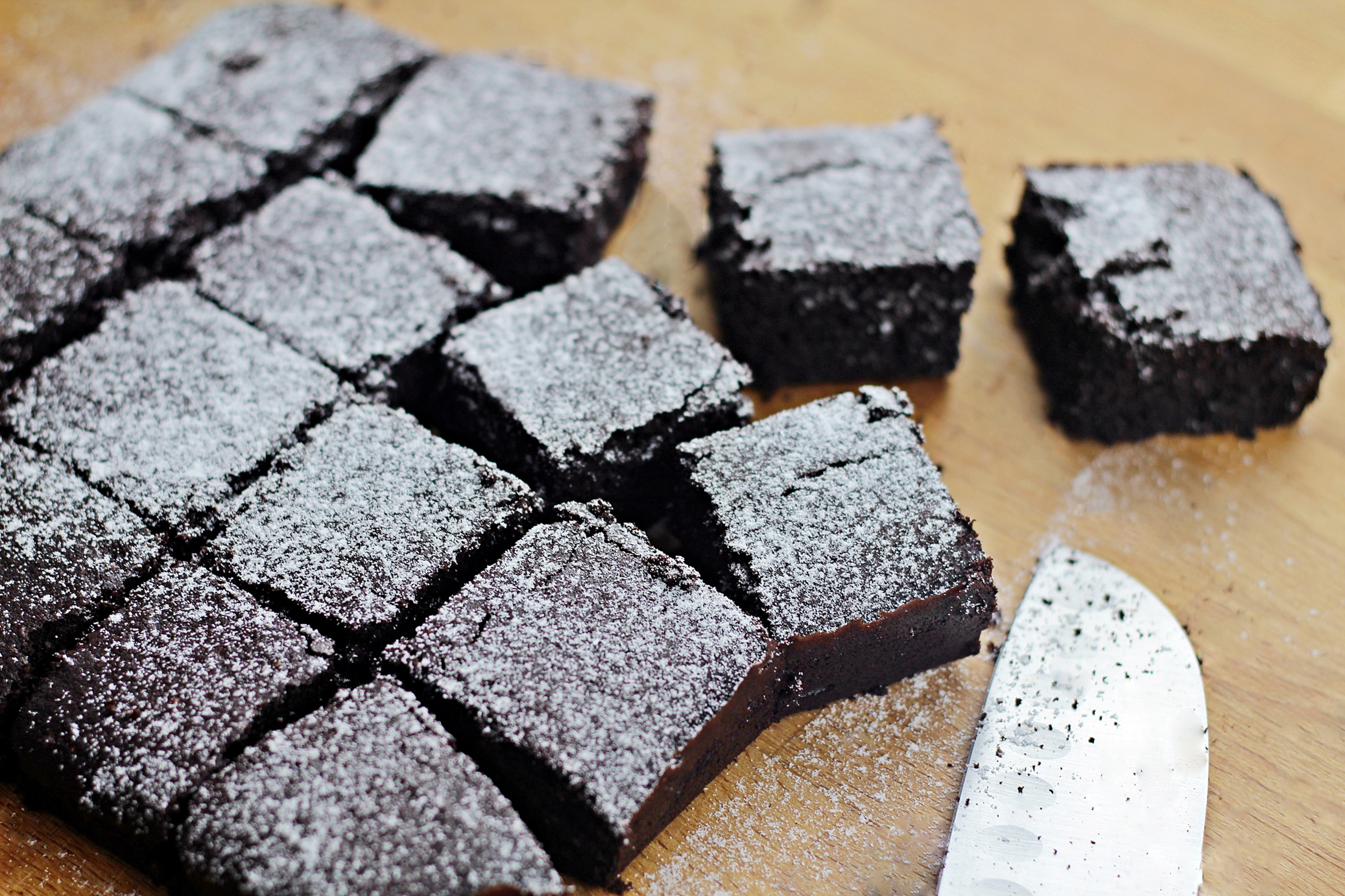 Low-fat Low-sugar Brownie
2015-05-11 14:52:23
Serves 16
Make one 7-inch sqaure pan
Ingredients
(1/4 cup) 65 grams of unsalted butter, softened
(½ cup) 125 grams of fat-free Set yogurt (or Greek yogurt)
(½ cup) 125 grams of dark brown sugar
1 ½ tbsp. of grounded dried stevia
2 eggs
(1/2 cup) 60 grams of whole wheat flour
(1/2 cup) 60 grams of unsweetened cocoa powder
1/4 tsp. of baking soda
1 teaspoon vanilla extract
1/8 tsp. of salt
Instructions
Preheat oven to 170 C or 150C fan-forced.
Cream together softened butter, dark brown sugar and dried stevia together until light and fluffy.
Add in eggs, one at a time. Drizzle in vanilla extract.
Stir in cocoa powder. Mix until combined.
Whisk in yogurt.
Fold in whole wheat flour, baking soda and salt. Mix until creamy and transfer into a 7-inch square pan lined with parchment paper.
Bake it in the oven for 25 to 30 minutes.
Let it cool completely. Cut into bite-sized pieces and serve with a dusting of icing sugar.
Notes
If can't find stevia, use extra 3/4 cups (190 grams) of dark brown sugar
TheZongHan https://thezonghan.com/