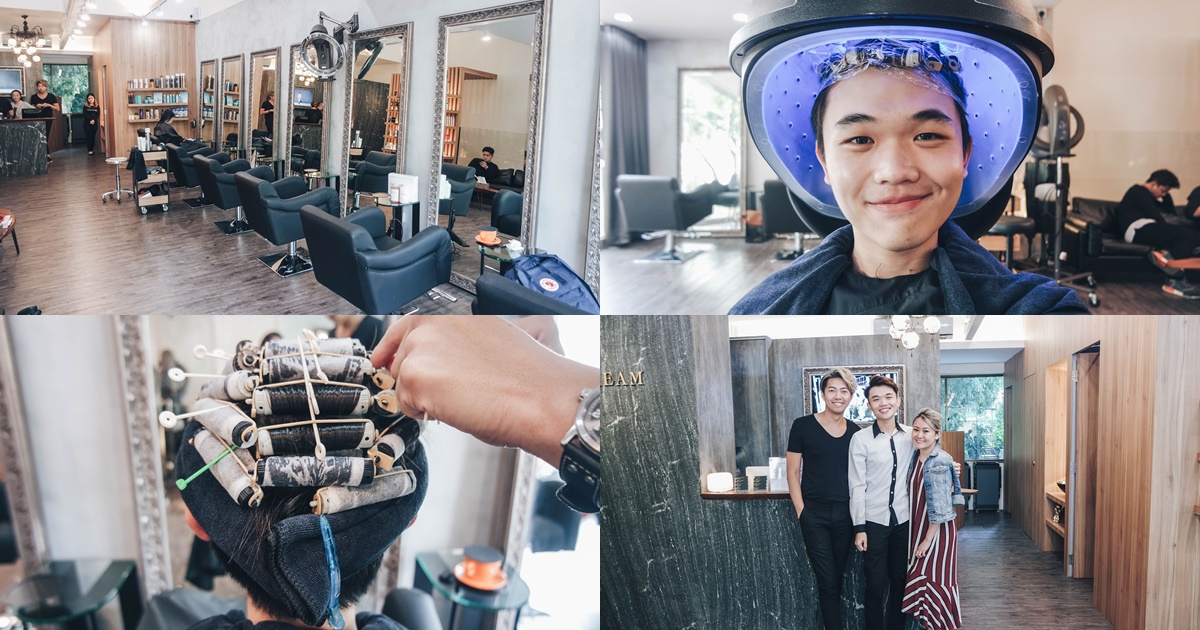 Salon Kream @ Holland Village (Exclusive discount 20% off total bill)

Salon Kream conveniently locates at the heart of Holland Village. Situated just beside the train station, the salon is opened by a group of friends who have similar mindsets to step forward together in the hair industry.

I'm sure you guys know that I perm my hair often to maintain my Korean hairstyle. Of course, it isn't easy to manage and I have to make sure that my hair is in good condition even after perming it. But luckily, I am glad that Salon Kream also uses Olaplex Treatment! I have been raving about Olaplex treatment before and if you don't know, it is a new reconstructive treatment developed by top scientists in Santa Barbara that enhance the internal structure of the hair and prevents damage that occurs during chemical services like perming or coloring.

Waiting for my hair to be treated, permed and cut. I was dazed when they inform me that they close at 6 pm every day. However, it was later on when I understand that they strongly believe in work-life balance. I'm sure their staffs would truly appreciate!

Prepare for a hair wash to start off!

After a lovely hair wash, my chemist, Willie is preparing to treat and perm my hair. I was amazed that the salon works differently as compared to other hair salons. Willie is considered a professional technician at Kream. He only manages chemical services like perming and coloring. A hair stylist will cut my hair later on!

He is very knowledgeable and skilled in his job. He consulted on what kind of hairstyle I want and explained the different techniques he would do based on my request. I am very excited to see the result.

I do look like a grandma whenever I'm perming my hair. Hahaha
If you realize, Willie actually added some pricks onto each rubber band curler. It was unusual to me and I questioned about the usefulness of the extra pricks. (which made the curl tighter than usual) He quickly responded to educate me that those pricks were there to make sure that solution penetrates evenly into the hair and also at the same time tightens the rubber band, making sure that the perm is well-done.

This was the chemical that he used.

Their machine was a little different from the usual too! Instead of having a machine turning around your head with the heat emitting inefficiently, the design of this machine allows a more efficient and even distribution of heat as it has a mini fan to circulate the air around your head.

The best thing? They offer tons of e-magazines and I am lovin' it!
I am able to get my daily dosage of recipe inspiration from it while doing my hair. I know it has been awhile since I shared a recipe but honestly, it takes a while to develop a recipe to create a video and share on my blog. Plus, with all the other contents I'm covering, I'm so tied down. Nevertheless, I would still try to strive to create new and easy recipes that are quick and delicious! You know me, I'm all about home bake, not those that you can find in an exquisite bakery store.

Say hi to my super cute hair stylist, Phyllis! She's such a fun and funky person.
The moment she met me, she immediately told me that I should try a hairstyle that she thinks would suit me well. She was very eager to give suggestions but at the same time want to make sure that it is something that I am comfortable with.

Honestly, I can't wait to go back again! It was a very comfortable and pleasant experience.
Quote 'ZaTaYaYummy' or 'Zong Han' when you visit @salonkream everytime for a 20% off total bill the first time!
Yes, everytime when you visit Salon Kream!!
–
Salon Kream
Contact Tel: 6463 3373
Website: https://www.facebook.com/salonkream/
Address: Holland Village Lorong Mambong 24B Holland Village, Singapore 277683
Nearest MRT Station: Holland Village
–
Sponsored post