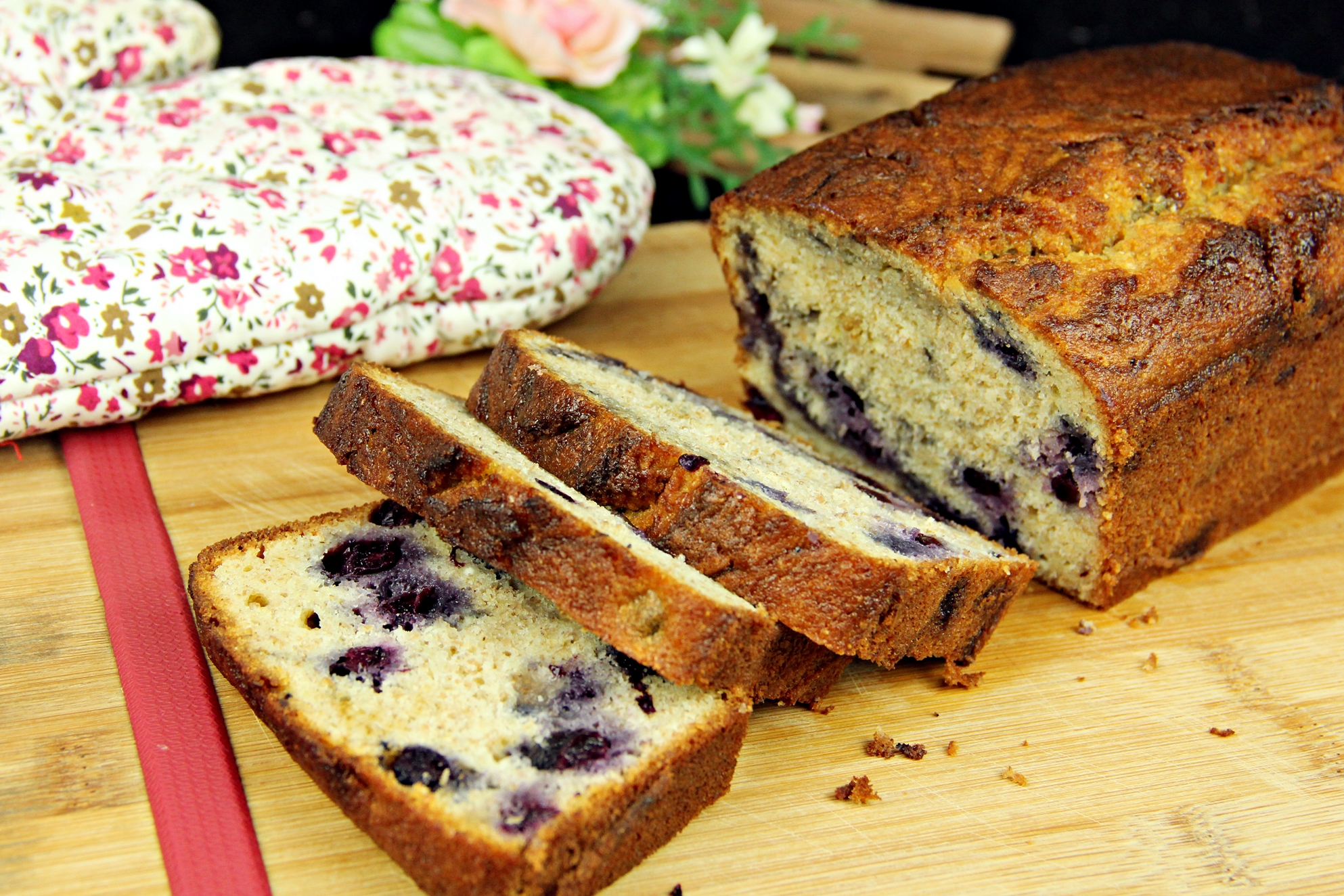 Wholemeal Blueberry Loaf Cake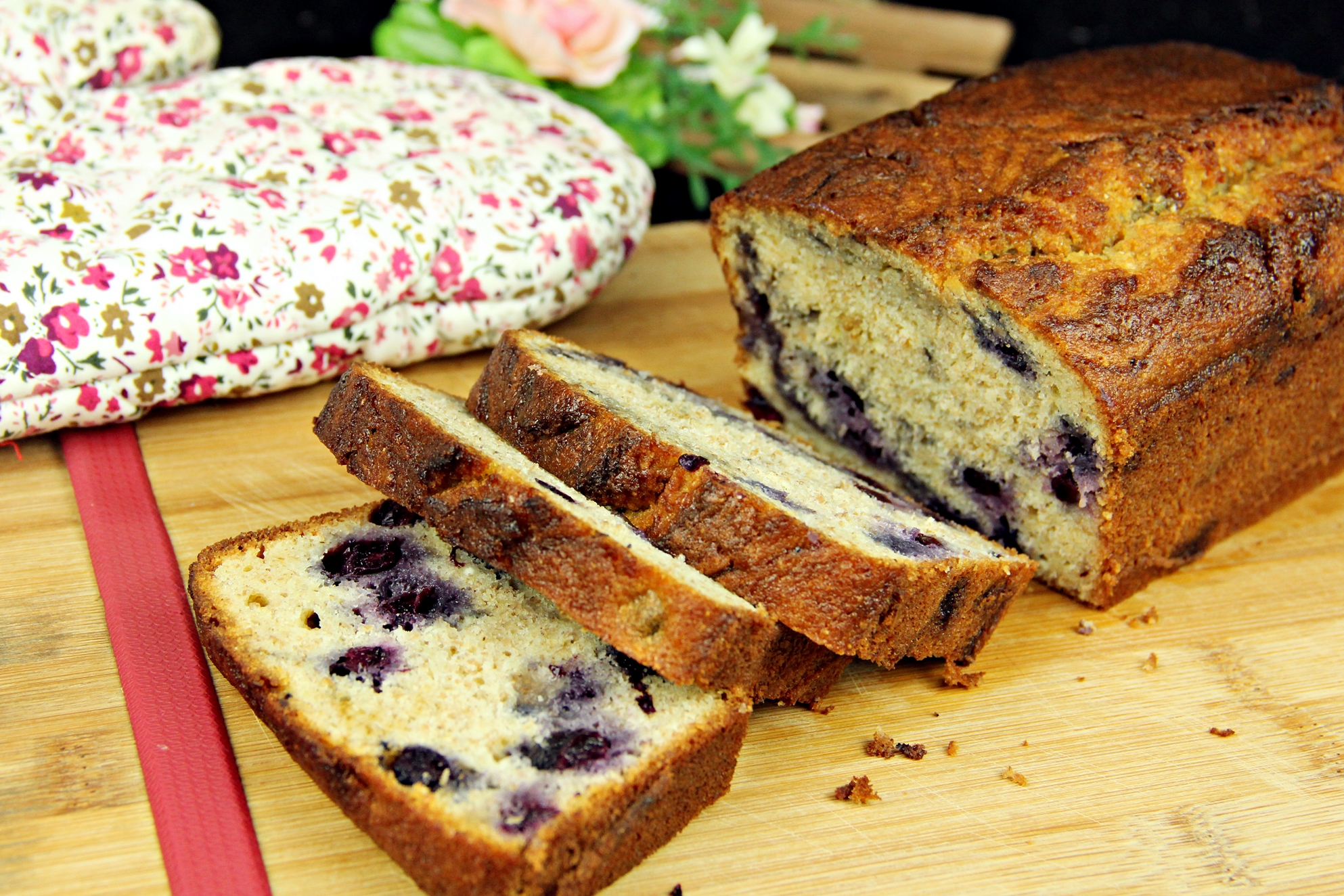 I love Blueberry Loaf Cake but I always find that store-bought ones have too little blueberry and they don't taste that berrylicious.

I am trying to be more health conscious recently, and I think that a good breakfast must have a good balance diet. Which means, less fats and more wholemeal (or whole wheat) products.
I have created this recipe to be, yummy enough but yet less fat for my morning kick start. If you don't know why go for wholemeal, here are some of the reasons why you should,
Lower the risk of getting diabetes type 2
High in fiber
Against heart disease
Makes you less hungry
So you would think, "Wholemeal cakes and breads taste disgusting!"
But in this recipe, you wouldn't really notice the difference. It will obviously be slightly darker in color but other than that, you won't have the nutty taste from the wholemeal flour because it is packed with blueberry goodness infused with rich vanilla aroma. Even one of my friends who hates wholemeal products said, "it's good!"

So now if you ask me, "Less fat means less butter, how would a cake taste great without a good amount of butter?"
Well, for this recipe we want the great taste of blueberry. So I have added not only vanilla extract but also blueberry preserve to boost the flavor.
'Vanilla' because every successful cake behind has vanilla. (well said.)
'Blueberry Preserve' because it's so berrylicious.

So indeed, we do not need to have extra fats (or butter) in our cakes anymore because this loaf cake is packed with so many amazing flavors already. Therefore, I have replaced it with something fat-free but yet creamy that will keep the cake soft and moist, Fat-Free Yogurt.
Please do look for Fat-Free, Sugar Free, Sweetener Free yogurt in this case! I have realized that not all yogurt are so goddess that they claimed to be. Most of them are packed with lots of sugar or artificial sweetener.

Anyway I know that you guys are excited about it after reading so much, let's quickly take a look at this recipe so that you can get started!

Wholemeal Blueberry Loaf Cake
2015-03-10 13:51:18

Make one 7.9" x 4.3" loaf cake
Ingredients
(1/2 cup) 100 grams of unsalted butter, soften
(1/2 cup) 100 grams of white sugar
3 eggs, beaten
2 tsp of vanilla extract
(1/2 cup + 1 tbsp) 150 ml of fat-free sugar-free yogurt.
(1 cup) 130 grams of wholemeal/wholewheat flour
(1/2 cup) 70 grams of cake flour
1/2 tsp of baking soda
1/4 tsp of baking powder
1/4 tsp of salt
2 tbsp of blueberry preserves/jam
(1 cup) 125 grams of blueberry (fresh or frozen)
Instructions
Grease and line loaf pan with parchment paper. (7.9" x 4.3")
Preheat oven to 200C or 180C fan-forced.
Whisk both flours, baking soda, baking powder and salt together.
In your mixing bowl, cream butter and sugar until light and fluffy on high speed. About 3 minutes.
Add in egg one at a time and vanilla extract.
Throw in 1/3 of your dry mixture and all of the yogurt.
Mix on low speed until just combined.
Then, spoonful at a time gradually add in the rest of your dry ingredients.
Fold in blueberries.
Transfer all your batter into your loaf pan, then top it off with blueberry preserves.
Using a knife, swirl both batters until marbleized. Drop the pan to raise the air bubbles out.
Bake it in the oven for about 45 minutes.
Let it cool completely, slice and serve.
Notes
You can leave overnight in room temperature. After that, it is best to store it in the fridge to prevent molding.
TheZongHan https://thezonghan.com/