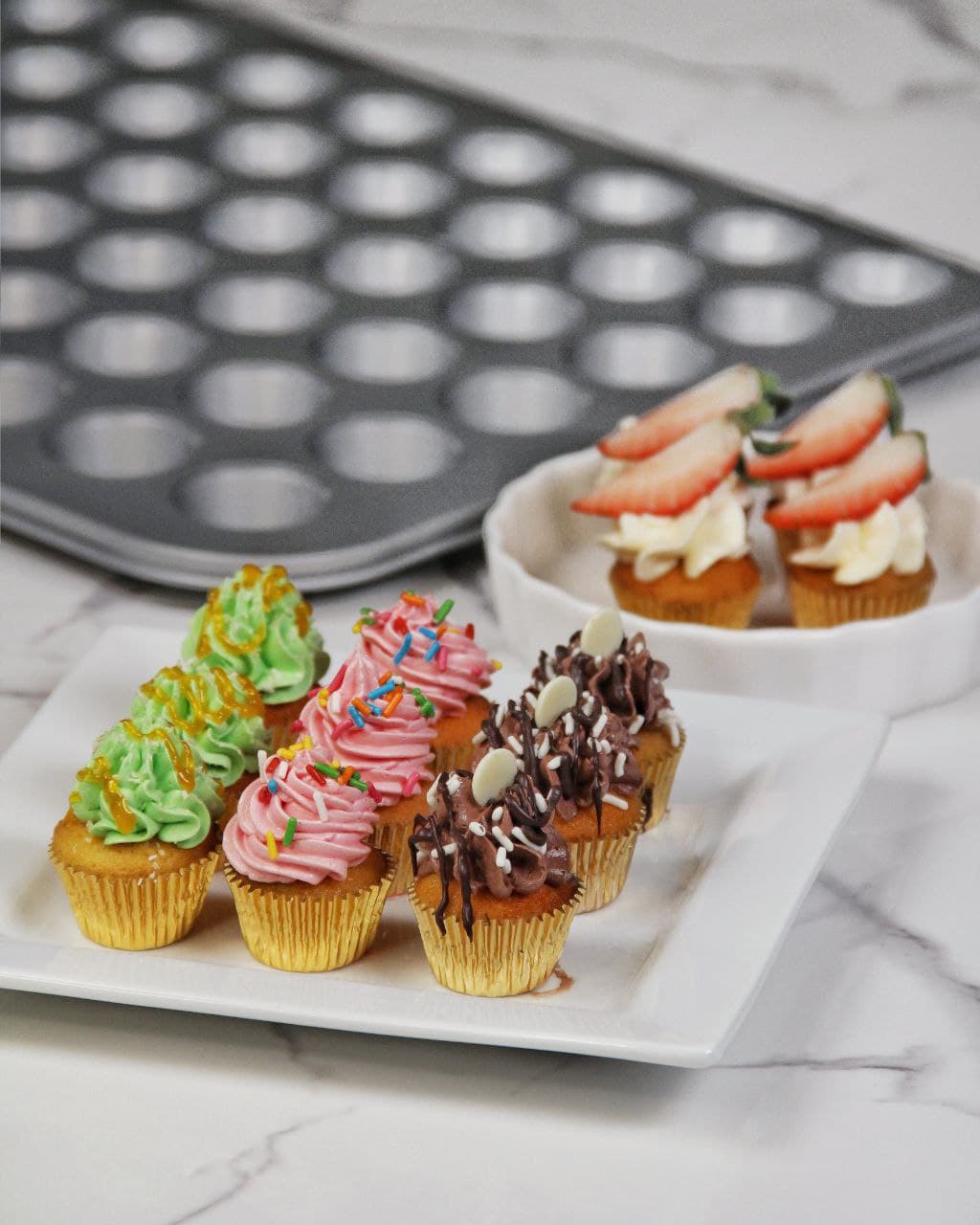 4 Flavors 1 Mini Cupcake Recipe with Städter Baking Pan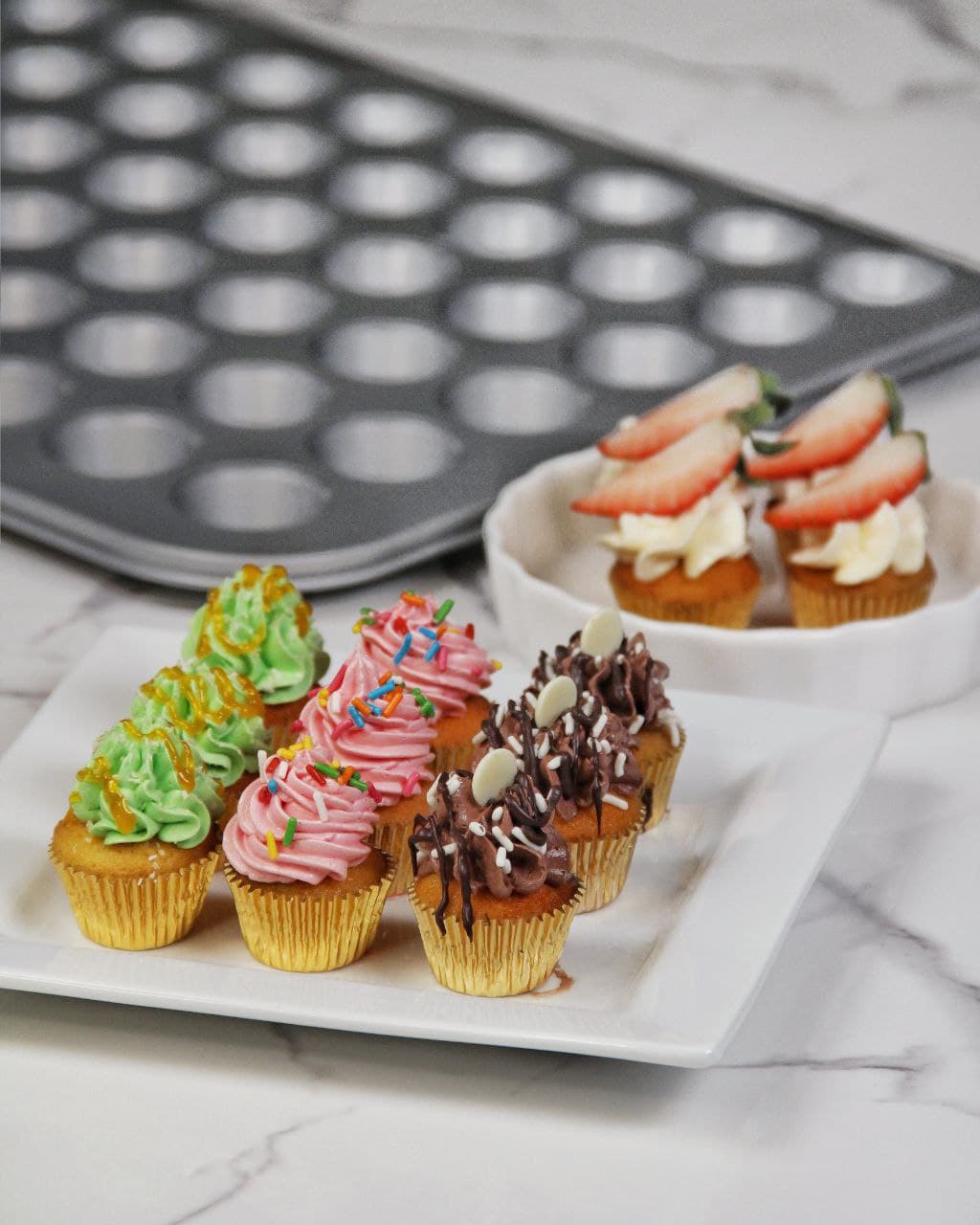 Can you believe that time flew by so quickly, especially the year 2020? Looking back I felt that I spent most of my time staying home avoiding any crowd due to COVID-19. We were not allowed to go out for most leisure activities during the first half of 2020 and are still restricted to travel of out Singapore. Thankfully, I managed to visit Bali, Indonesia during the Chinese New Year with my family for a short trip. Anyway, to celebrate the arrival of 2021, this New Year, I will be sharing with you guys how to make these really pretty Mini Cupcakes!

We will be making a vanilla-based cupcake, and topping it off with 4 different flavours. This recipe will show you how to make Strawberry, Vanilla, Chocolate and Pandan Buttercreams! Pettie, cute and easy to eat! Great to serve it in a small New Year's gathering or package it up and send it to your family and friends as a New Year's gift!

I would like to thank Alko Kitchenware for sending in this Mini Muffin Pan from Städter. It is made up of high-quality and long-lasting non-stick coating from Germany. Personally, I feel the great thing about Alko is that they hold a wide range of Städter baking pans, allowing you to get creative in baking. If you are interested, you can browse their products on LAZADA. Also, click here (for Malaysian viewers, click here) to get 10% discount coupon when you do that. Discount coupon ends on 4 of Jan 2021.
4 Flavors 1 Mini Cupcake Recipe
Servings
48
mini cupcakes
Ingredients
Vanilla Cake
100

g

salted butter

softened

100

g

caster sugar

100

g

plain flour

2

eggs

2

tbsp

milk

1

tsp

vanilla extract
Buttercream Frosting
160

g

butter

100

g

icing sugar

1

tsp

vanilla
For Chocolate Buttercream (60G)
1

tbsp

cocoa powder

melted chocolate

chocolate buttons
For Strawberry Buttercream (60G)
1

tbsp

Strawberry powder

rainbow sprinkles
For Pandan Buttercream (60G)
A few drops of pandan paste

kaya spread

dessicated coconut
Instructions
Preheat your oven to 180C

In a mixing bowl, cream together softened salted butter and caster sugar until light and fluffy.

Crack in an egg one at a time.

Then, drizzle in vanilla extract.

Stir in plain flour and baking powder. Mix until just combine before adding your milk into the batter. Set aside.

Line out your cupcake liners into the mini muffin pan. If you are not using a paper liner, you can just lightly grease the pan as the nonstick coating from STARDTER is really good. You don't need to add too much coating or dust the pan with flour. But, I am using gold cupcake liners today to bring out the festive mood.

Then, transfer your batter into the mini muffin pan.

Bake it into the oven for about 12 to 15 mintues.

Let it cool while you make your buttercream.

To make your buttercream, beat softened butter, icing sugar and vanilla extract for about 5 minutes until the mixture is pale and fluffy.

As we are making 4 different flavors today, seperate the buttercream into 4 equal portions, roughly about 60 grams each.

To make chocolate buttercream, sift in some cocoa powder and mix well.

For my chocolate butter cream, I like to sprinkle some white chocolate rice , a drizzle of melted chocolate and decorate it with a white chocolate button.

To make strawberry buttercream, stir in some strawberry powder. You can get these in the baking store.

I simply just finished this off with a sprinkle of rainbow sprinkles. It looks fun and cute.

To make pandan butter cream, drizzle some pandan paste and stir well.

I finished this off with some desiccated coconut and drizzled over some kaya for the extra local flavor.

For the vanilla buttercream, I just pipe it out and top it off with some strawberries.
This article is brought to you by Alko Kitchenware