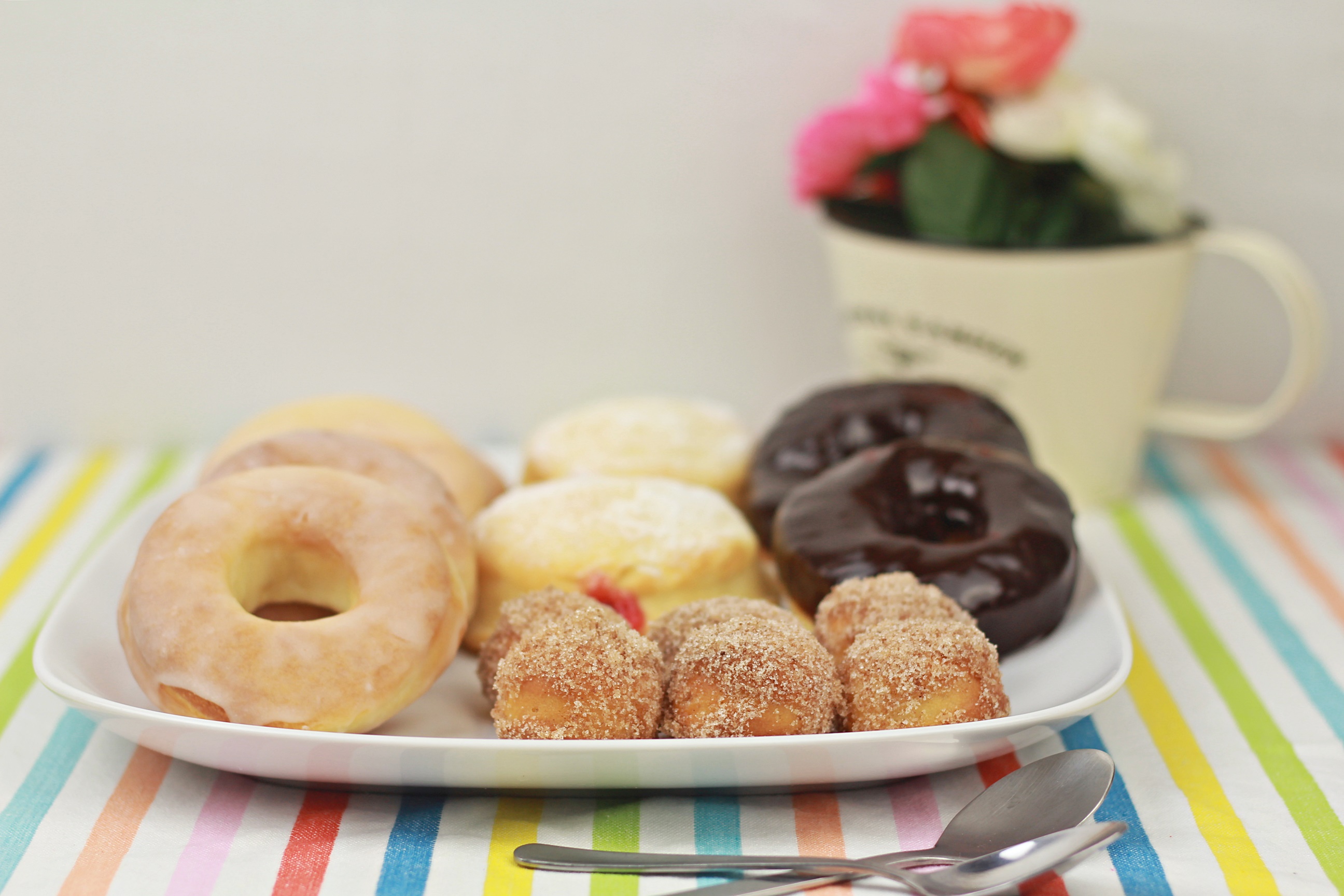 Baked Donuts – 3 ways – Just like fried!

Nobody will believe you that these are not fried donuts. But, they are not! They are my baked donuts. Cut off the extra fats, not goodness.

I don't really like the idea of having to fry these a few at one time. Not only it is tedious, but also horrible! I often get those oil splattering on my arm and I can tell you it's not a funny situation. Why fry when you can bake it all at one goal?
My aim is to always do things the fuss-free, calm, and easy way.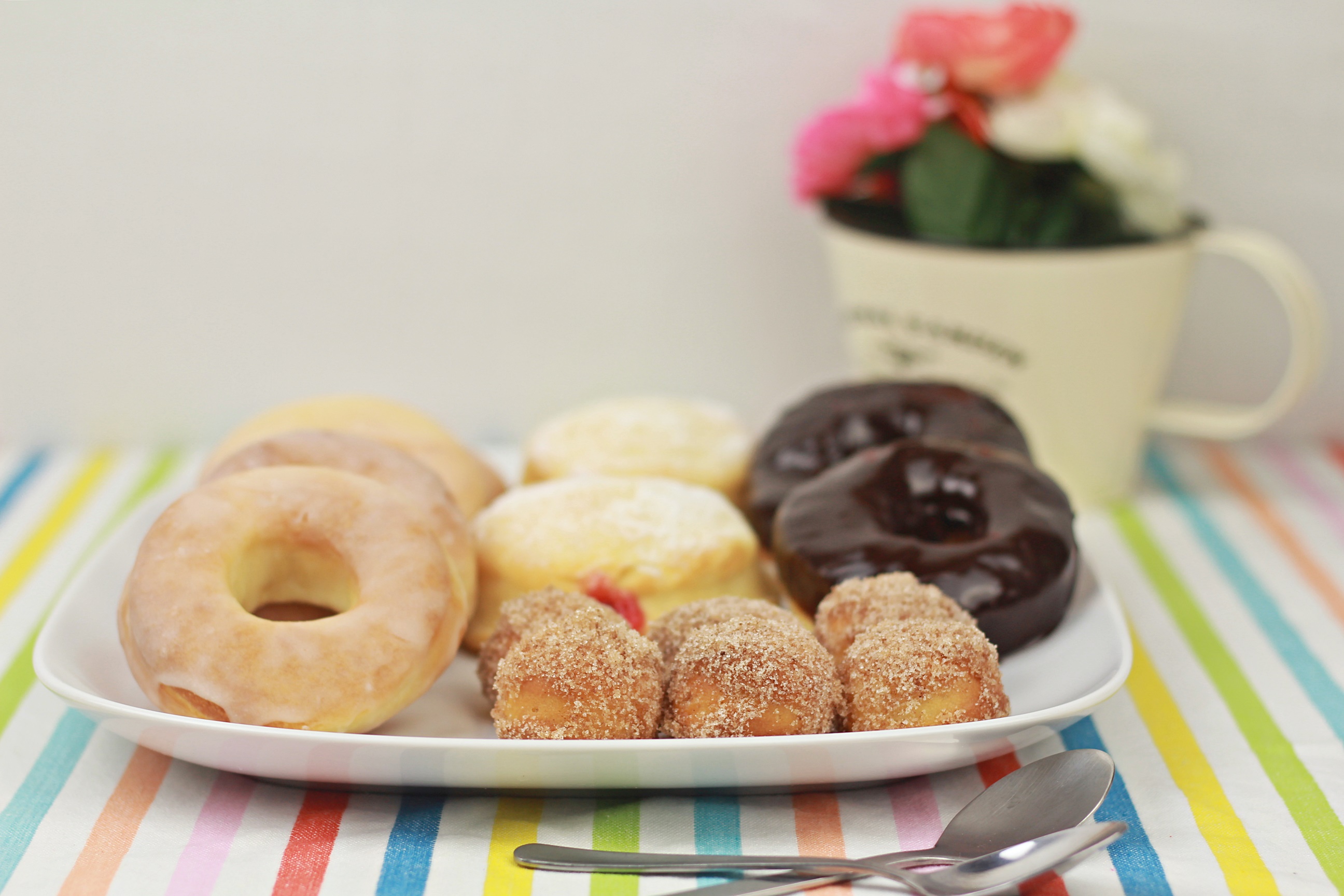 This recipe is very versatile and you can make many different donuts of your choice. In this recipe I have demonstrated mainly 3 different types of donut you can make. Warm Cinnamon Sugar Donut Holes, Jelly Donuts, and the Classic Sugar-glazed Donuts.
Yum Yum Yum! I have even made some Fudgy Dark Chocolate Donuts using my Chocolate Fudge Sauce! I will show you guys how to make that soon so stay tuned!

Better than fried, Baked Donuts
2015-08-21 12:16:59

Make around 12 donuts and some donut holes
Donut base
2 ¼ tsp. of instant yeast
(2 tbsp.) 30 ml of warm water
(3/4 cup) 130ml of warm milk
3 tbsp. of white sugar
(3 tbsp.) 45 ml of melted unsalted butter + plus extra for coating
1 egg
1 teaspoon of vanilla extract
(2 ½ cup) 310 grams of plain flour
¼ teaspoons salt
Cinnamon Sugar Donut Holes
(½ cup) 125 grams of white sugar
1 tsp. of grounded cinnamon
Melted butter
Sugar glazed Donuts
(1 ½ cups) 190 grams of icing sugar
1 tsp. of vanilla extract
Water
Jelly Donuts
Choice of jam or jelly
Icing sugar
Instructions
In a mixing bowl, stir in warm water, milk, melted butter, vanilla extract, sugar, yeast and egg together.
Then, throw in plain flour and salt. Mix on medium speed until combined. Once combined, continue kneading on medium speed for 5 minutes until smooth. Stop the mixer in between to prevent overheating.
Let it proof for an hour.
Transfer into a floured surface and use a rolling pin, roll until about ½ inch (1 cm) thickness.
Cut out donut circles using a 3 inches (7.5 cm) round cookie cutter.
Use a small round cookie cutter to cut the center to make donut holes.
Reroll and repeat until finished. To make jelly donuts, just use the 3 inches round cookie cutter will do.
Transfer it into well-greased baking pans, making sure to leave at least 2 inches apart.
Let it proof for the 2nd time for 30 minutes.
Preheat oven to 180 or 160C fan-forced.
Gently brush some melted butter onto all of the donuts and bake it in the oven for 10 to 15 minutes.
Immediately after baking, coat donut holes with melted butter and dust them with cinnamon sugar.
To make jelly donuts, use a satay stick and poke through so that you can pipe in the filling later.
Use a piping bag and fill the donuts through the holes . You can fill both sides to have more fillings.
Dust them with icing sugar to give that rustic look.
To make sugar glazed donuts, mix icing sugar and some water slowly until reaches a desired consistency. Be sure not to mix in too much water from the start otherwise it will be too runny.
Mix in some vanilla extract for flavoring.
Dip each donut into the bowl of glaze and use a fork to drip off the excess.
Let it set. Double dip them again to make it extra special.
Notes
Microwave it the next day so that it can be soft and fresh again!
TheZongHan https://thezonghan.com/