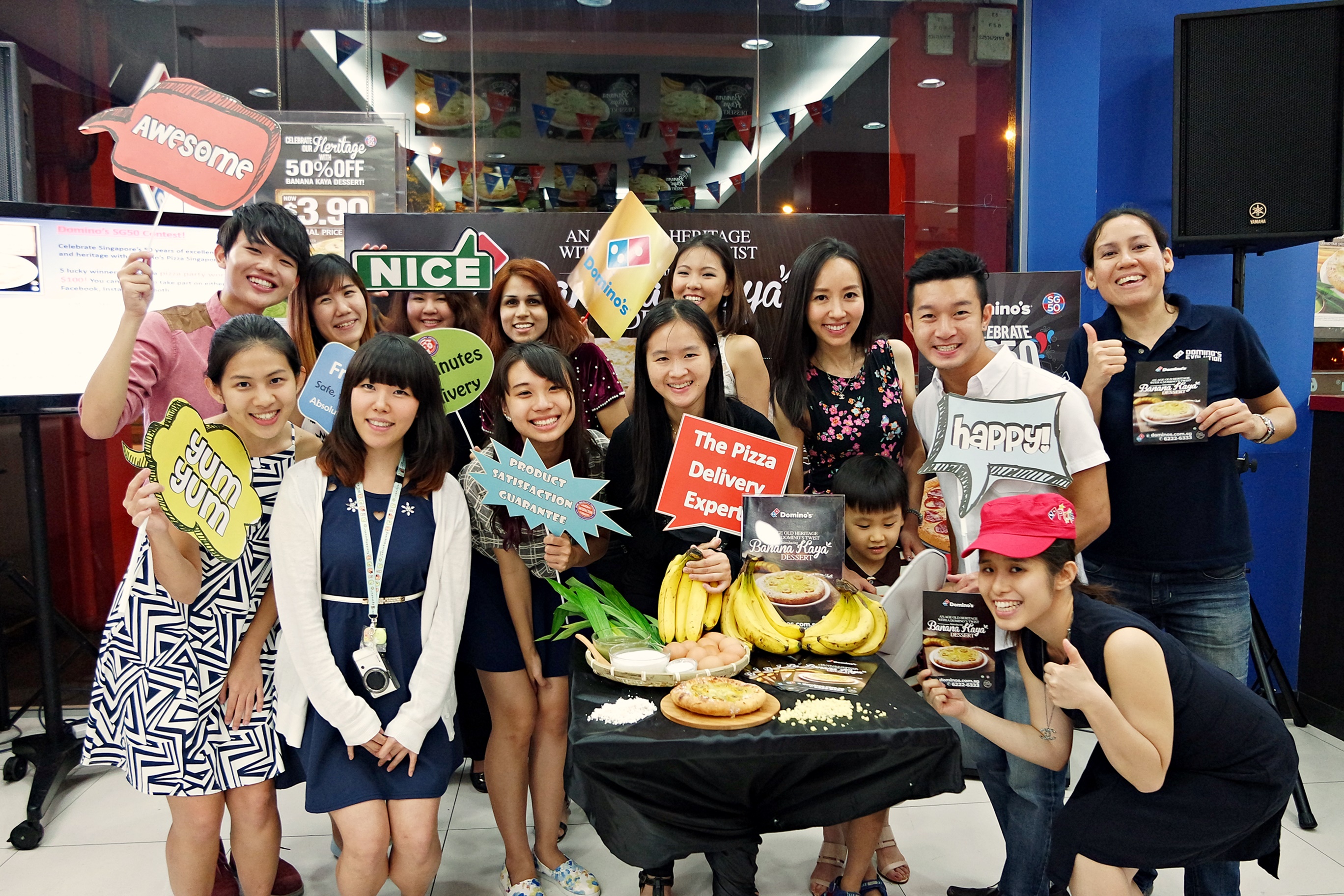 Domino's Pizza celebrate SG50 with 50% off and new Banana Kaya Dessert!

I was invited to Domino's Pizza SG party last week to get to know more about the new Banana Kaya Pizza Dessert!

Oven baked deliciously goodness, it is filled with flavorful pandan kaya made only from the freshest ingredients of coconut cream, eggs and real pandan leaves.

Wonderfully buttery crust sprinkled with some icing sugar. Yum! I love the combination of kaya and banana!

With some others who also came to try out their new dessert and wide range of pizzas.

Event started and she was explaining about how this dessert was created and at the same time informing us about the upcoming super deals for SG50!

We also got to play a series of games. I was trying to stack a bunch of bananas to her head but we did miserably bad. Nevertheless, it was so fun!

I got their limited-edition t-shirt. Cool!

We played another game, which is to arrange the bananas in a creative way. I think my group did a fabulous job!

Finally, it's pizza time! I really love their pizza, they give a generous amount of topping for each and every. So so good! You should try it out.

A picture with pizza. I'm hungry now!

It's all about pizza, even dessert! The moment it came out of the oven, it was so aromatic.


A group picture with the rest

And because it's SG50, the delightful Banana Kaya Dessert is selling at 50% off for a limited period only! $3.90 instead of $7.80, what a bargain!

Click the image for a larger view.
Not only that, 50% off for All time Favorite Pizzas and Sides! (available daily from 3pm to 6pm)
And with Domino's Pizza SIngapore unique ordering platforms, there will be
– 30 minute delivery guarantee OR 15 minute takeout guarantee
– Product satisfaction guarantee
– Free Delivery Islandwide
– Nett Pricing
So hurry! Get your selections at 50% off while at the same time have free delivery.
Like Domino's Pizza Singapore on their Facebook page to get all the latest update on the promos and offers.
Visit their website, www.dominos.com.sg or call their hotline 6222 6333 to order now!
Disclaimer: This is a media release.