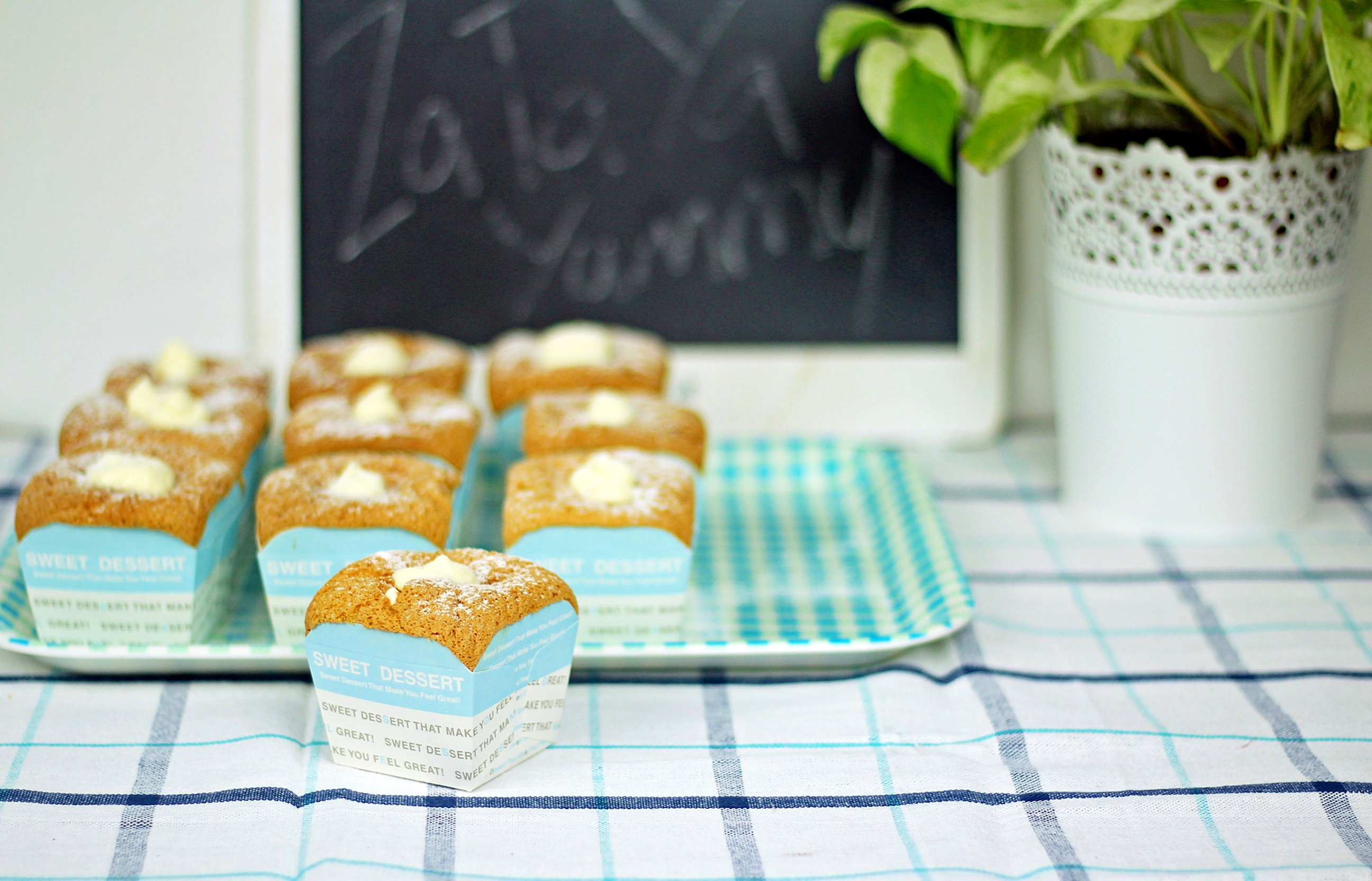 Hokkaido Chiffon Cupcake (北海道牛奶蛋糕)

If you are a fan of chiffon cakes, I'm sure you will know what is Hokkaido Chiffon Cupcake in Singapore and Malaysia
This velvety soft cupcake filled with lovely creamy custard cream, is something you will dream of it.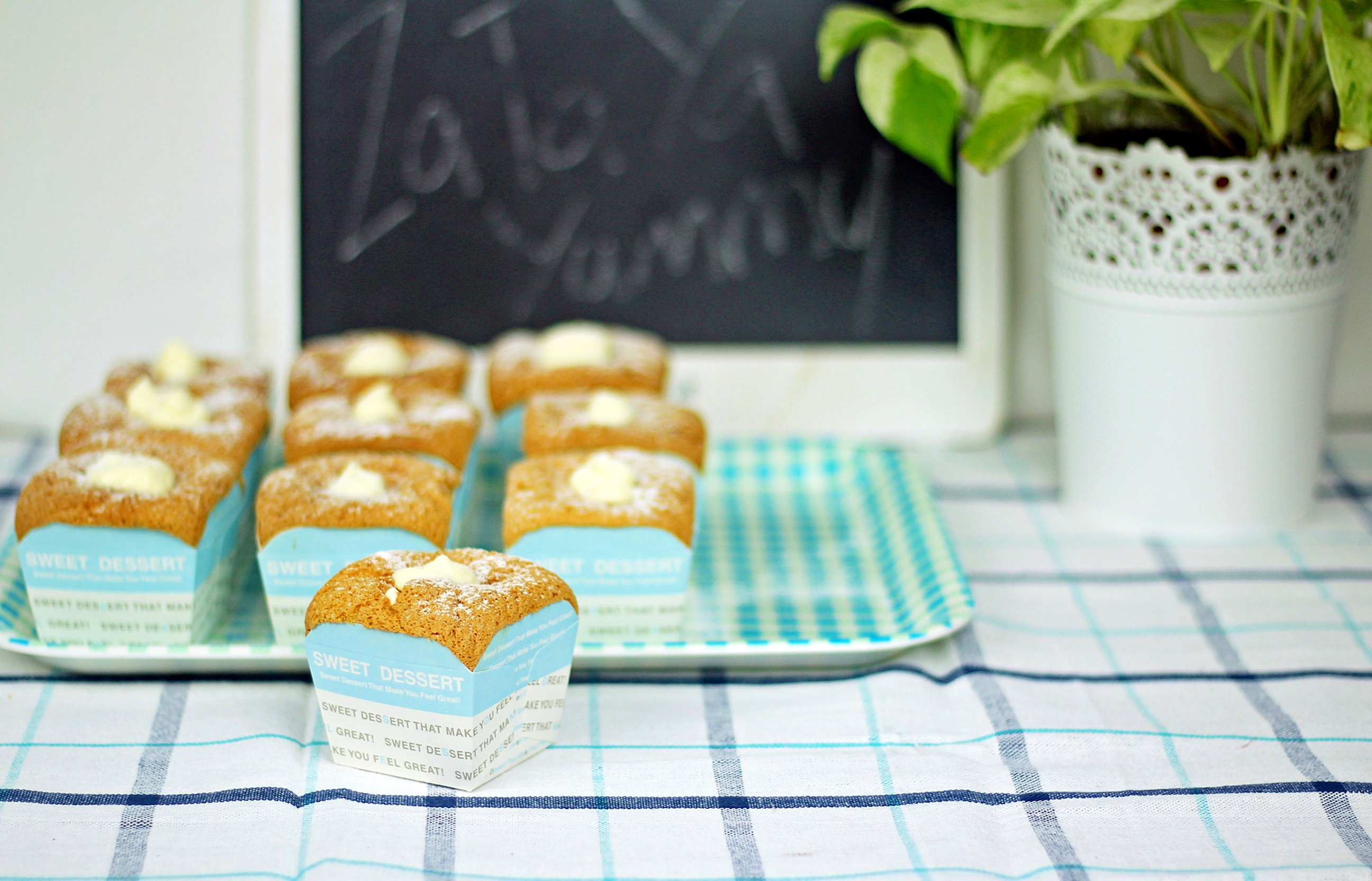 Fun fact: Hokkaido Chiffon Cupcake, also known as 北海道牛奶蛋糕, is not from Japan. It is actually originated in Singapore and Malaysia.

There were two theories that why we named it, 'Hokkaido Chiffon Cupcake'.
1) A chiffon cake that was made using Hokkaido Milk.
2) A cake that looks like a volcano that has a snow top and lava oozing out.
Either way, this concept was beautifully created in Singapore/Malaysia and became really popular ever since.

Looks good right? It is a must try recipe.

A friend of mine, loves Hokkaido Chiffon Cupcake. She used to buy it every morning for breakfast. I am going to surprise her with some when I meet her!


Hokkaido Chiffon Cupcakes
2015-07-18 15:37:23

Serves 10
Egg Yolk Batter
75 grams of plain flour
35 grams of corn starch
1 tsp. of baking powder
1/8 tsp salt
65 grams of fine white sugar
1 ½ tsp of vanilla extract
3 egg yolks
60 ml of oil
60 ml of milk
Egg White
3 egg whites
3/8 tsp vinegar/cream of tartar
65 grams of fine white sugar
(Custard)
180 ml of milk
2 egg yolks
3 tbsp. of fine white sugar
1 tsp. of corn starch
1 tbsp. of plain flour
1 tsp. of vanilla extract
(Whipped Cream)
120 ml of whipping cream
1 tbsp. of fine white sugar
Icing sugar
Instructions
o make the cupcakes,
Preheat oven to 170C or 150C fan-forced.
Shift plain flour, corn starch, baking powder and salt together in a bowl.
In another bowl, whisk egg yolks and sugar vigorously for a minute until pale and creamy.
Drizzle in vanilla extract.
Then, stir in milk and oil.
Lastly, gradually spoon in flour mixture
Set aside while we make our egg white mixture.
In your mixer bowl, pour in egg whites and vinegar together. Whisk on high speed until frothy.
Then gradually spoon in sugar and continue mixing until stiff peaks.
To combine, fold in egg white mixture a dollop at a time.
Transfer them into your square paper liners. Drop the pan to raise large air bubbles out.
Bake it in the oven for 20 to 25 minutes.
Let it cool while you make your filling.
To make the custard,
Heat up milk until just below boiling point.
In a bowl, whisk egg yolks, sugar, corn starch, and plain flour vigorously for a minute until pale and creamy.
Slowly add in half of your hot milk while whisking.
Transfer your egg mixture back to the pot.
Cook on medium-low heat whisking constantly until thickens.
Shut off the heat and immediately transfer into a bowl. Add in vanilla extract.
Cover it with a cling wrap, touching the custard and let it chill in the fridge.
Once everything is cooled, whip whipping cream and sugar on high speed until stiff peaks.
Throw in cooled custard and whisk on medium speed for another 20 to 30 seconds until combined.
Transfer into a piping bag and pipe into the chiffon cakes.
Dust with some icing sugar and serve.
TheZongHan https://thezonghan.com/