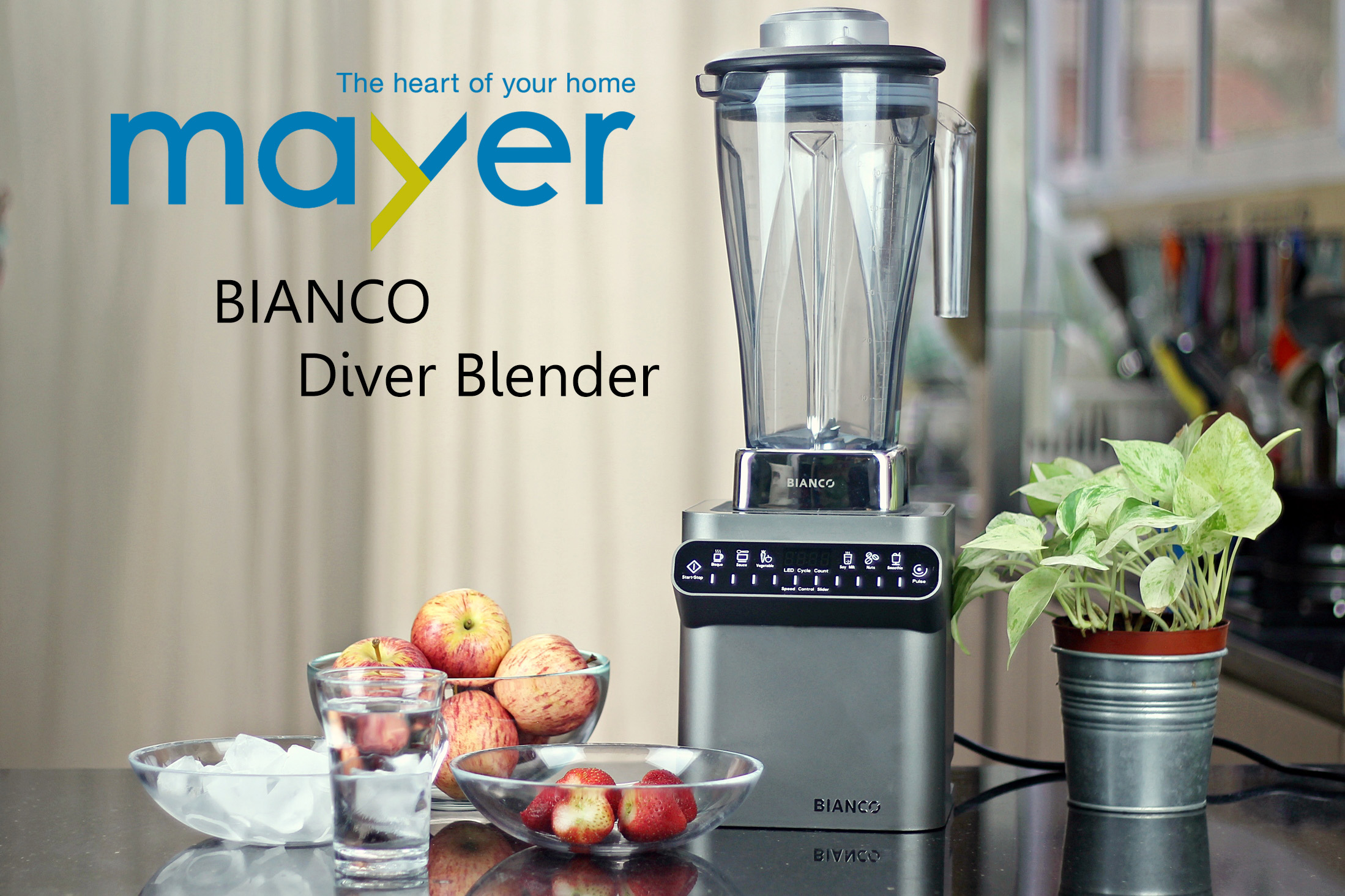 Mayer BIANCO Diver Blender Product Review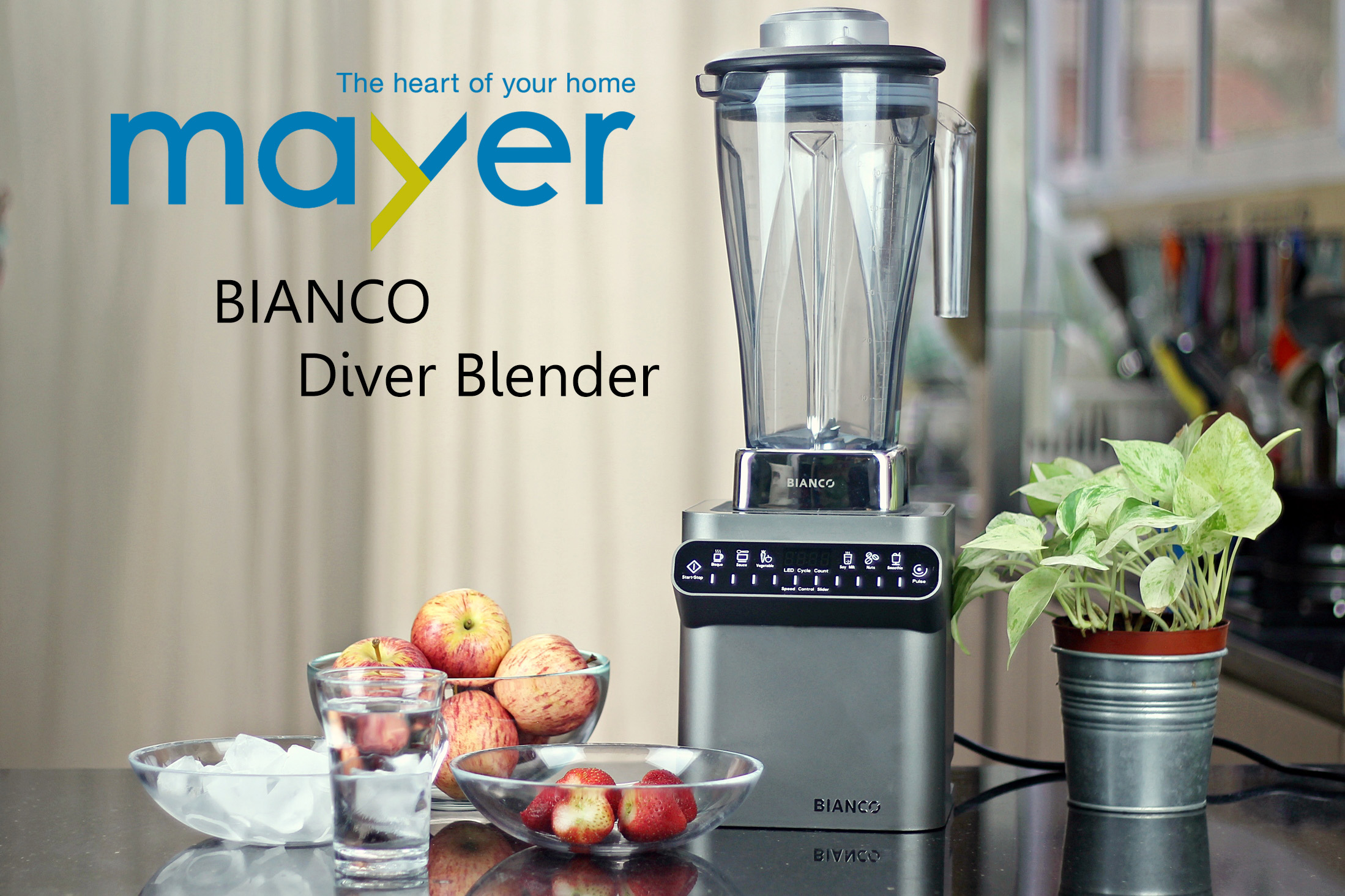 If you have read my previous blog post about my Fancy Strawberry & Mango Swirl Smoothie, you will know what I have used Mayer BIANCO Diver Blender! In this blog post, I will be reviewing this new product from Mayer. It's worth to read especially if you are looking for a good blender for long-term.

You can see that this high-speed blender is way different from other blenders as it has a very special base. Beautifully crafted by two Italian designers for this German company, it made my kitchen look sleek and modern.

A good blender needs to have good amount of power from its motor. This blender not only looks good, but also super powerful! This BIANCO Diver Blender from Mayer has a huge 1680 watts motor for all your needs. Meaning its rotation can go up to 32,000 rev / min. speeds, which is very fast! Not only that, the knife of BIANCO Diver have maximum durability as it is made up of 6 Japanese high-carbon steel. Sharp and long-lasting.

If you know the ever so famous VitaMix from USA, you will know that it is a highly recommended blender worldwide. Yes, this Mayer BIANCO Diver Blender is comparable to VitaMix. I would say that both are high performance blenders. But what set apart from Mayer's new blender is that it has 6 automatic programs for fuss-free usage! I love the preset programs. With a touch of a button through the touchscreen panel, BIANCO Diver will know what speed and how many pulse to ensure the best consistency and texture of your final product. Now that is smart.

I am a very lazy person and I don't cut my fruits when making smoothie if possible. I have tried throwing in whole apple before and it works! No sign of stress to the blender and it blends well. One problem I do however find is that sometimes 30 sec of preset 'Smoothies' program is not enough if you have whole and frozen fruits. So I will either choose 'Vegetable' or twice the 'Smoothies' program. Not a big problem for me, most blenders in the market currently can't even do that.
A short demo to show you that you can blend whole apple. I have used the manual mode to show you that you also can do that.

Apple and Strawberry smoothie. So loving it.

Smooth and delicious. From the demo you can see that it is really quick and easy to make smoothie using this blender. Blend just under a minute and is ready. Not to mention again that I threw in whole apple. Why pay for commercial smoothie when you can make yourself fresh so easily?

Did I tell you that it has an automatic setting program called "Soups (Bisque)" that can blend your ingredients while at the same time heating it up to 100 degree celsius due to the friction created by the super fast blades. I have tried and made some Carrot, Tomato and Ginger soup. I'm impressed!
In just 8 minutes, I got a steaming hot 'Raw Soup'. All I had to do was to precut the ingredients to the desired weight, throw it in the blender with some vegetable stock and blend using the "Soups (Bisque)" program. I now can have healthy delicious hot soup whenever I want!

Mayer BIANCO Diver Blender do comes with a rod with built-in temperature display for you to push your ingredients down. However, I don't find this a need to use as this blender has excellent mixing technique already.
A short product introduction video from BIANCO's website.

I highly recommend this blender to everyone, especially if you use it everyday. I have been using it as least once in every other day for my whole family, pushing the limits of this blender and so far it has been doing a superb job.
Honestly speaking unless you are living in North America, a low-end VitaMix will cost you over a thousand Sing dollar. Why not try this blender? With the same high performance as VitaMix at more than half the price while giving you excellent workmanship and innovative usability that VitaMix doesn't.
–
Click Here to direct Blender page.
*This is a sponsored post