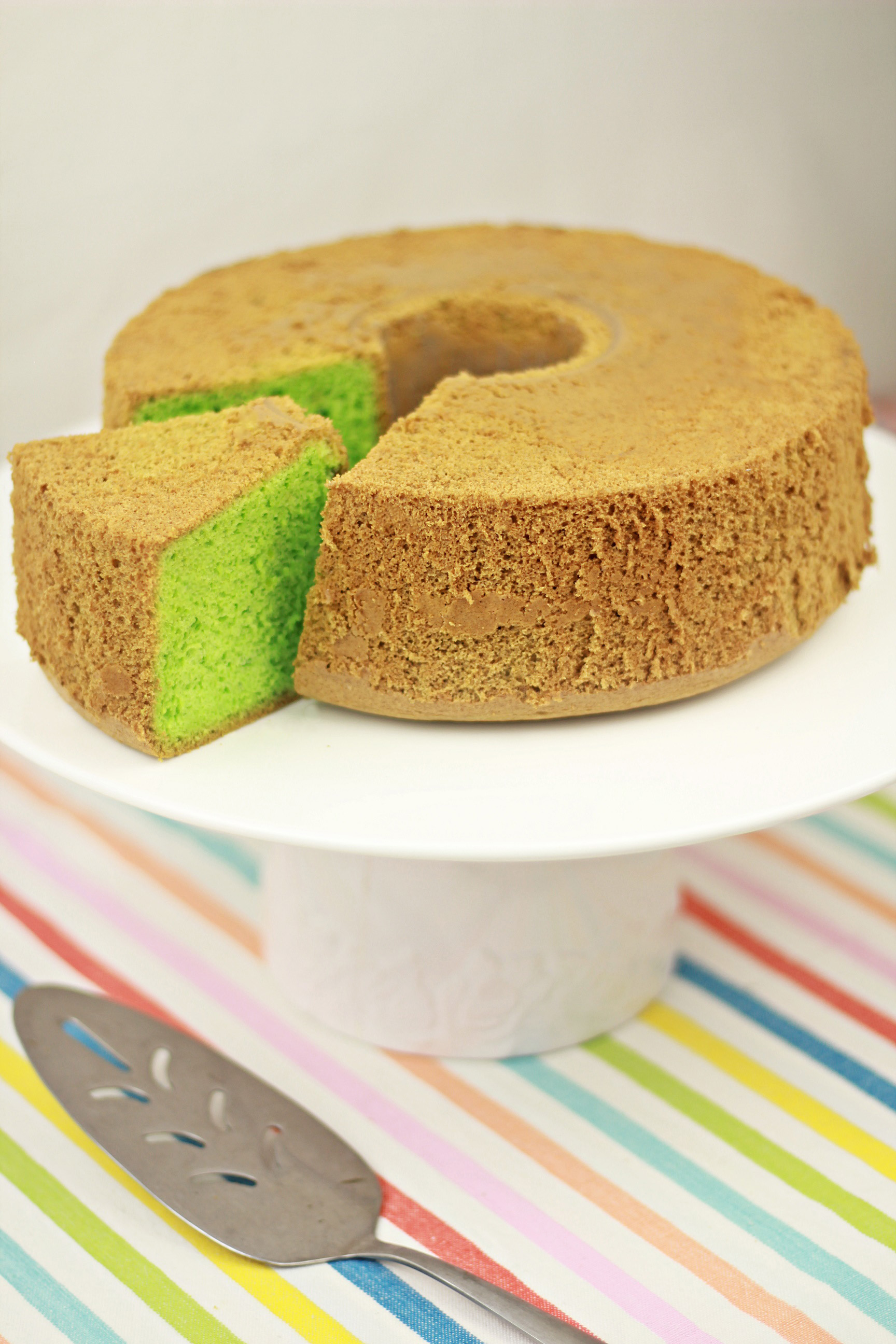 Nothing beats a good Pandan Chiffon Cake. It is light, soft and fluffy! Almost like a cottoncandy if that make sense.

This cake is Singaporeans' favourites. We love our Pandan cakes and we can eat it any time of the day. Breakfast along with a cup of coffee, or just an afternoon snack. It is just so delicious.

Making a chiffon cake isn't hard at all. Some tips and tricks for you before we begin.
Use some vinegar or cream of tartar in your egg whites to stabilize
Use the right size tube pan
Do NOT grease your pan
Turn your pan upside down after you bake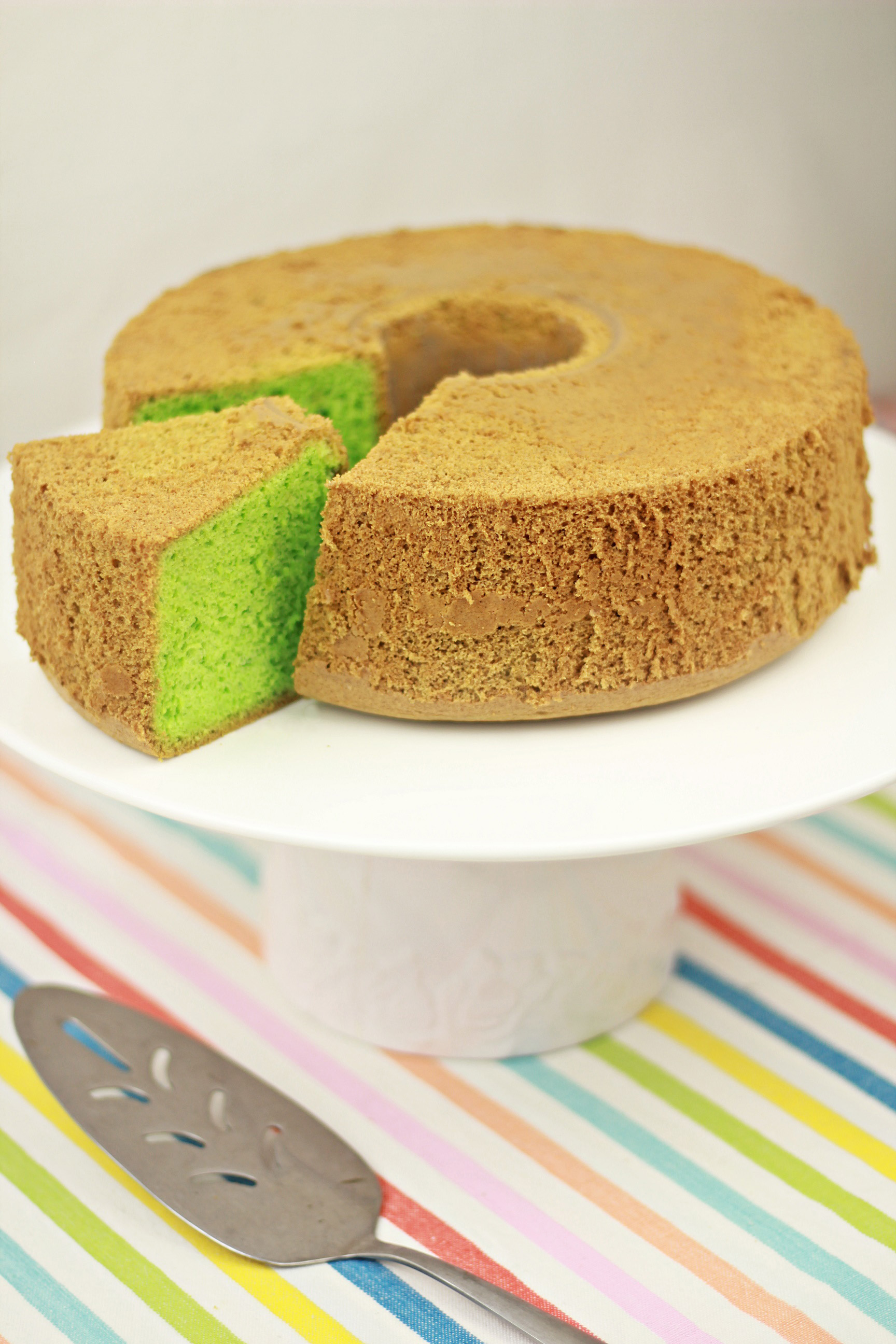 The beautiful green comes from the Pandan leaves and paste. Some choose to leave the paste out of their recipe. But, I always think that adding some extra Pandan paste to the batter will make it an even more fragrant and flavoursome.
Not only that, using coconut milk instead of just plain water will yield you even aromatic and mouth-watering Pandan chiffon cake. I know that coconut milk has a high content of fats but a little makes a lot of differences!

Pandan Chiffon Cake - Singapore
2015-09-11 12:21:29

Make 1 21-cm tube pan
Egg White
5 egg whites
¾ tsp. of vinegar
(1/4 cup) 60 grams of white sugar
Egg Yolk Batter
5 egg yolks
(1/4 cup) 60 grams of white sugar
(3/4 cup) 100 grams of plain flour
(2 tbsp.) 20 grams of corn starch
1 tsp. baking powder
¼ tsp. salt
1 tsp. pandan paste
(1/4 cup) 65 ml of vegetable oil
(1/4 cup) 65 ml of coconut milk + 2 tbsp. of water
35 grams of pandan leaves, chopped
Instructions
Preheat oven to 160C or 140C fan-forced.
To extract pandan leaves,
Puree coconut milk, water and pandan leaves in a chopper until smooth.
Then, strain the mixture. Discard the residue.
Let's start mixing the egg yolk batter,
In a large bowl, whisk egg yolks and sugar vigorously for about a minute until pale in color.
Next drizzle in pandan-coconut mixture and pandan paste.
Add in oil.
Lastly, sift in plain flour, corn starch, baking powder and salt.
Stir until well combined and set aside while you whisk your egg whites.
For the egg whites,
In your stand mixer, whisk in egg whites and vinegar on high speed until frothy. Then, gradually add in sugar and continue whisking until stiff peaks.
Fold in egg white mixture a large dollop at a time into the egg yolk batter.
Transfer into a 21 cm ungreased tube pan. Use a skewer and run around the batter to remove large air bubbles. Drop the pan to also remove large air bubbles.
Bake it in the oven for about 55 minutes to an hour.
Invert the cake with the pan immediately after baking and let it cool completely.
Once cooled, run a knife around the sides and bottom. Serve.
TheZongHan https://thezonghan.com/