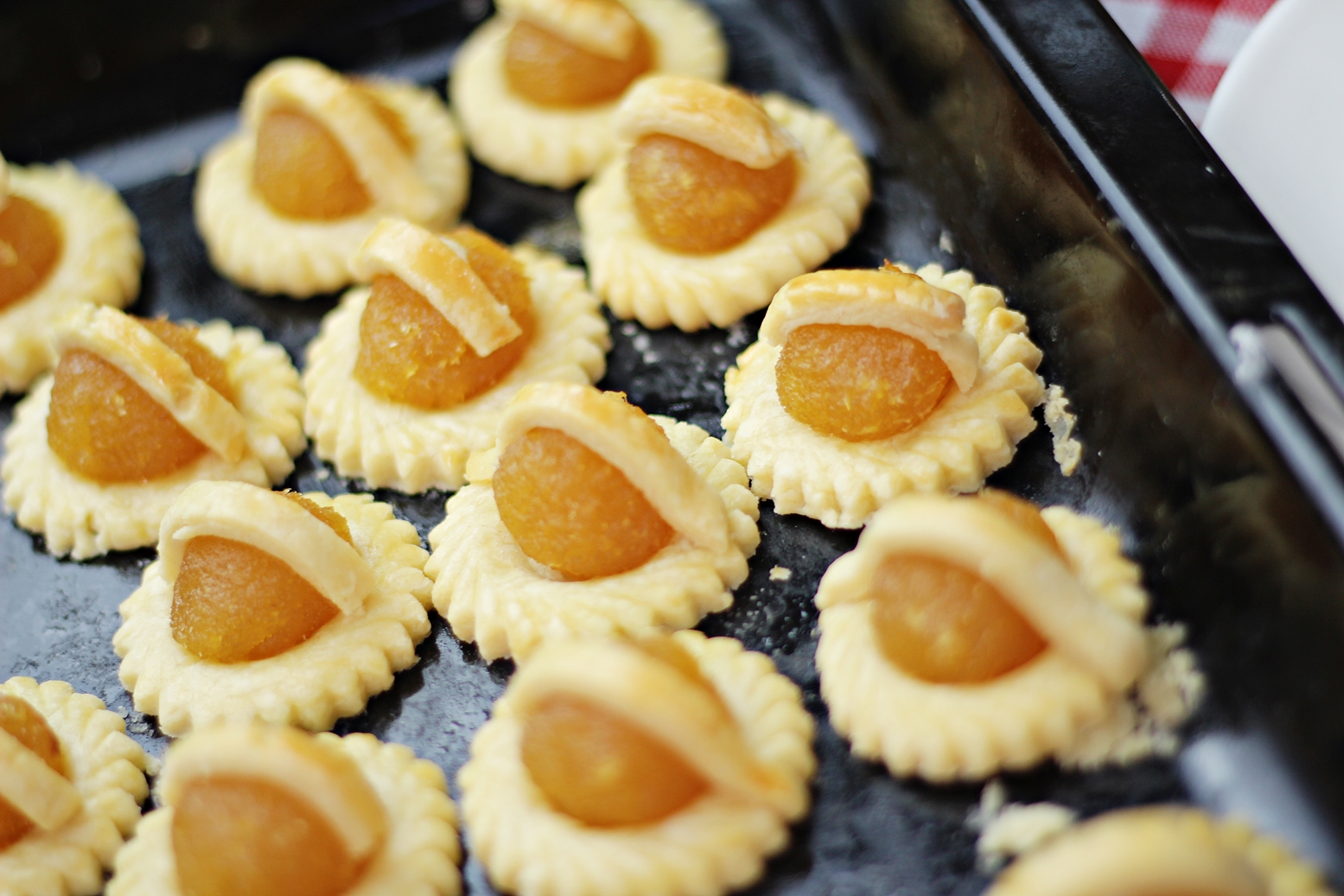 Pineapple Tart – Opened – Chinese New Year

Chinese New Year is once again around the corner and this time I tried making opened-shape Pineapple Tarts. It wasn't a good experience, people who knows how to make Pineapple Tarts knows that it is a tedious work.


There are many types of Pineapple Tarts in Singapore and the 2 most popular types are the opened flower-shape Pineapple Tarts (which is this recipe) and the enclosed pineapple balls. I am more of a ball person but this year I came to love opened Pineapple Tarts. It took me lots of tried and errors to get this recipes right.


I will share some tips and tricks so that you will get a crumbly buttery crust that everyone loves.
It is a must to add salt into the crust's dough. Salt will enhance the butter flavor and will give you a fragrant and buttery crust. Omission of salt will give you a dull and blend crust. For Pineapple Tarts, you are looking for a salty crust, not a sweet one.
You must not overwork the dough. Overworking or adding too much flour are the keys to tough and floury crust, you won't want that. As I said, you want a crumbly buttery salty crust and flour is your enemy. But less flour means, harder to handle the dough. So I would recommend to chill your dough and doing this in batches of 4, leave your dough in the fridge while you roll out a portion of the dough. Another thing to take note, if possible roll out your dough between 2 parchment papers to avoid adding additional flour.

Though it may be tiring to make your own Pineapple Tarts, it's really easy to make your own. I have been making Pineapple Tarts myself for the past 3 years.

Pineapple Tarts - Opened
2015-02-15 14:42:19

Serves 70
For the crust
400 grams of plain flour
30 grams of corn starch
250 grams of unsalted butter, soften
1 whole egg
2 egg yolks
50 grams of icing sugar
1 tsp. of salt
Egg Wash
1 egg + 1 tbsp. of water
Filling
2.4 kg of pineapple flash, canned or fresh
600 grams of white sugar
OR
700 grams of pineapple jam filling
To make the filling using a microwave
Blend pineapple until it turns to a puree and drain it.
Drain it using a strainer. You will need to drain about 700 ml of pineapple juice. Discard the juice or drink it.
Microwave on high pineapple pulp and sugar together for 25 to 30 minutes. Taking out and stirring every 10 minutes.
Let it cool and roll out into balls, each weighing 10 grams.
To make the crust
Cream together soften butter, sugar and salt together in a food processor for 20 seconds.
Add in flour and corn starch, pulse until resembles like bread crumbs.
Drizzle in beaten eggs and mix until dough is form. Let it sits for an hour in the fridge.
Roll out dough into 5mm thickness on a floured surface using a rolling pin. Alternatively, you could use 2 parchment papers and roll it out.
Using a cookie cutter, cut out shapes and transfer them into a baking tray lined with parchment paper.
Egg wash them using a brush and top each with one pineapple filling.
Let it sit in the fridge while you preheat your oven to 170C or 150C fan-forced
Bake it in the oven for 15 to 20 minutes.
Notes
I recommend rolling out your dough in batches of 4, leave your dough in the fridge while you roll out a portion of the dough.
TheZongHan https://thezonghan.com/