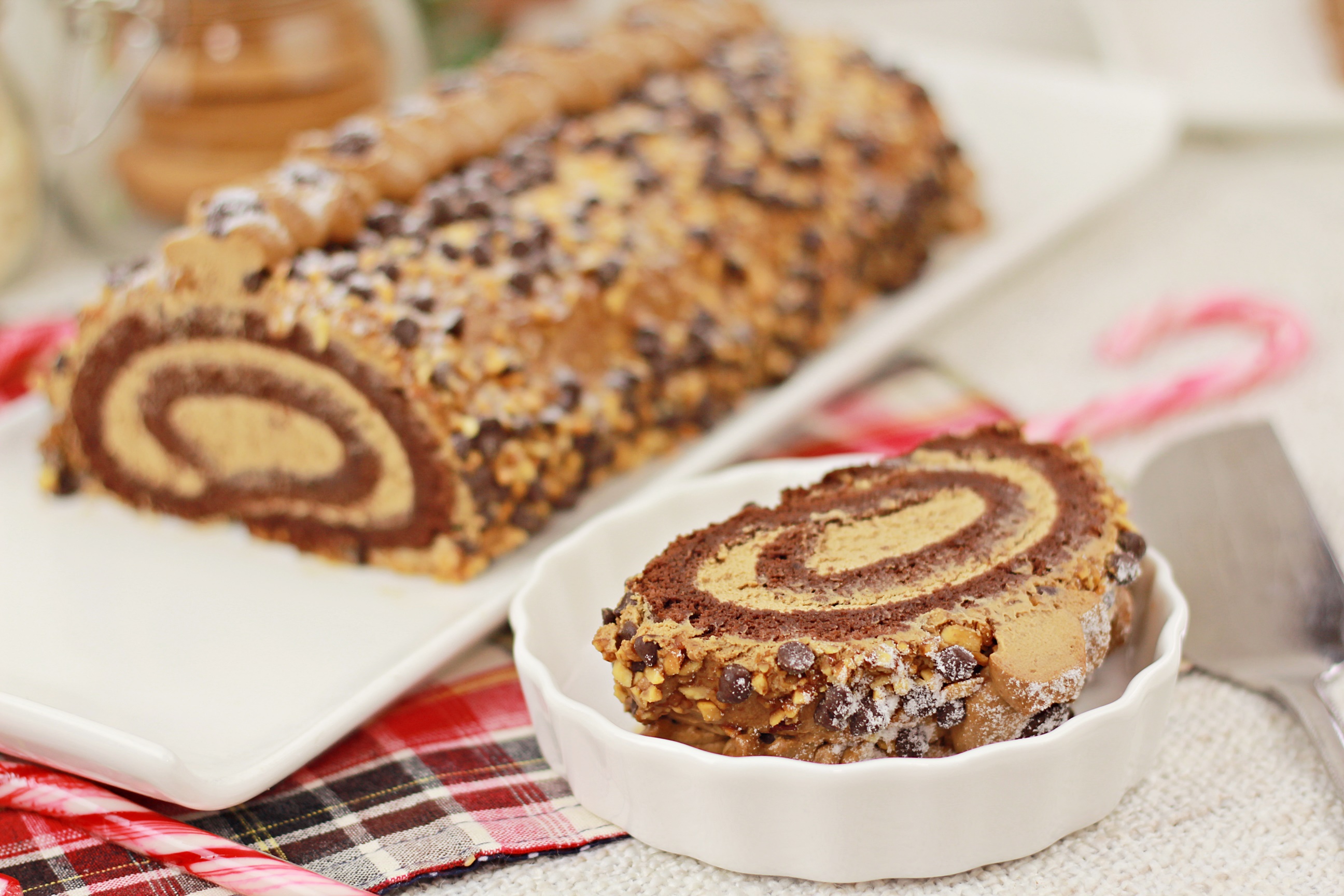 Mocha Swiss Roll (Yule Log Cake)

For my last Christmas recipe of this 2015, I will be sharing my Mocha Swiss Roll. A.k.a, Mocha Yule Log Cake.

Impressive and so delicious. The flavor mocha has been popularized among our local bakeries. You can find all kinds of mocha desserts everyone. Range from breads (eg. Roti Papa) to cakes with cream.

Not a cake decorator? Nevermind, this swiss log (or log cake…) will be covered with lots of chopped peanuts and chocolate chips. All your flaws can now be covered. Hahaha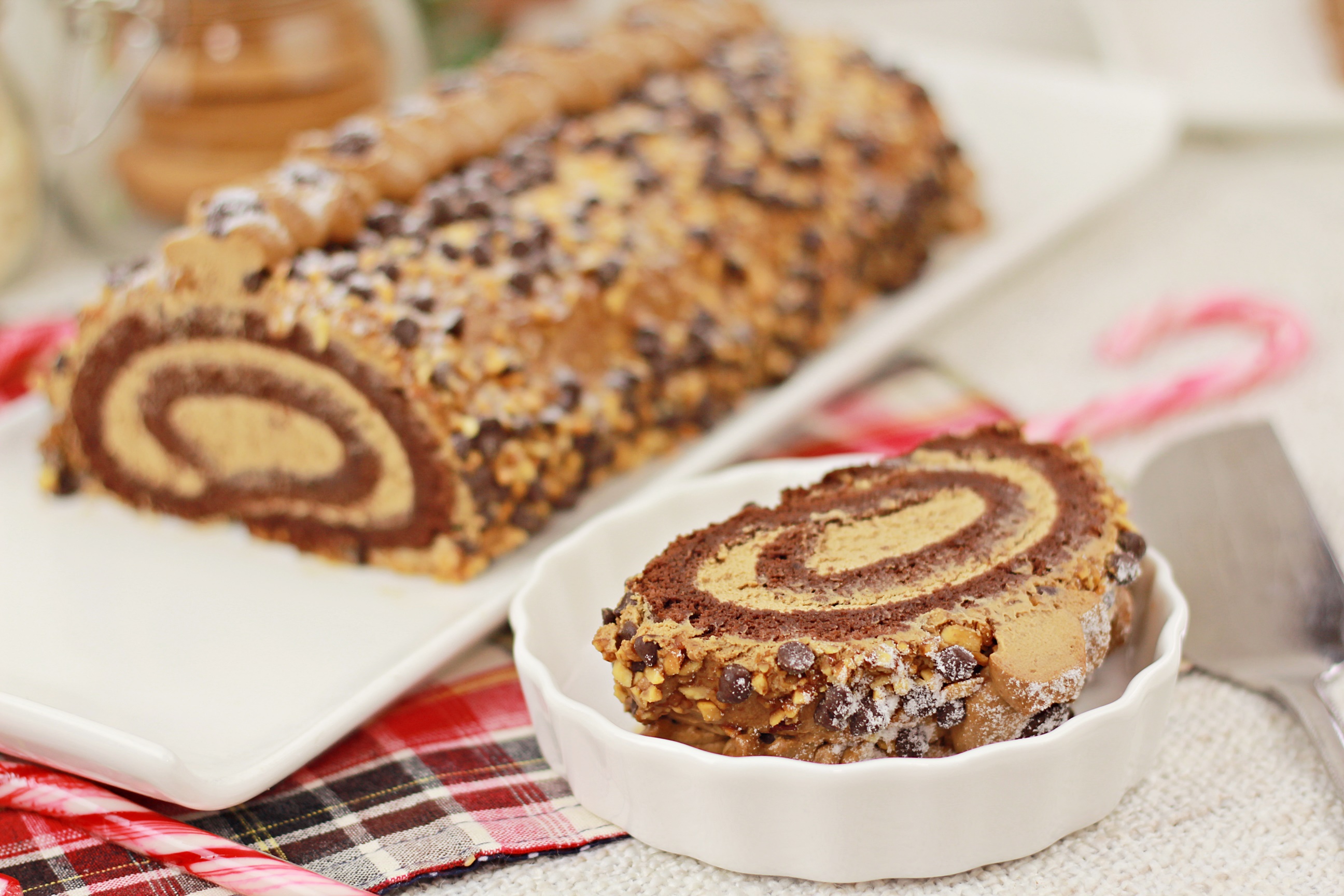 Mocha Swiss Roll (Yule Log Cake)
2015-12-25 10:24:20

Cake
4 eggs, separated
½ tsp of vinegar
5 tbsp. of white sugar
¼ tsp. of salt
1 tsp. of vanilla extract
1 tsp. of coffee emulsion
4 tbsp. of cocoa powder, plus extra for dusting
60 grams of cake flour
3 tbsp. of vegetable oil
3 tbsp. of milk
1/4 cup of freshly-brewed coffee
Syrup
2 tsp. of sugar and 4 tbsp. of warm water, mix well
Mocha Cream
(500ml) 2 cups of whipping cream
3 tbsp. of white sugar
3 tbsp. of coffee emulsion
Sprinkles
Chocolate chips
Chopped peanuts
Instructions
Preheat oven to 200C/ 180C fan-forced
Whisk egg yolks, 1 tbsp. of sugar, and salt until combined.
Add in coffee emulsion and vanilla extract
Drizzle in milk, oil and freshly brewed coffee.
Sift in cocoa powder and cake flour. Stir until well mixed.
Set aside while you whip your egg whites.
In a clean bowl, whisk egg whites and vinegar on high speed until frothy.
Then gradually add in the rest of the sugar and continue whisking on high speed until stiff peak.
Fold in egg white batter into egg yolk mixture a third at a time until well combined.
Transfer into a baking tray lined with parchment paper. Bake it in the oven for 10 minutes. (384 x 260 x 16mm)
Once out of the oven, immediately cover with another parchment paper and let it cool completely.
Brush some syrup onto the sponge cake
Whip chilled whipping cream and sugar until soft peaks. Drizzle in coffee emulsion and whip until stiff peaks.
Transfer half of the coffee cream onto the sponge cake.
Carefully roll into a log.
Frost the cake with the rest of the cream.
Sprinkle some chocolate chips and chopped peanuts.
You may also pipe out some cream and dust icing sugar for some decorations
Notes
(Notes: You may use 1 tsp. of instant coffee and hot water instead of freshly brewed coffee)
TheZongHan https://thezonghan.com/