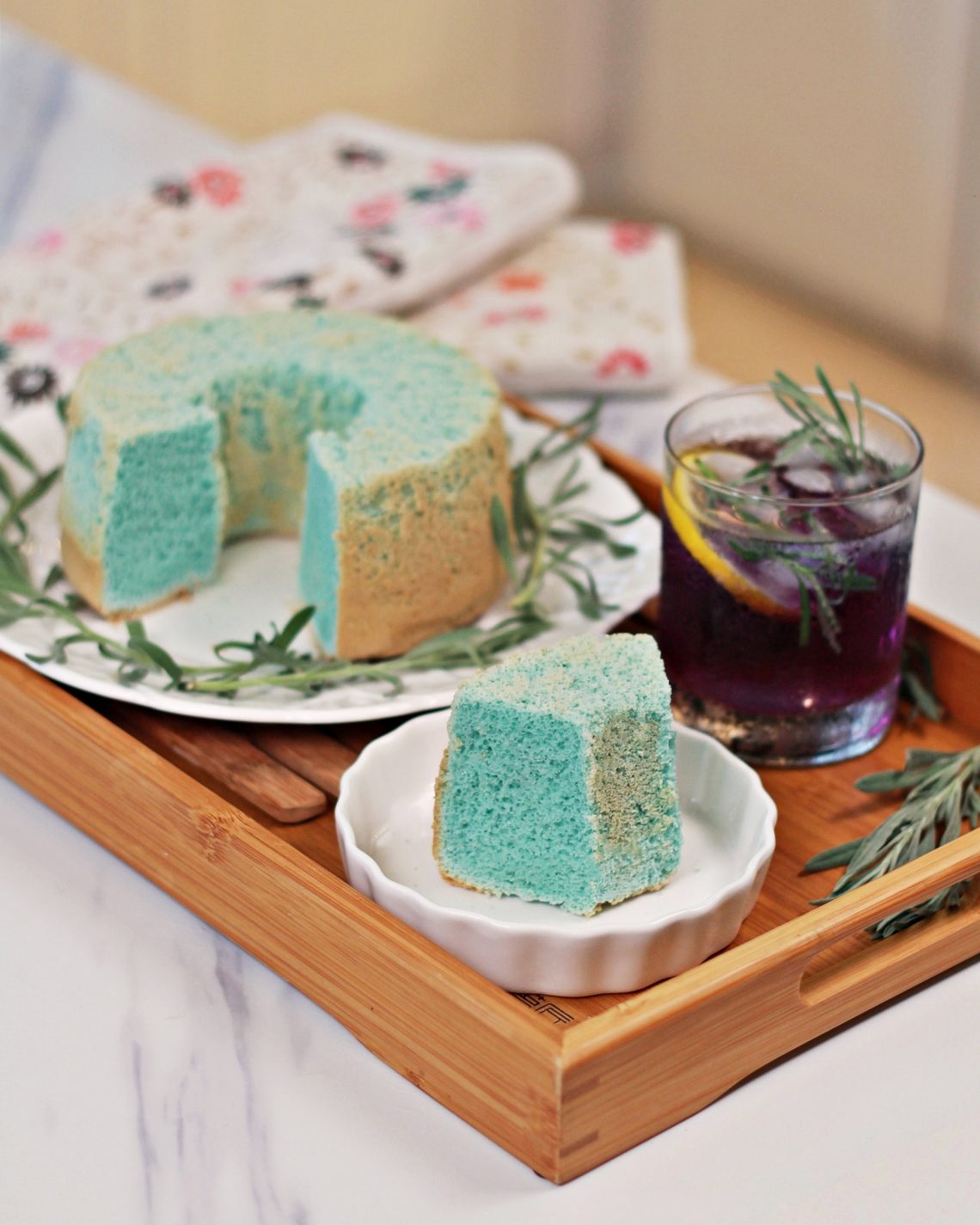 Butterfly Pea Flower Chiffon Cake – 蝶豆花戚风蛋糕

Sometimes it's nice to have something special but still comforting. The colour of the chiffon cake comes from the Butterfly Pea Flower itself, even though it does not have much of a taste. Still, it looks stunning and definitely brightens up one's mood.

My brother grew a variety of herbs in the garden and I felt that Rosemary was a good fit to decorate the cake with it. However, the aroma of the herb can be alittle too overpowering for some. I felt that the warm 'spice' fragrant of the Rosemary was a nice complement to the chiffon cake. My brother didn't like it.

As usual, I try to replace sugar with Gavia Natural Sweetener whenever possible to cut down my family's sugar intake. It worked well, the cake rose perfectly! However, try to only slice the cake when you want to eat it if you are using Gavia for your chiffon cake. If you leave it uncovered, it will form a dry 'skin'. It's still super soft and delicate though.
Butterfly Pea Flower Chiffon Cake
Servings
6
inch chiffon cake
Ingredients
Butterfly Pea Flower Water
15 - 20

dried blue pea flowers

60

ml

of water
Chiffon Cake
80

grams

2 egg whites

3

tbsp

white sugar/Gavia Natural Sweetener

2

egg yolks

2

tbsp

white sugar/Gavia Natural Sweetener

1

tsp

pandan extract

1

tsp

milk powder

30

ml

2 tbsp vegetable oil

40

grams

of plain flour

10

grams

of cornstarch

1/2

tsp

baking powder
Instructions
Preheat oven at 170C.

Then, add in water and dried butterfly pea flower in a saucepan. Bring to a boil and reduce it to about 30 ml. Strain the flower.

Combine egg yolks, sugar, pandan extract, milk powder.

Then, drizzle in Butterfly Pea Flower water and vegetable oil.

Stir in dry ingredients, plain flour, cornstarch and baking powder. Set aside.

In another clean bowl, whisk egg whites until frothy.

Then, gradually stir in sugar and whip with your beater on high speed until stiff peaks.

To combine both mixtures, stir in a dollop of the meringue into the egg yolk mixture.

Then, fold in both mixture gently using a whisk.

Transfer your batter into a 6-inch removable chiffon cake pan.

Use a skewer to swirl around the batter while dropping the pan in between to remove large air bubbles.

Bake it in a preheated 170C oven for 30 to 35 minutes.

Let it cool completely upside down.

Carefully remove the cake from the pan and serve.