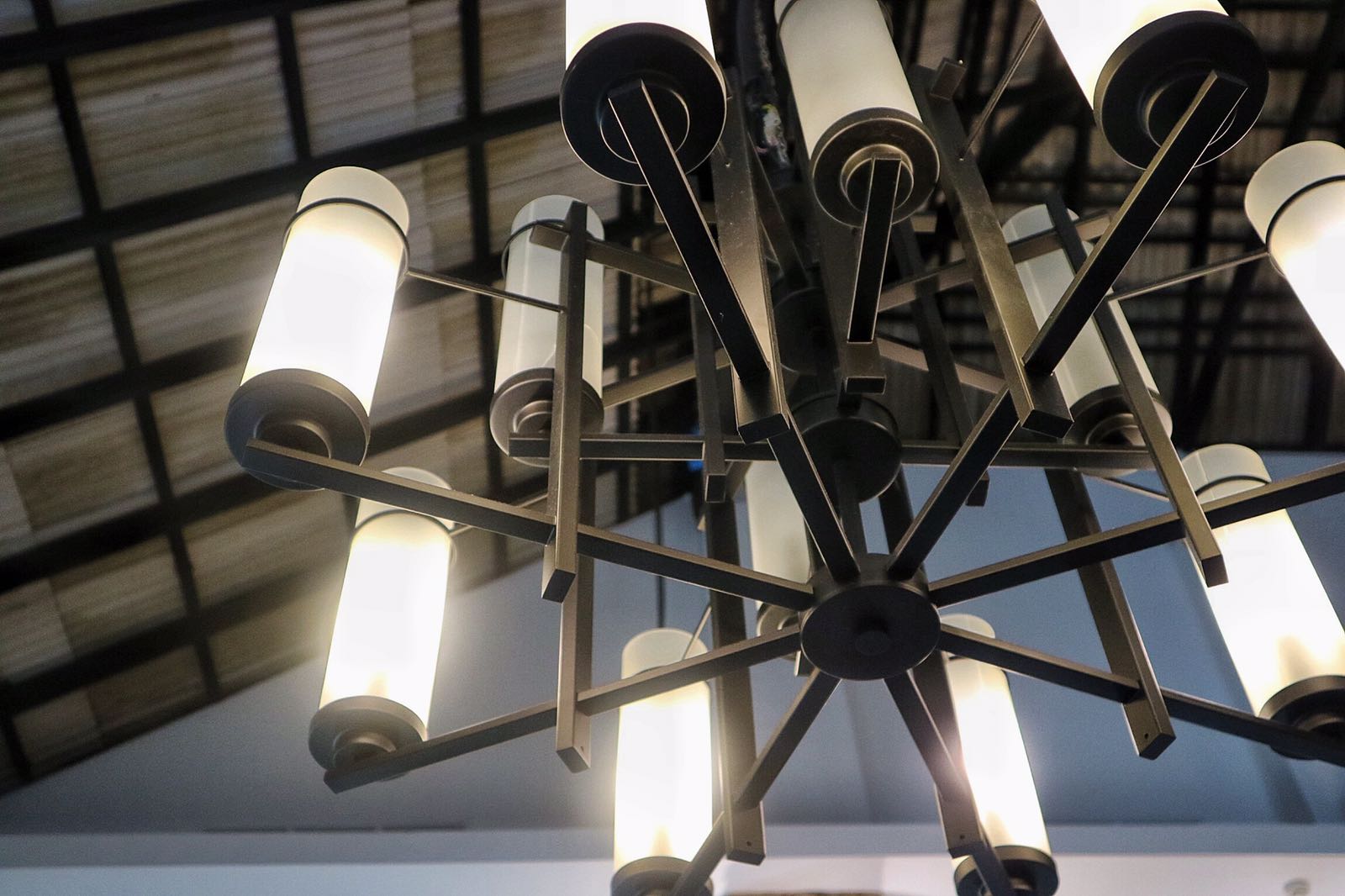 Portico Prime @ Dempsey Hills – Chic & Modern European Restaurant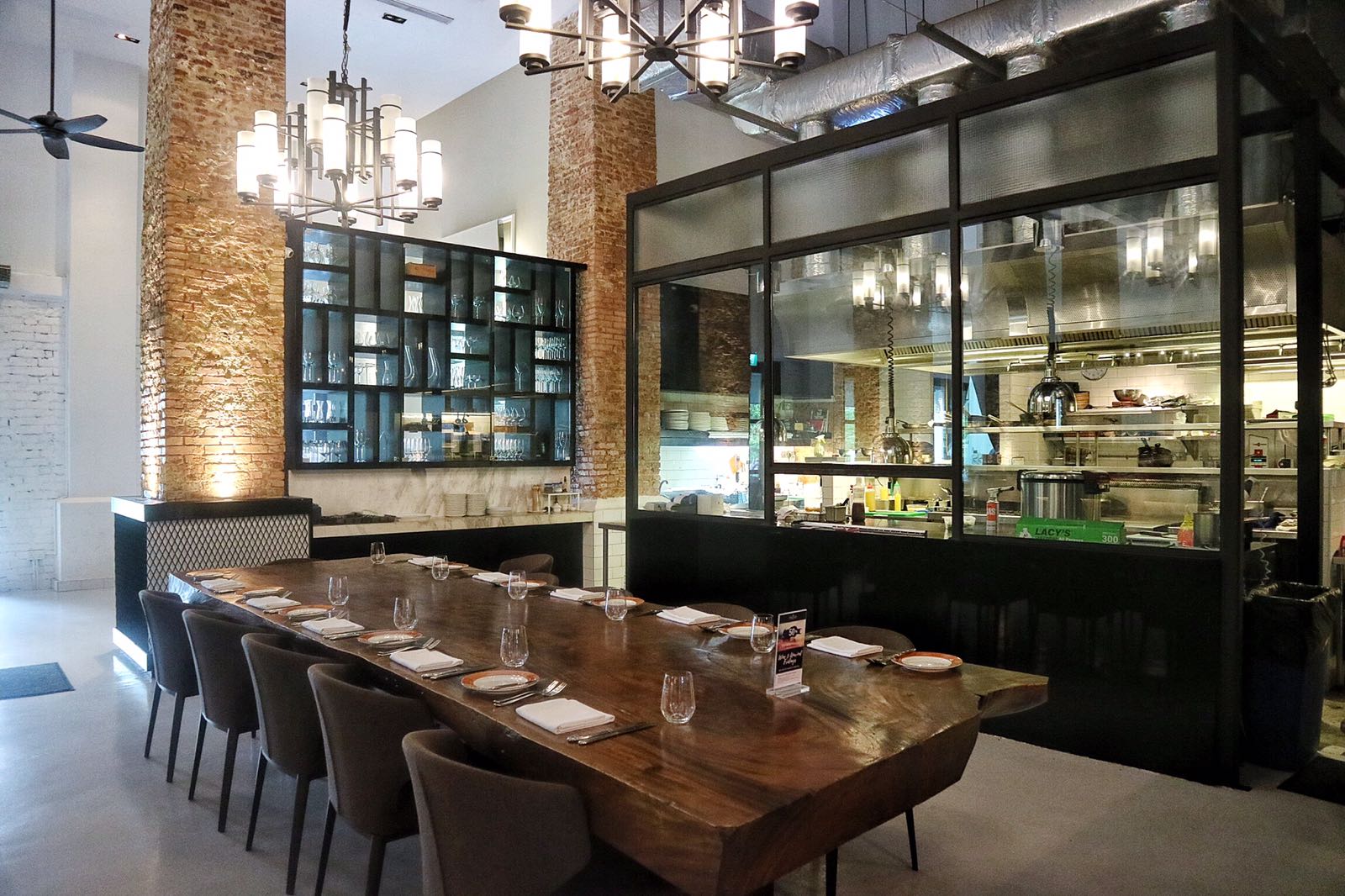 Situated in Dempsey Hills, Portico Prime offers a Chic & Modern European Restaurant. The interior is simple and industry-styled, yet refined and elegant. It will sure be a lavished experience here.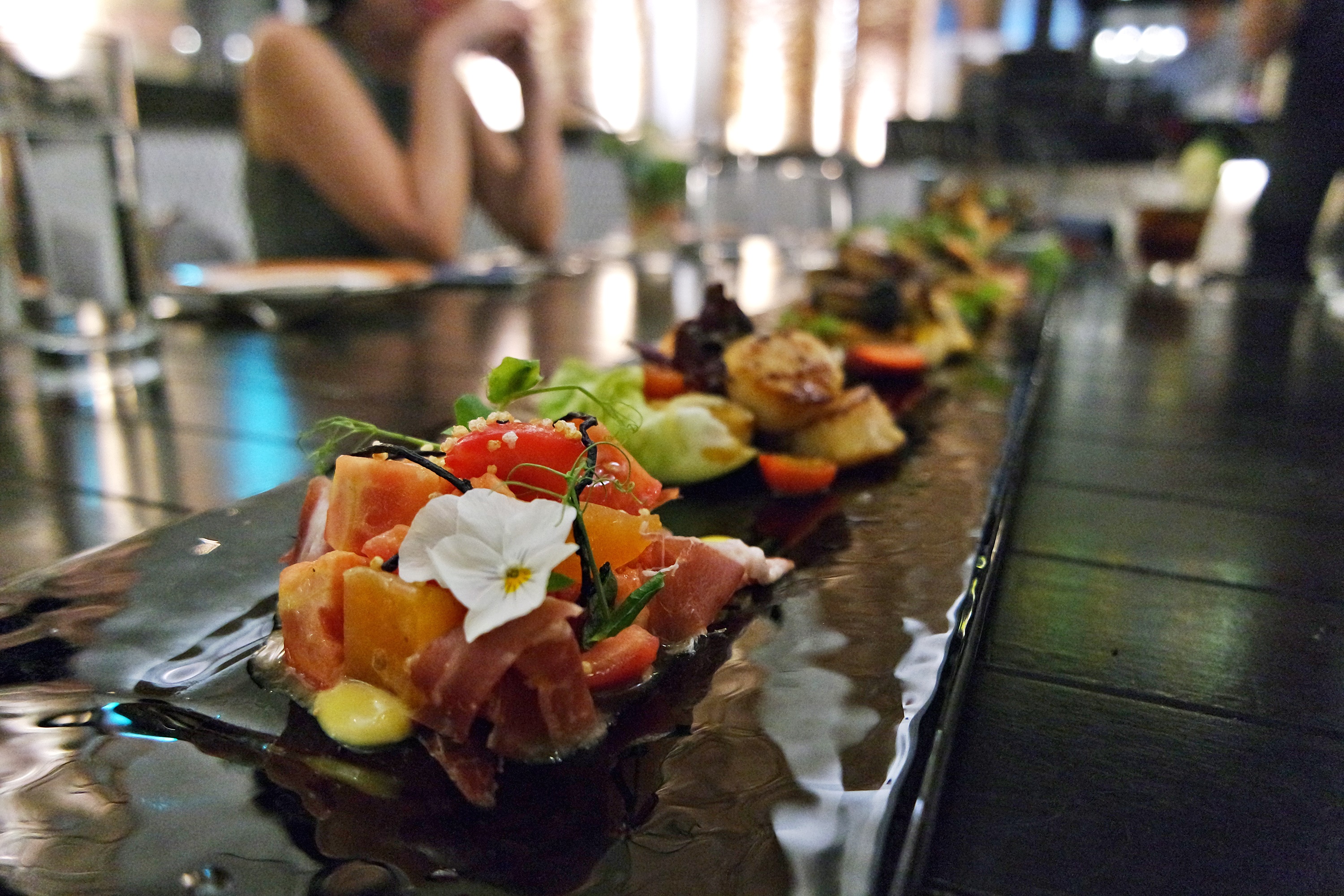 To get things started, I got to try out a few appetizers.
Roma Tomato Salad has two different types of Jamon (also known as Ham in Spanish), it was certainly unusual and I'm not used to the taste. The salad was scattered with Quinoa and Hijiki Seaweed and a finishing of Rock Melon Dressing. Still, I love how the tomatoes go well with the Quinoa and the dressing together.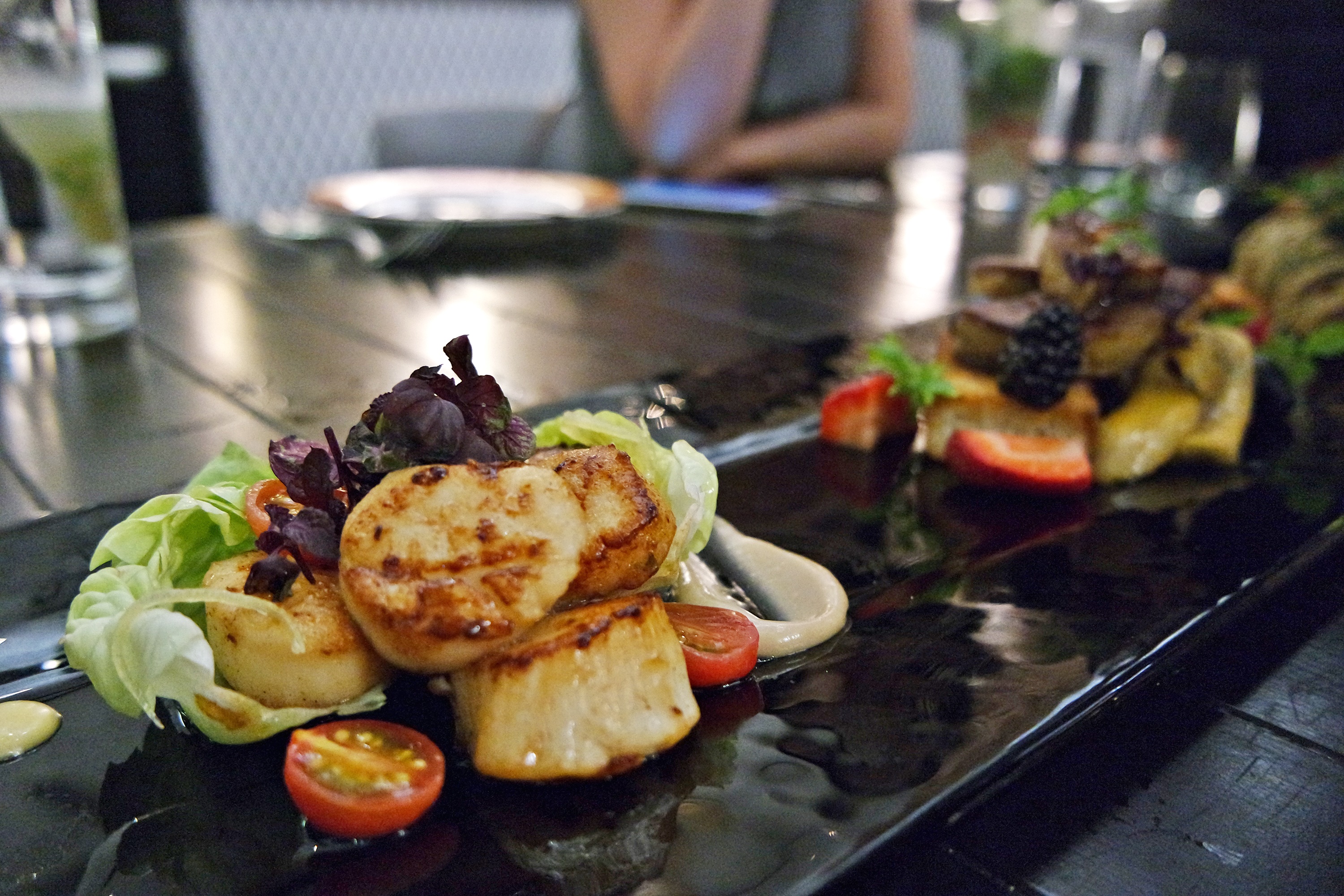 Pan-seared Hokkaido Scallop with Brown Anchovy Mayo and Crispy Bacon, the scallop was still juicy on the inside and it was well browned. You know it is going to be good!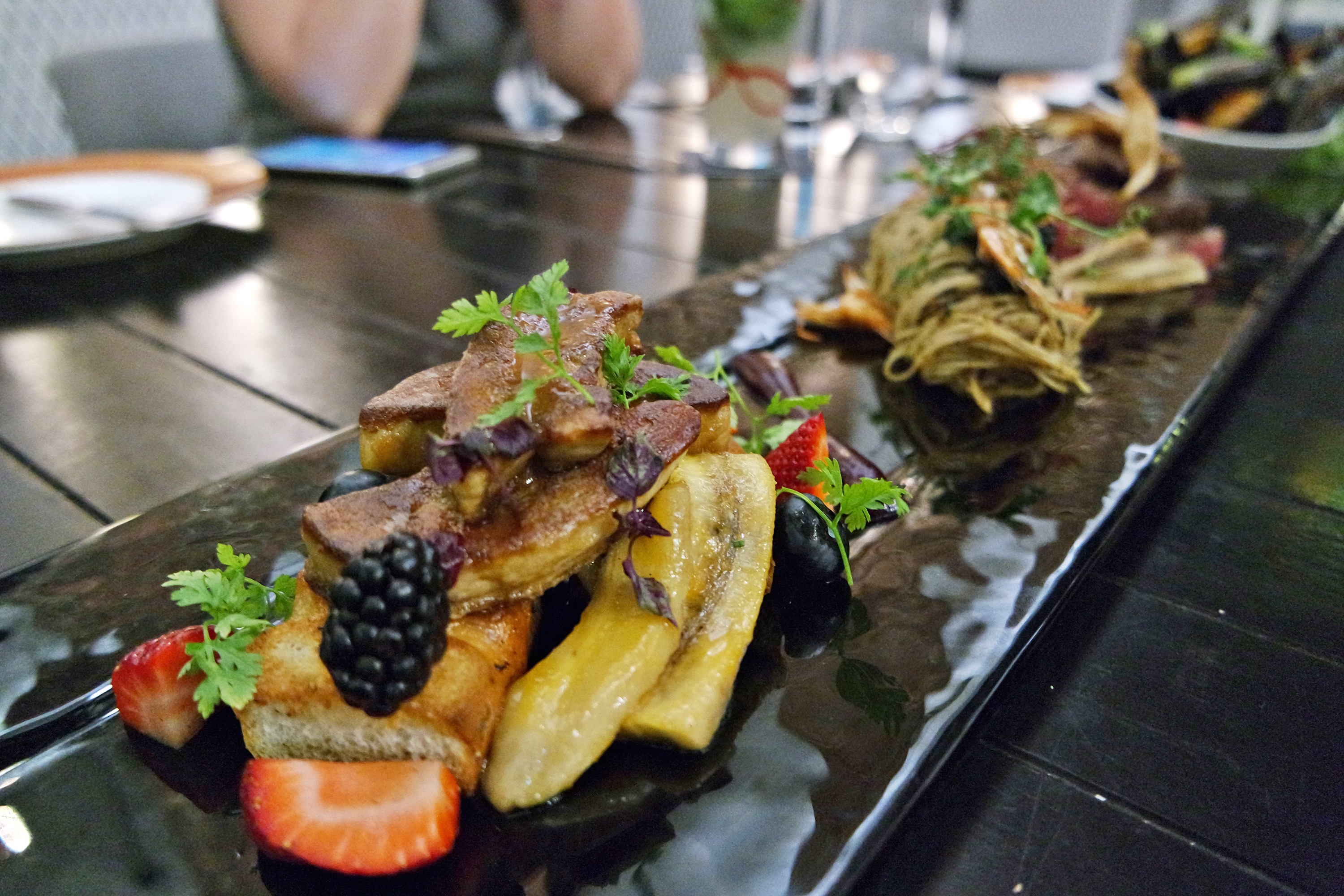 Pan-seared Foie Gras, this got to be one of my favorites! Accompanied with Beetroot Puree, Toasted Bread and a fresh mixture of berries, it was indeed dead delicious! The Foie Gras was silky and has a melt in your mouth feel. It was paired really well with the crisp toasted bread and refreshing fruits.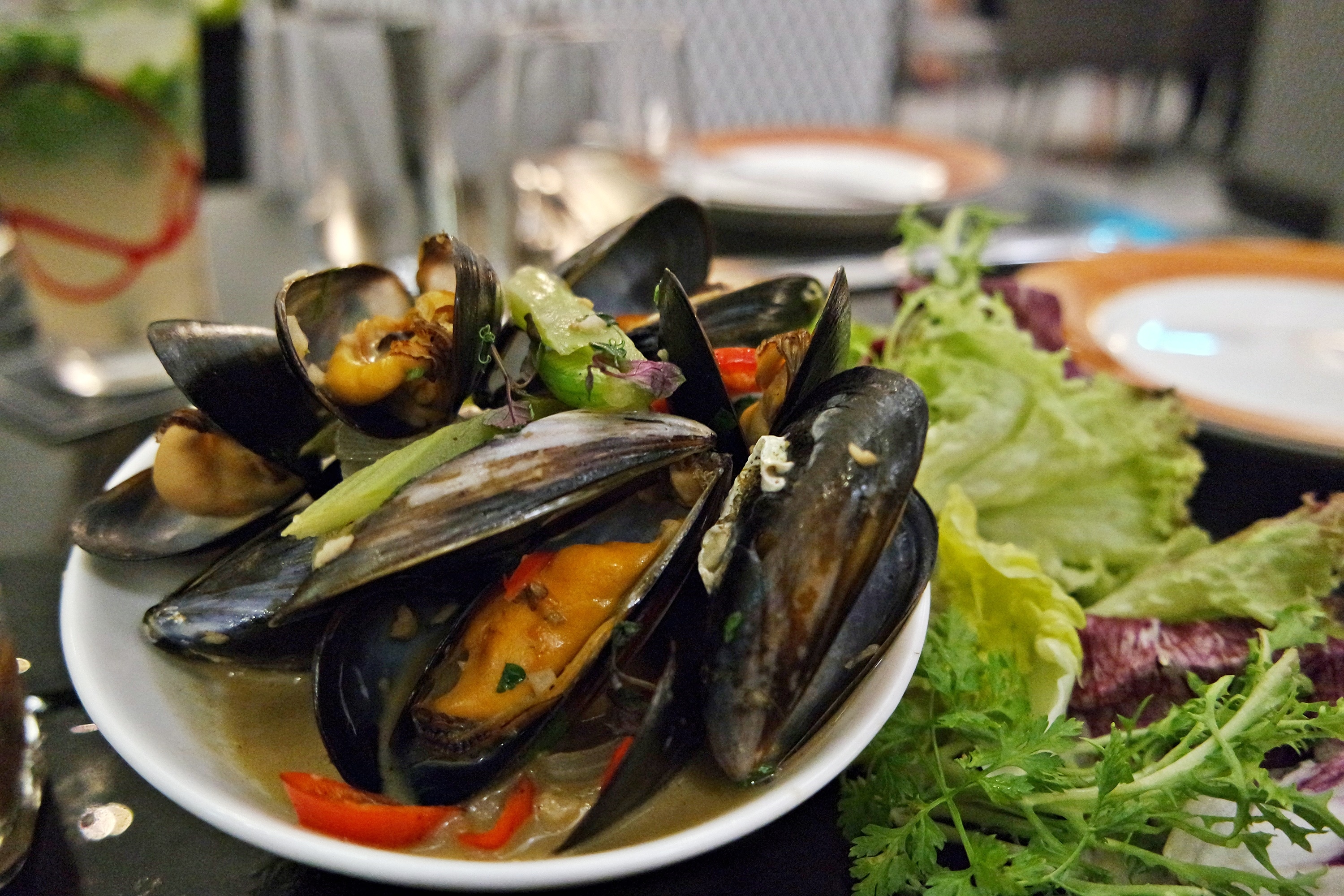 Live Scotland Blue-lipped Mussels. Seasoned with Garlic Confit, White Wine, and Italian Parsley, it was so simple yet so comforting. It has a wonderful aroma, I can really smell the freshness of the ocean as if I was really there. Really good!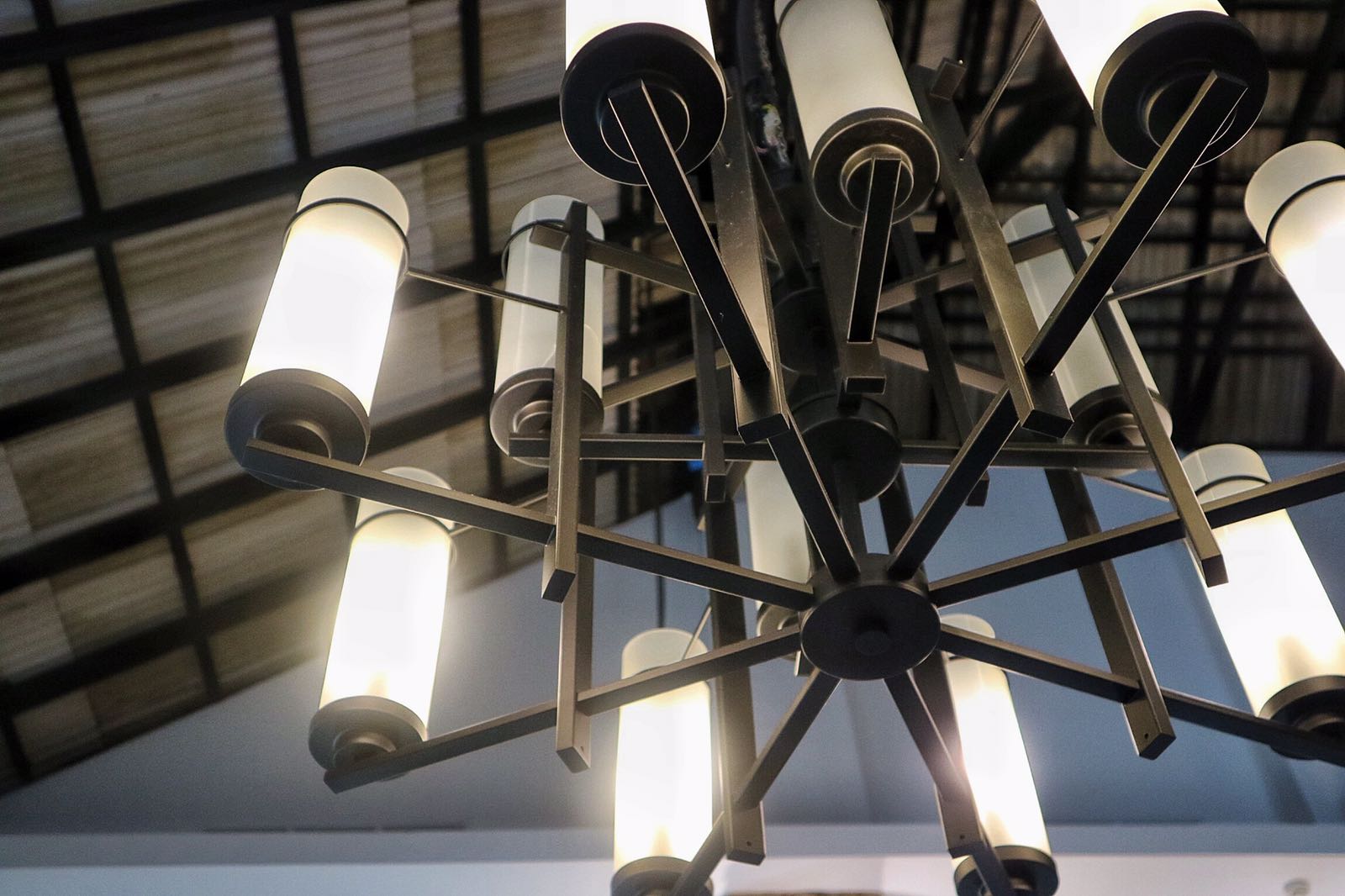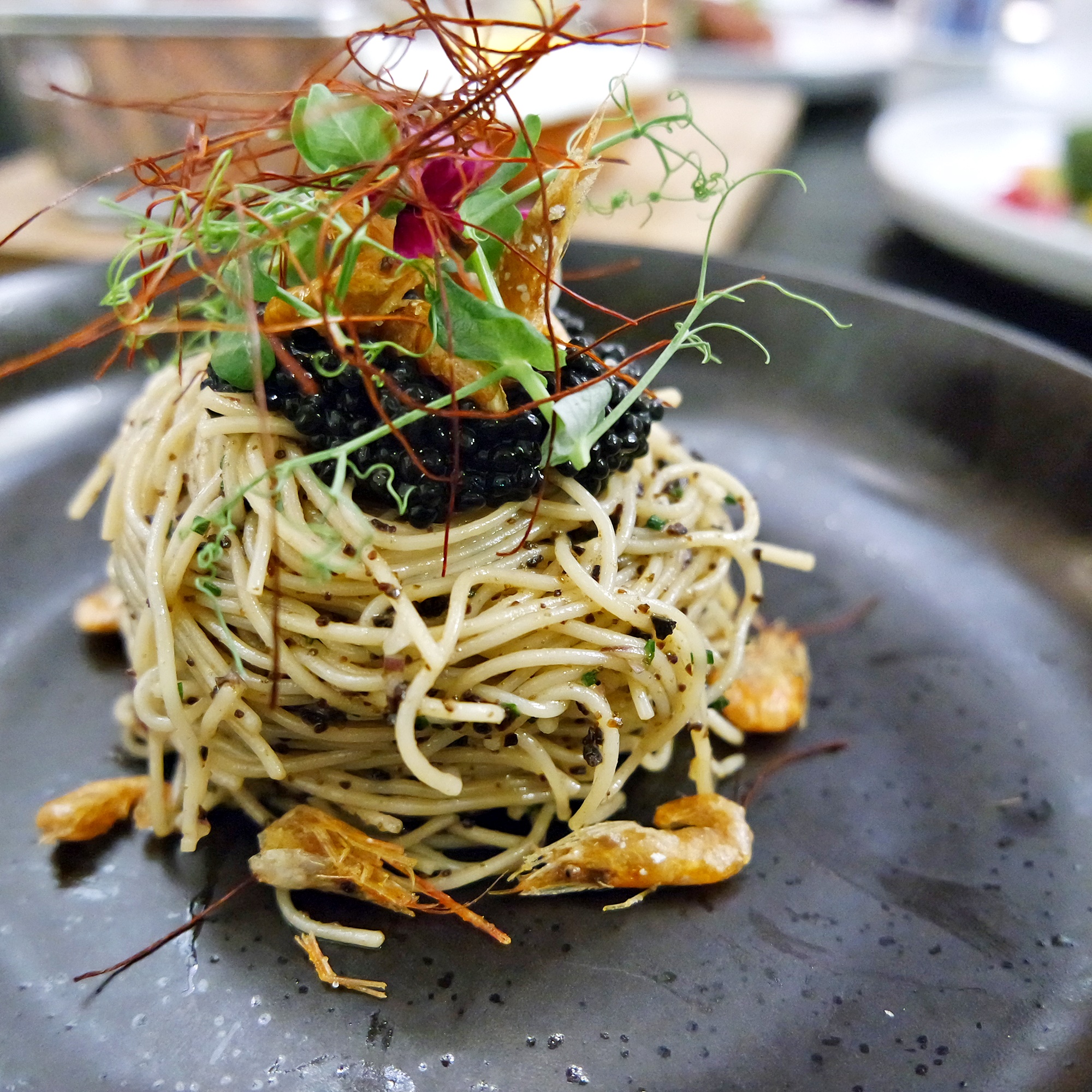 Next, some of the main courses of which, I really enjoyed.
Truffle Angel Hair Pasta. Intense and pungent aroma of the truffles, matched with beautiful black Avruga-caviar, crispy Kawa Ebit Shrimps and Ito Togarashi, it will sure to make you render speechless. If I would visit again, I will sure order this as my main course again!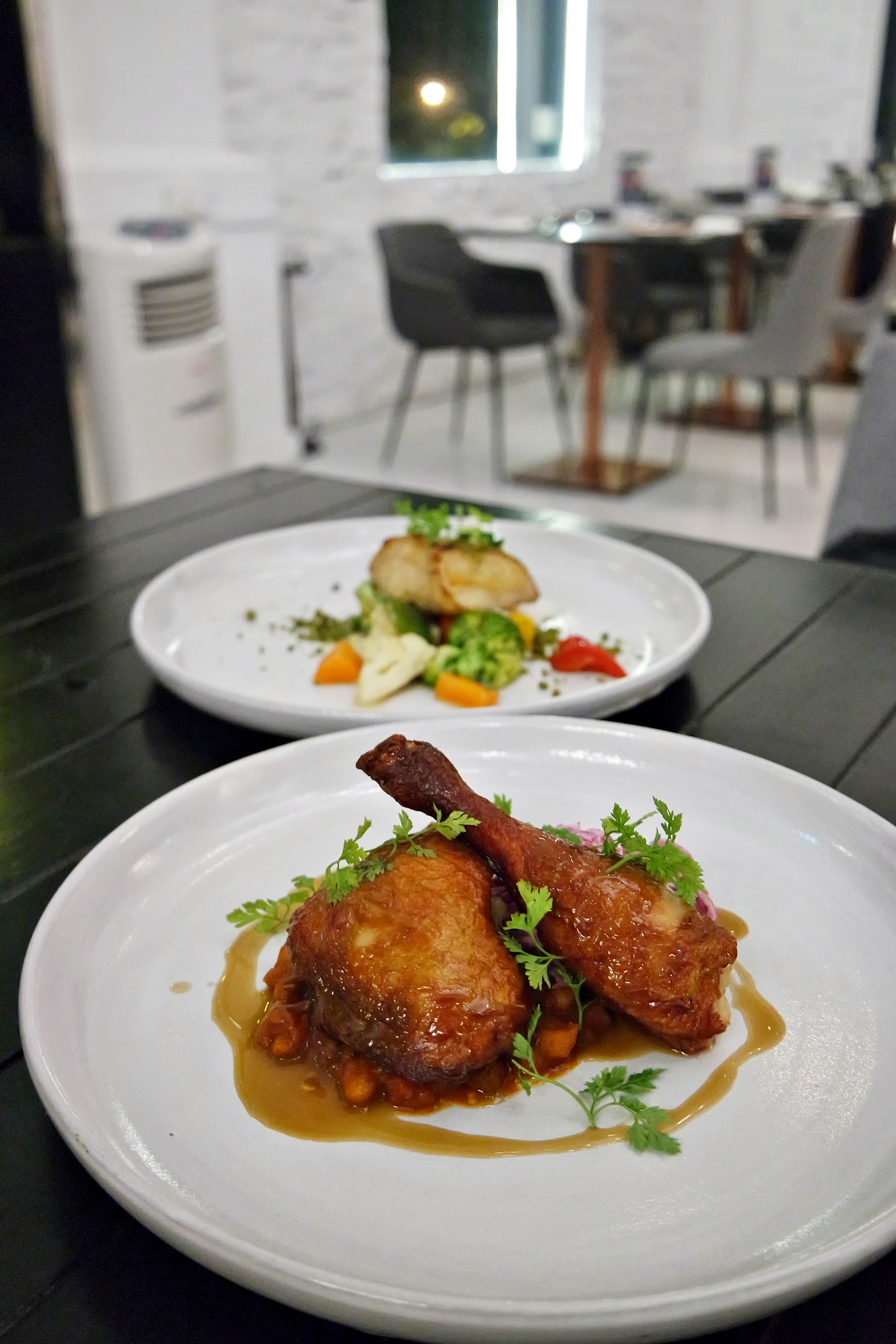 Roasted Chicken Leg with Chili Navy Beans Sauce. The sauce was a little on the salty side if you try it as it. Yet, it marries up perfectly when consumed with the roasted chicken. The chicken was tender and succulent. If you are not sure what you are looking for this classic dish with a slight twist should be alright to try out.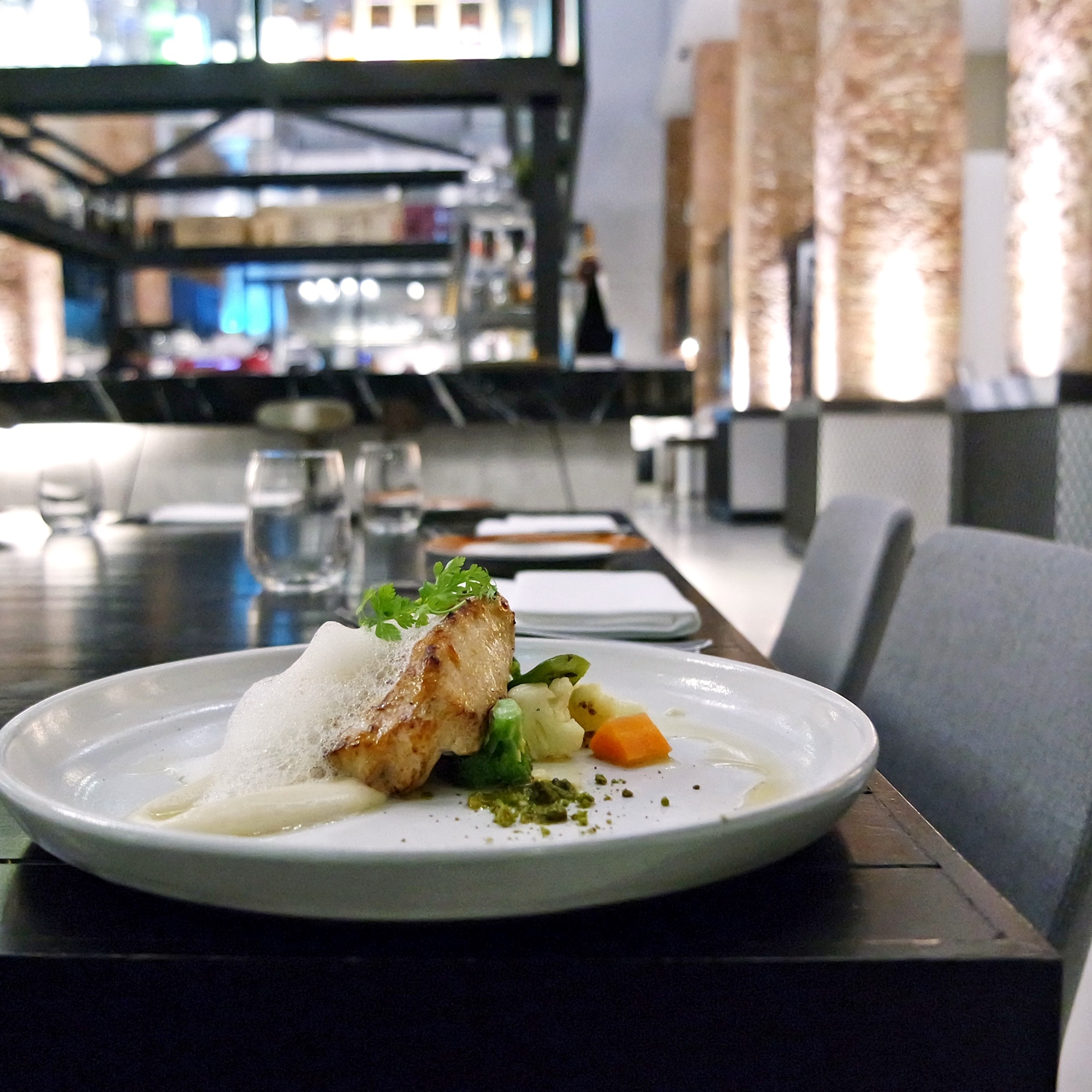 Baked Cod Fish with Yuzu-flavored foam and crushed Matcha Hazelnuts. This dish was totally bizarre! Not only that the flavors combination was unusual, the dish was presented in a very exotic way. I was astonished to get to try out some flavored foam. However, all the flavors were very mild and you have to slowly savor it to appreciate. I personally feel that even though the dish was outstanding and out of the box, I don't like the bubbly feel of the foam in my mouth.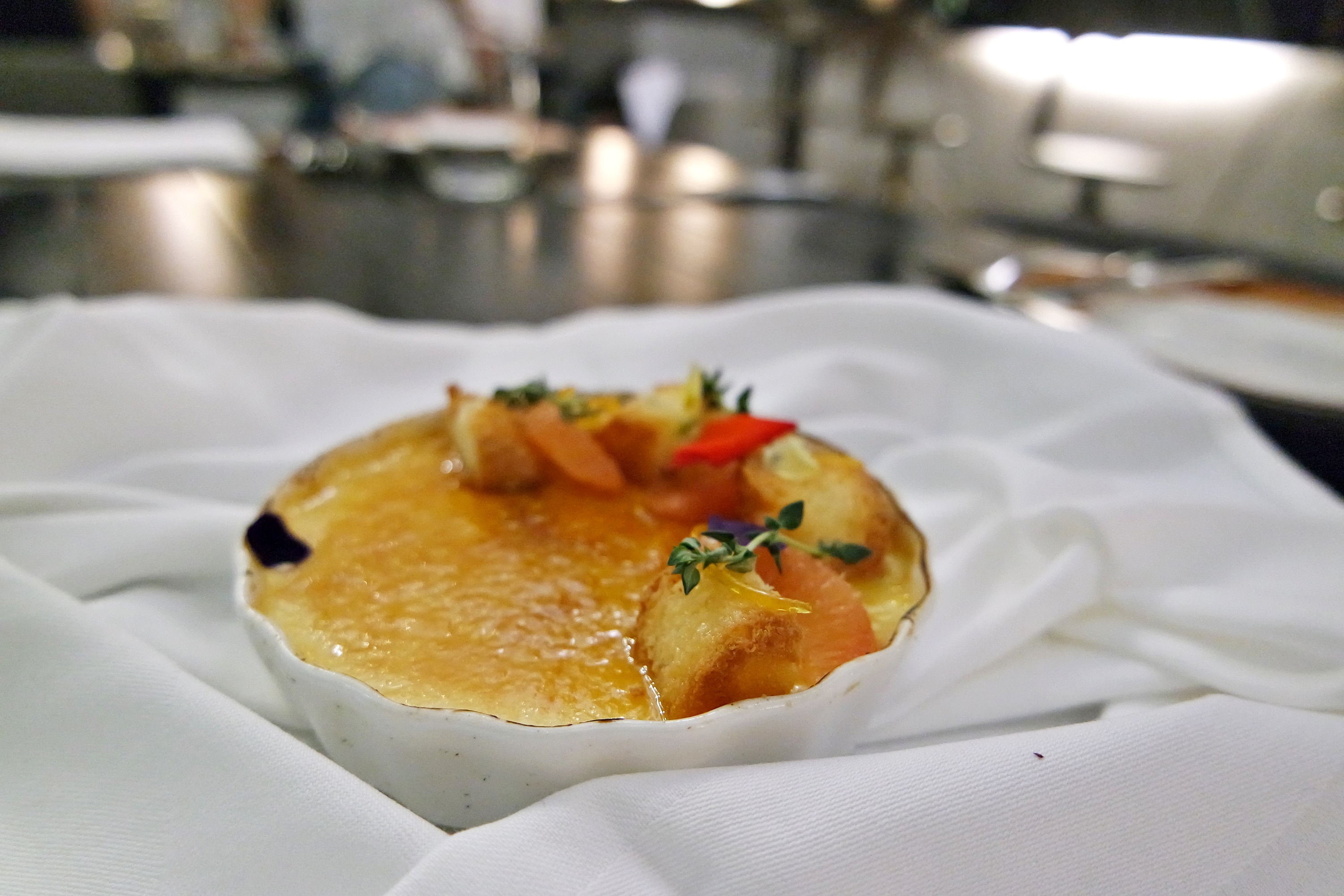 Creme Brulee was creamy and well caramelized. I was amused that they added toasted bread on top of the Creme Brulee, certainly something different and some would sure to enjoy it with the creamy sweet custard.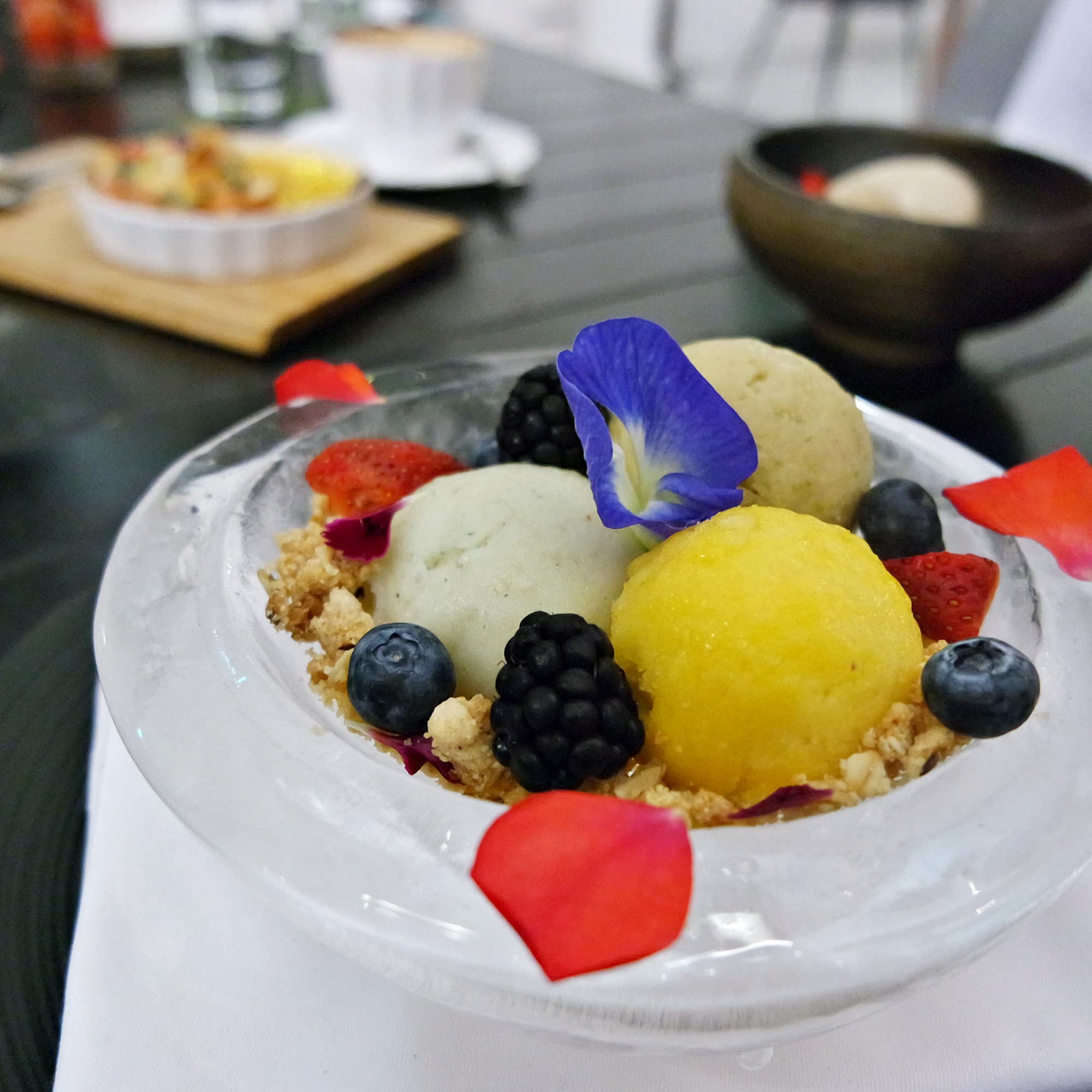 Homemade Sorbet garnished with fresh fruits and granola toppings, it was very refreshing and light. Great to have it after a hearty meal. The flavors I got to try out were Green Apple, Lychee, and Passion Fruit. I really enjoyed all of them as they were not too sweet but sweet enough for me. My liking was the Green Apple, but I told by my other friends that it tasted like baby food (Apple Sauce).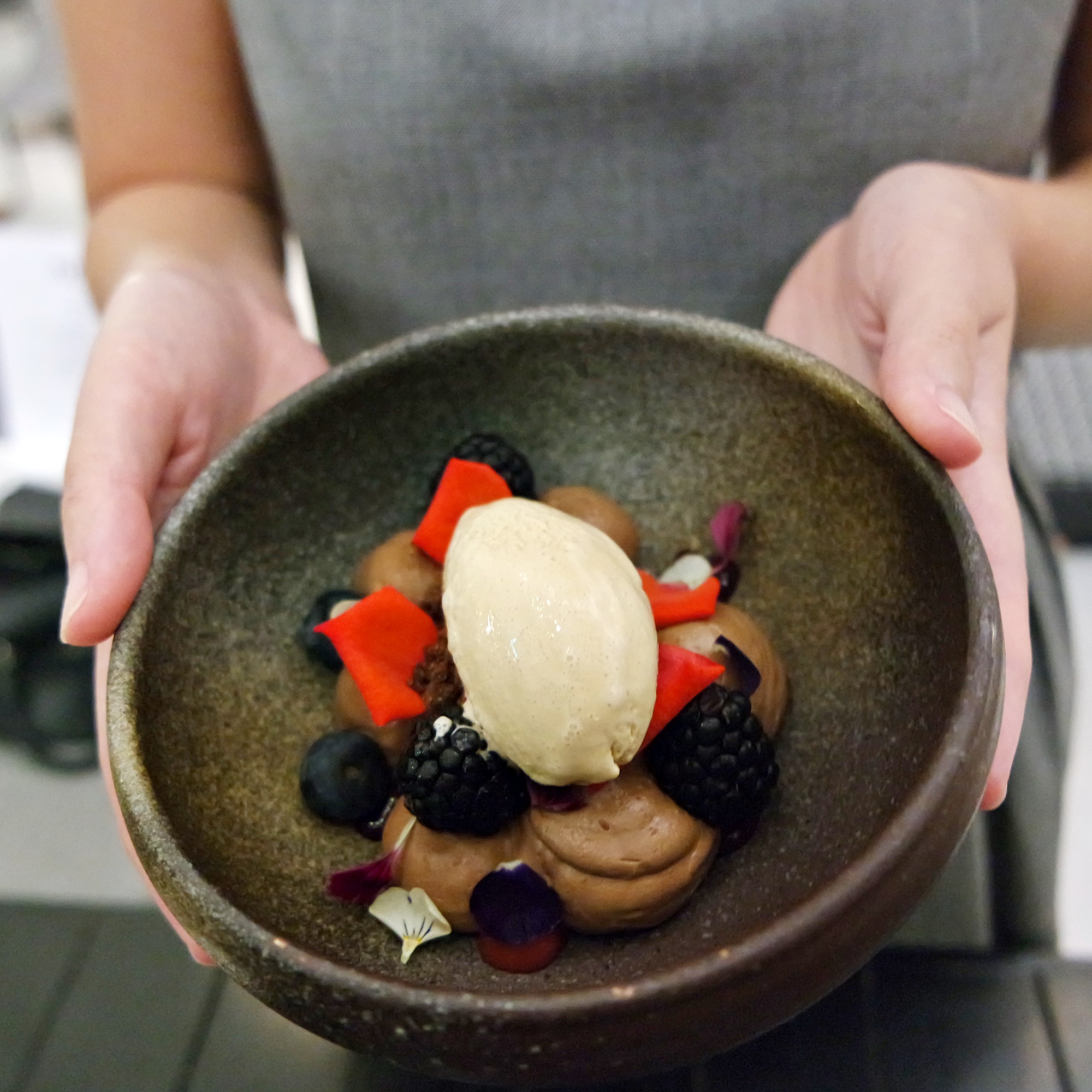 Rich and decadent, Deconstructed Black Forest surely brings me back to the woods in the wonderland! The Chocolate Mousse pairs really well with the creamy cold Gelato.

To sum up, the food was delightful. I can see that the chefs here put in the effort to recreate their dishes for a more special meal for their customers. Since the restaurant is situated in Dempsey Hills, it is quite peaceful and quiet. Additionally, with the beautiful chic interior and wonderful ambiance at night, I would totally come here again in future for a special occasion!

–
Portico Prime

Contact: +65 6474 7427
Address: 10 Dempsey Rd #01-20, Singapore 247700
Getting there by bus: 7, 75, 77, 105, 106, 123, 174
–