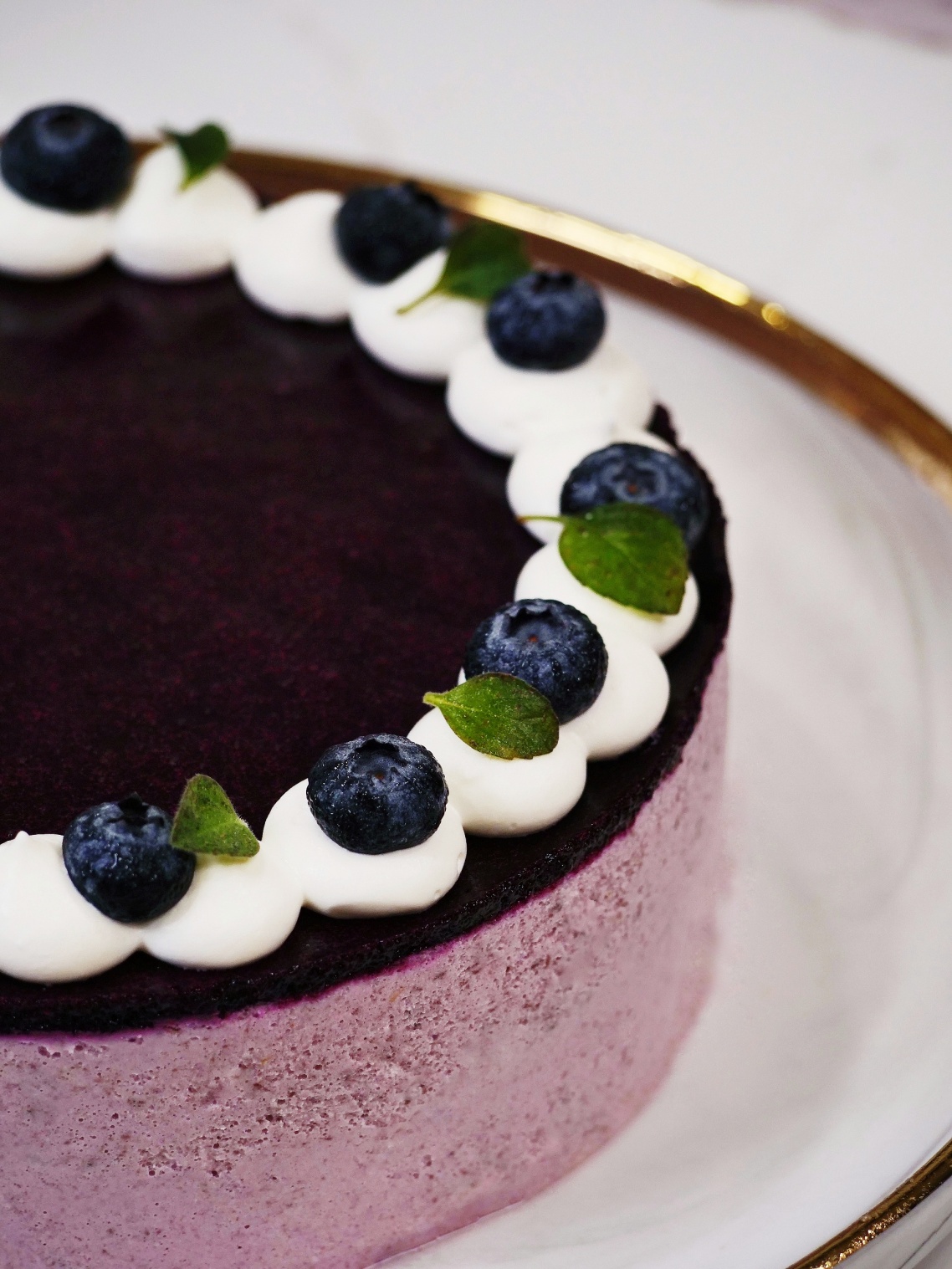 Blueberry Yogurt Cream Cake with Oregon and Washington Blueberries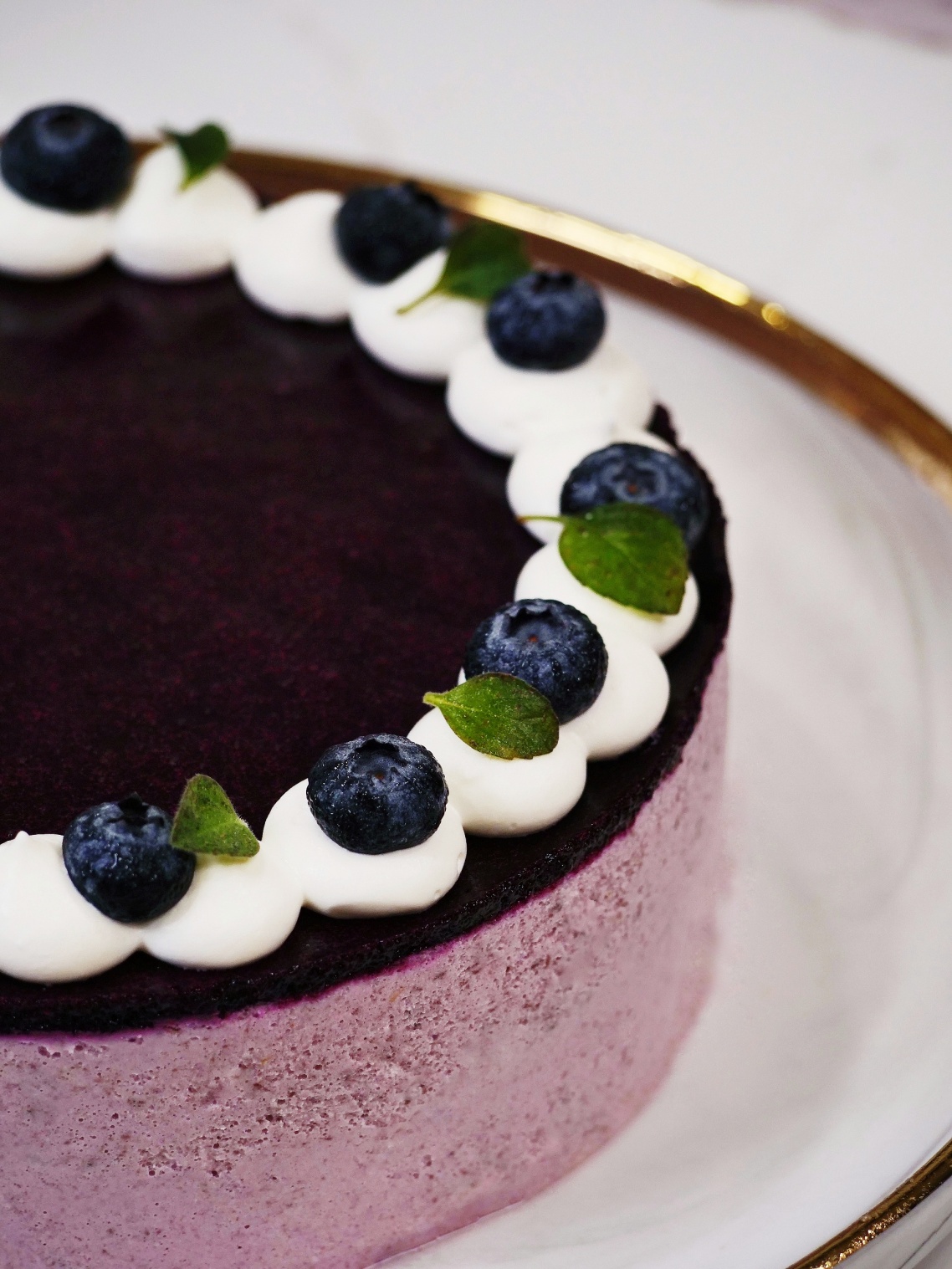 I love all kinds of berries! Not only that they are a good source of antioxidants, but they also provide great visuals and flavors to your desserts! In this article, I am going to show you how you can make this stunning Blueberry Yogurt Cream Cake using the purple-blue tint of the blueberries. Oh, by the way, do you know a handful of blueberries a day contains around just 80 calories?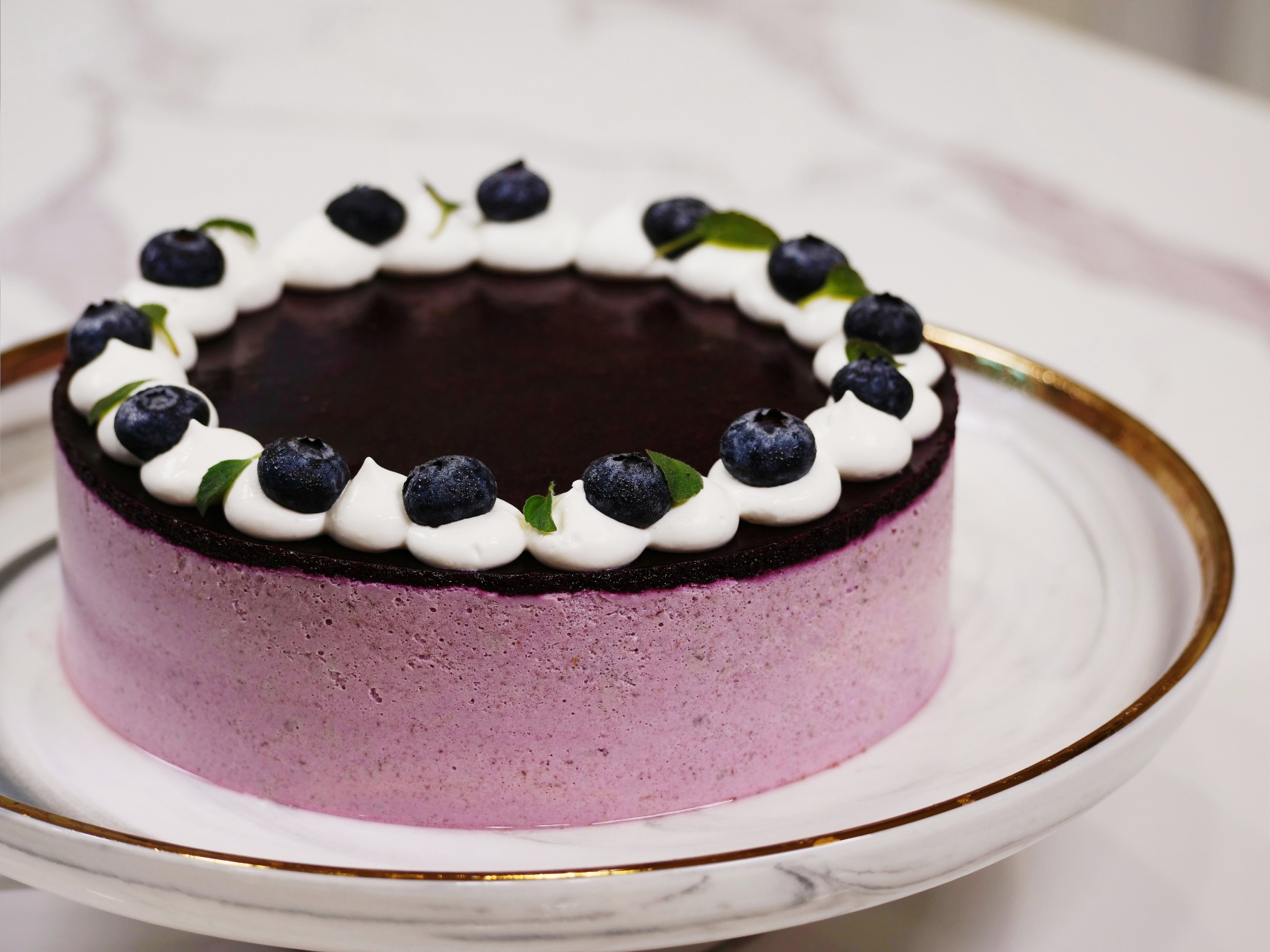 I love sponge cake and cream cakes, they are amazingly soft and light, great for any time of the day. However, sometimes, it is not easy to make a nice-looking cream cake (or shortcake) as you would need to work with the whipped cream fast. I came across a method which is to layer your cake with a ring mold and use gelatin to set the cream and it changed my life!
Say goodbye to a messy kitchen, no melting cream or ugly cakes anymore. Quick and simple, just layer the sponge cake with your cream, let it set in the fridge overnight, and finish it off with some decoration.
In this recipe, I added some yogurt to enhance the flavor of the blueberry cream! It makes the entire palate really light and refreshing!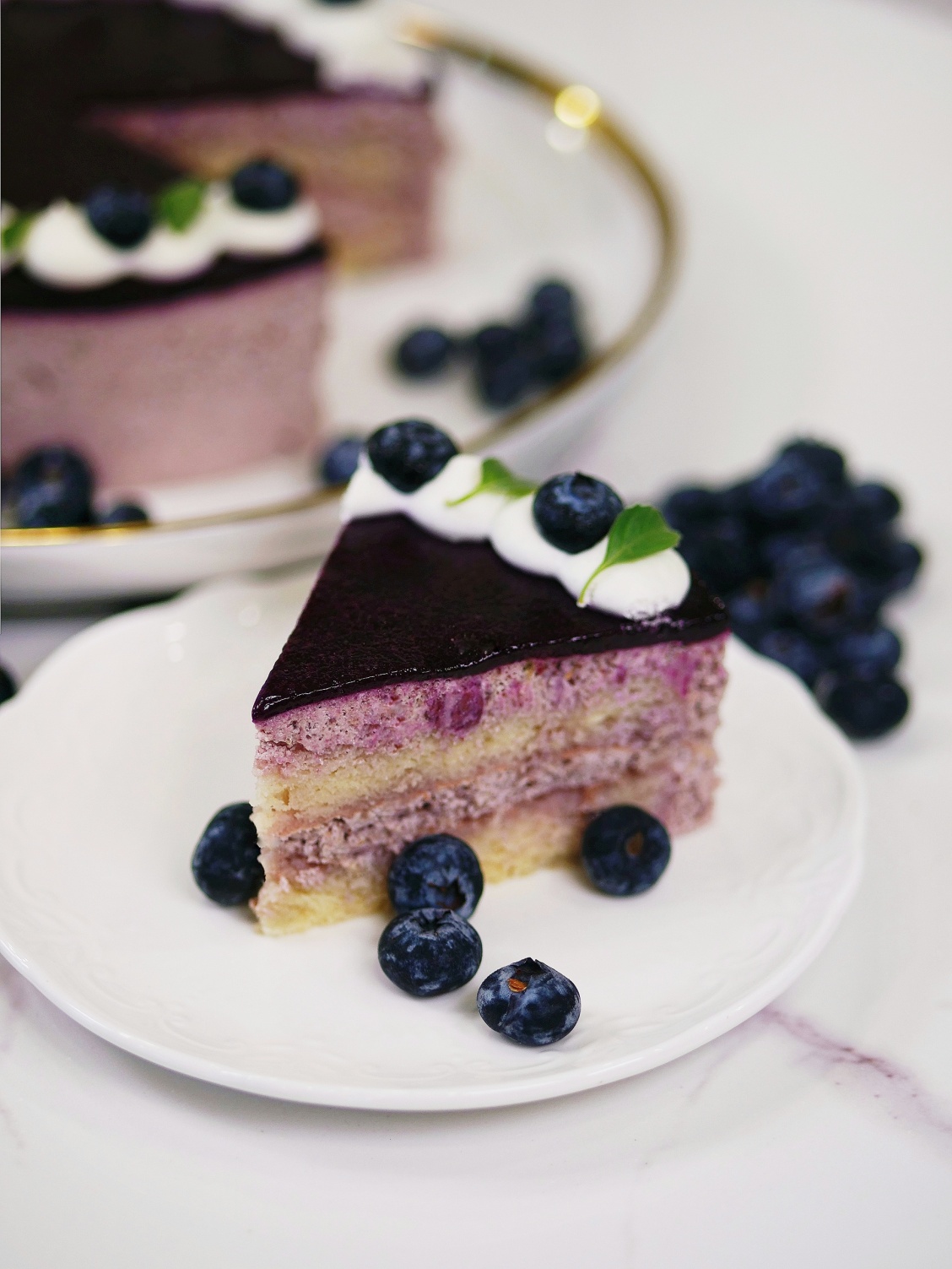 I used blueberries from Oregon and Washington as they are are the leading producers of blueberries in the US. In Singapore, Oregon and Washington Blueberries are widely available in fresh, although you can also find some frozen formats in retail outlets. Depending on what is available, just lookout for the words 'Oregon' or 'Washington' on the packaging for fresh blueberries, or refer to the source at the back of the packet. They are available at Redmart and NTUC FairPrice outlets. When selecting fresh blueberries, make sure that they are firm, plump, dry berries with smooth skins and a silvery sheen. Simply wash them just before use and eat them as fresh as possible. You can even freeze the remaining fruit for future use.
Check out https://www.oregonblueberry.com/ and https://wablueberries.com/ for more information
Blueberry Yogurt Cream Cake
Ingredients
Sponge Cake Layer:
2

whole eggs

45

g

white sugar

30

ml

vegetable oil

30

ml

milk

2

tsp

vanilla extract

50

g

cake flour
Blueberry Yogurt Cream Layer:
100

g

blueberries

45

g

white sugar

6

g

gelatin powder

40

ml

milk + 40 ml milk

150

ml

whipping cream

100

ml

yogurt

Half juice and zest lemon
Blueberry Jelly Layer:
80

g

blueberries

15

g

white sugar

30

ml

water

4

g

gelatin powder
Instructions
To make our Sponge Cake Layer.
Preheat oven to 180C degree. Line the bottom of two 6 inch (15.24cm) removable cake pans with parchment paper. Set aside.

In the mixing bowl, whip together whole eggs and sugar for about 10 minutes until fluffy or ribbon stage.

Quickly sift in cake flour and fold in with a whisk.

Once the flour is just combined, drizzle in the wet ingredients, vegetable oil, milk, and vanilla extract.

Quickly fold in with the whisk and finish it off with a spatula until well combined.

Transfer the batter into the two cake pans, batter weighing about 100 grams each.

Bake it in the oven for about 15 minutes, golden brown and toothpick inserted into the center comes out clean.
Set aside while we make our Blueberry Yogurt Cream Layer.
In a saucepan, add blueberries, sugar, and milk. Heat up the mixture until it just starts to bubble then shut off the heat.

Sprinkle in gelatin powder and stir until it has been dissolved.

Then, quickly blitz it in a food processor or blender until it is smooth. Let it cool while you whip your cream.

Whip your cold cream in a mixing bowl until it turns into soft cream. Do not whip until it turns stiff peaks.

Then, drizzle in yogurt, lemon juice and zest of the lemon skin. The mixture will thickens up as you fold.

Finally, stir in blueberry mixture that has been cooled slightly and milk until evenly combined.

Prepare a 16CM round cake ring along with a 6CM transparent plastic cake wrapper to layer the cake.

Quickly, transfer one sponge cake into the ring as the base of the cake, then pour about half of the blueberry cream mixture into it until it covers the sponge cake and the sides.

Then, layer it with another sponge cake before adding the rest of the cream over to cover it up.

Roughly flatten the top with a spatula before letting it set up overnight in the fridge.
To make the Blueberry Jelly Layer, in a saucepan, add in blueberries, water and sugar.
Bring it up to a boil and cook the berries for a minute or two until the mixture is thoroughly purple and the berries are soft.

Meanwhile, make sure to transfer the cake into a freezer to ensure that it is very cold.

Shut off the heat and sprinkle in the gelatin powder.

Quickly transfer the mixture into a food processor and blend until smooth.

Then, strain the mixture at least 2 times to remove any fiber and air bubbles.

When the blueberry mixture is about body temperature, quickly pour over the top of the cake and swirl around to let it set evenly.

Quickly put it back into the freezer and let it set for at least another 2 to 3 hours before serving.

To serve, decorate with some freshly whipped cream, mint leaves and fresh blueberries before slicing it up.
This article is brought to you by Oregon and Washington Blueberries