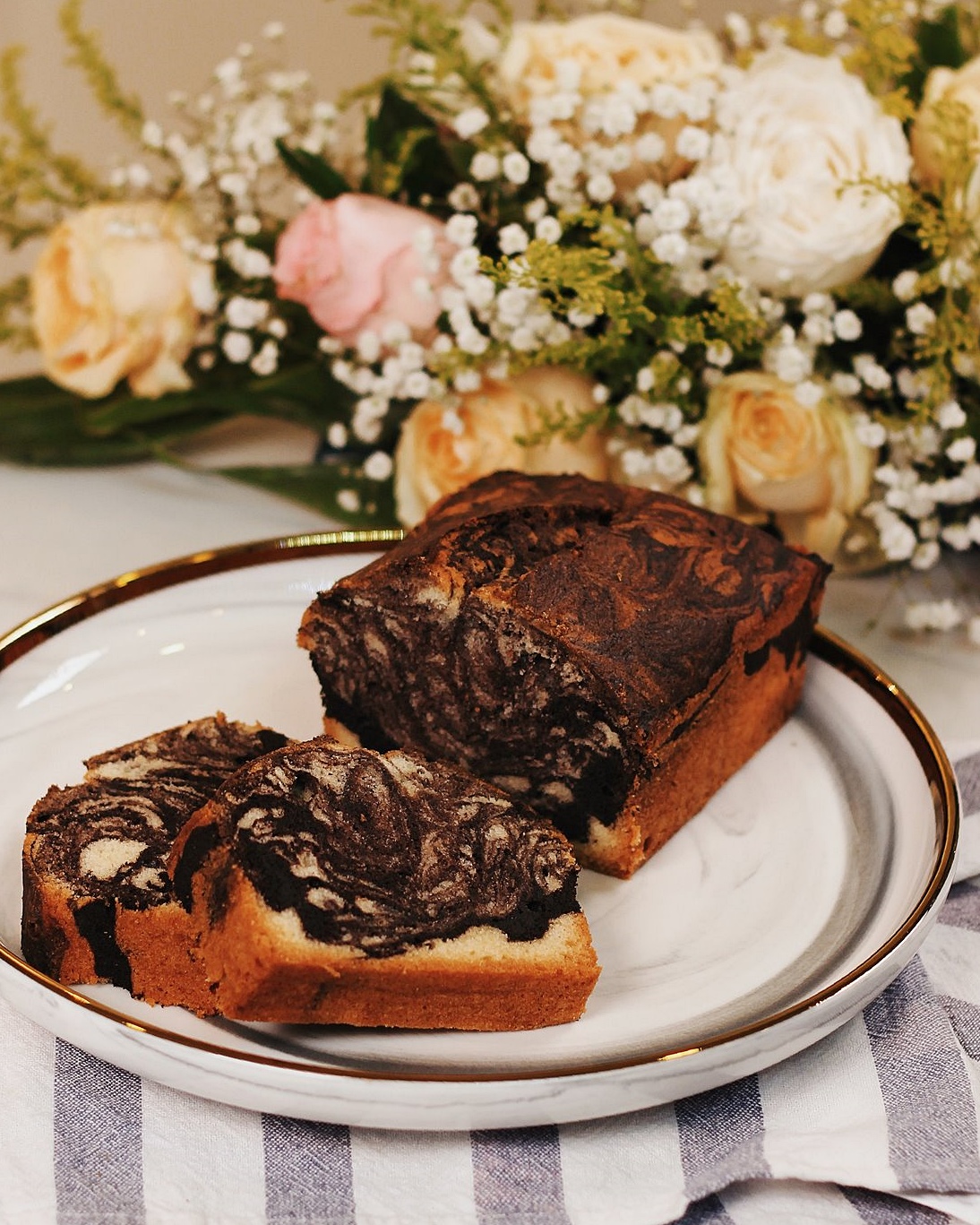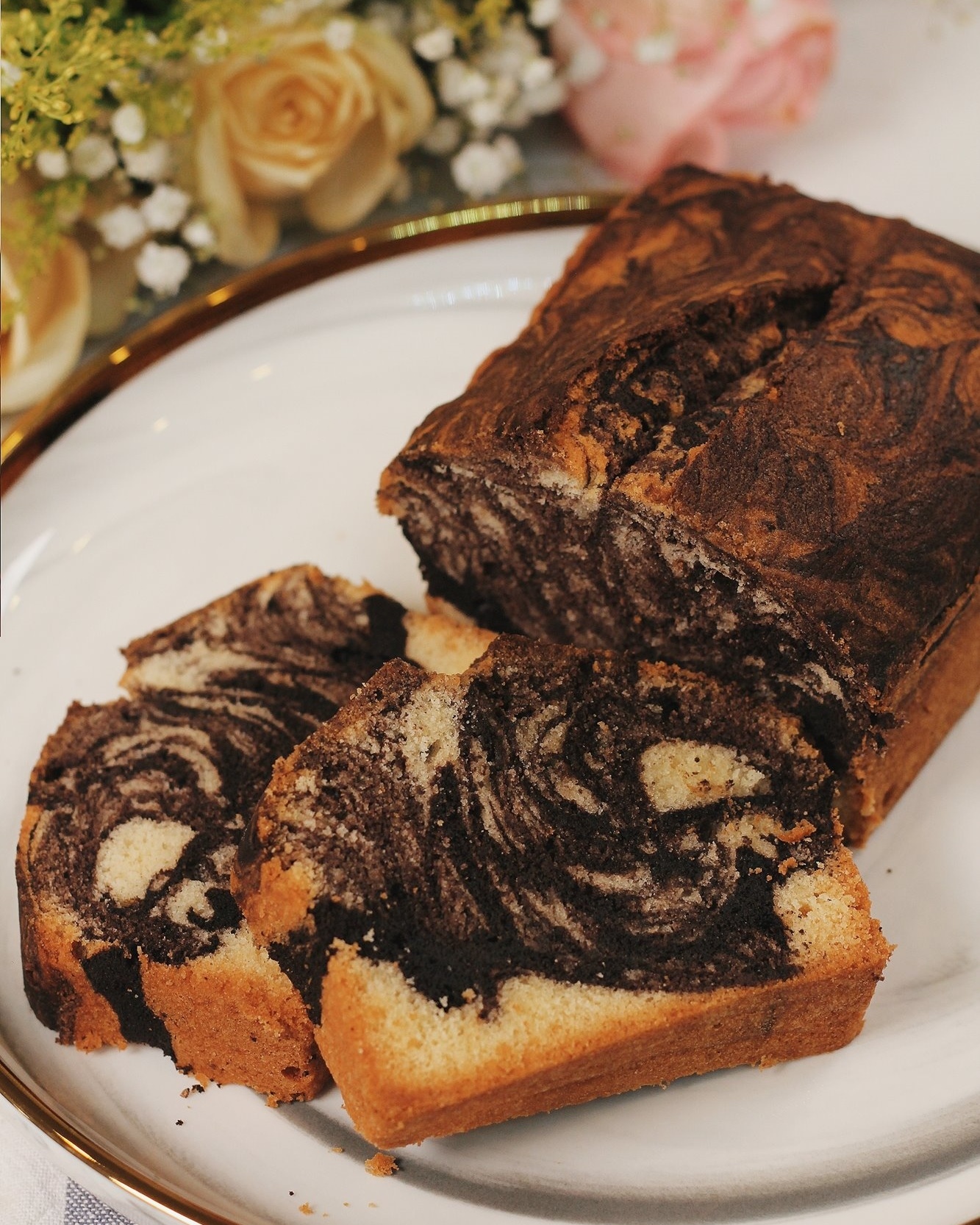 I love marble cake and always finding ways to improve it! The swirl turns out beautifully and the secret to that deep black chocolate batter is actually charcoal powder. It really stands out and bring the beauty of the two swirls. Of course, charcoal powder is totally optional but I highly recommend you to incorporate it if you want to impress your family and friends with this recipe.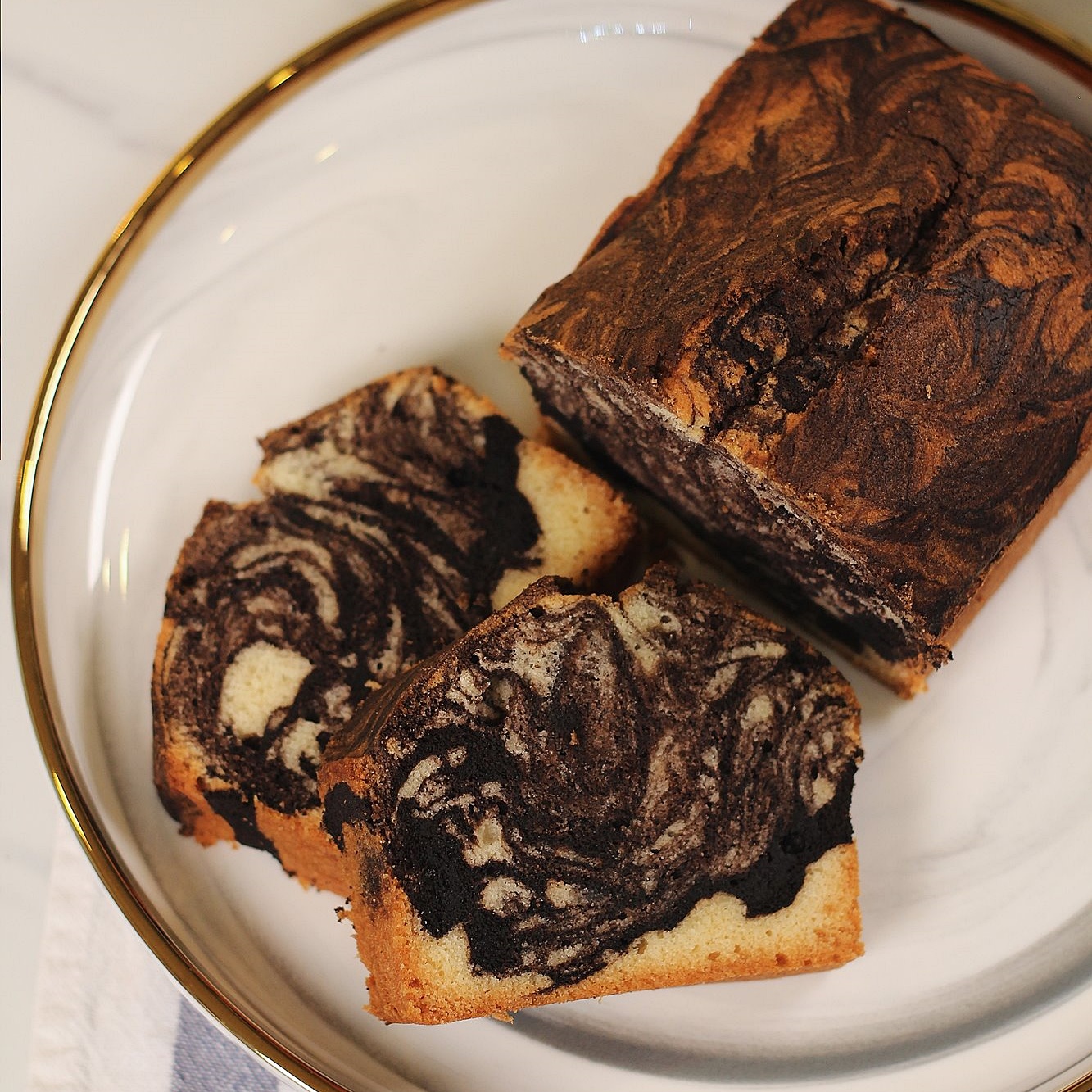 It's been a while since I came out my marble bundt cake recipe and I have improved upon it. This recipe is much more buttery and uses just cocoa powder. Although you may question why I didn't use melted chocolate for the chocolate batter, I really like this recipe as it is fuss-free. I don't have to melt chocolate anymore, no more double boiler or standing in front of the microwave. The cocoa powder in this recipe gives quite a strong chocolate aroma to it. Hence, I don't see the need for melted chocolate. I want the cake in my mouth ASAP!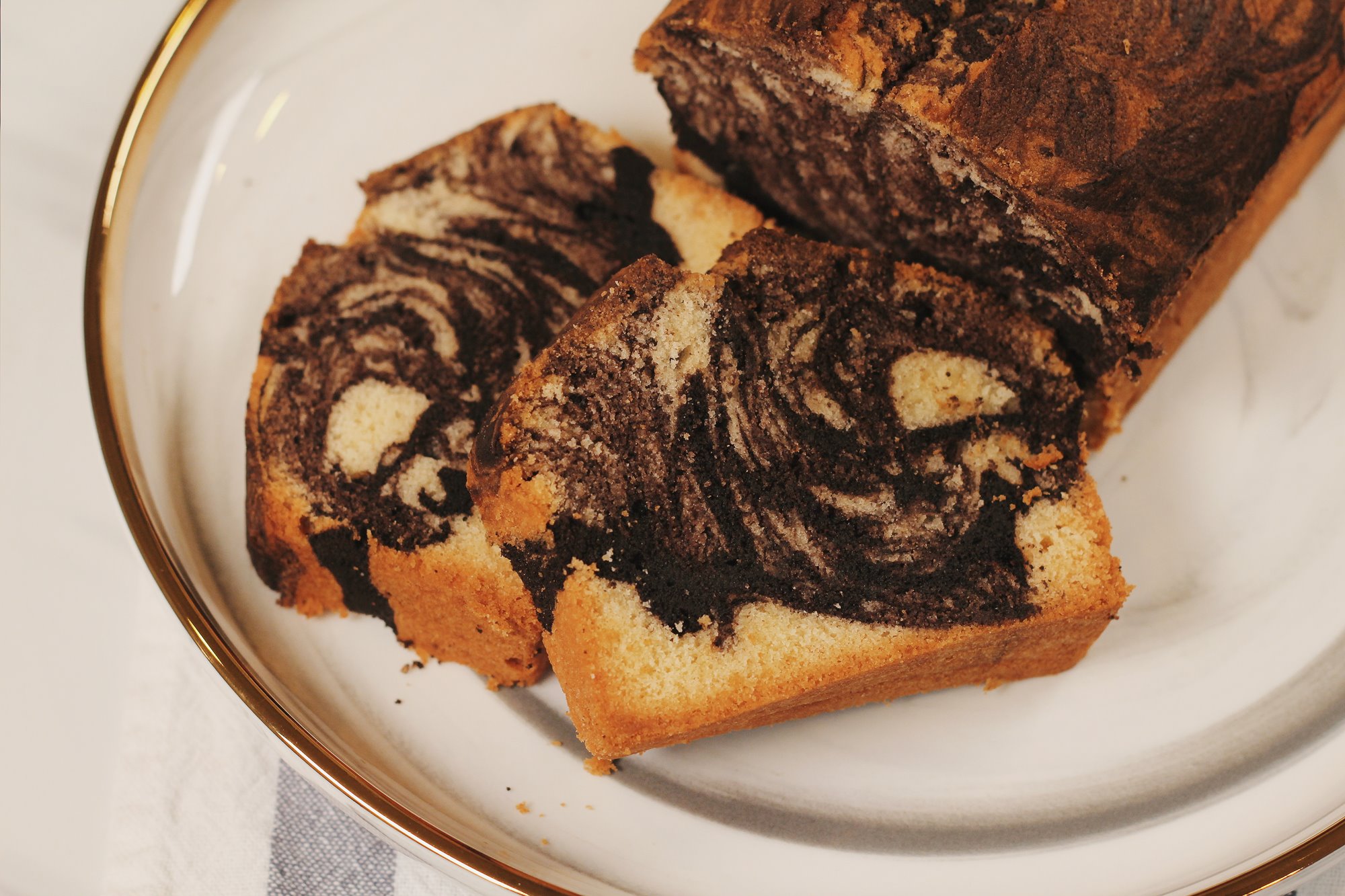 As usual for most of my loaf cake recipe, I used the same pan I got from Daiso. The dimension is about 7.9″ x 4.3″. Cheap pan but it is my beloved. I have used it for many years and it is still working well.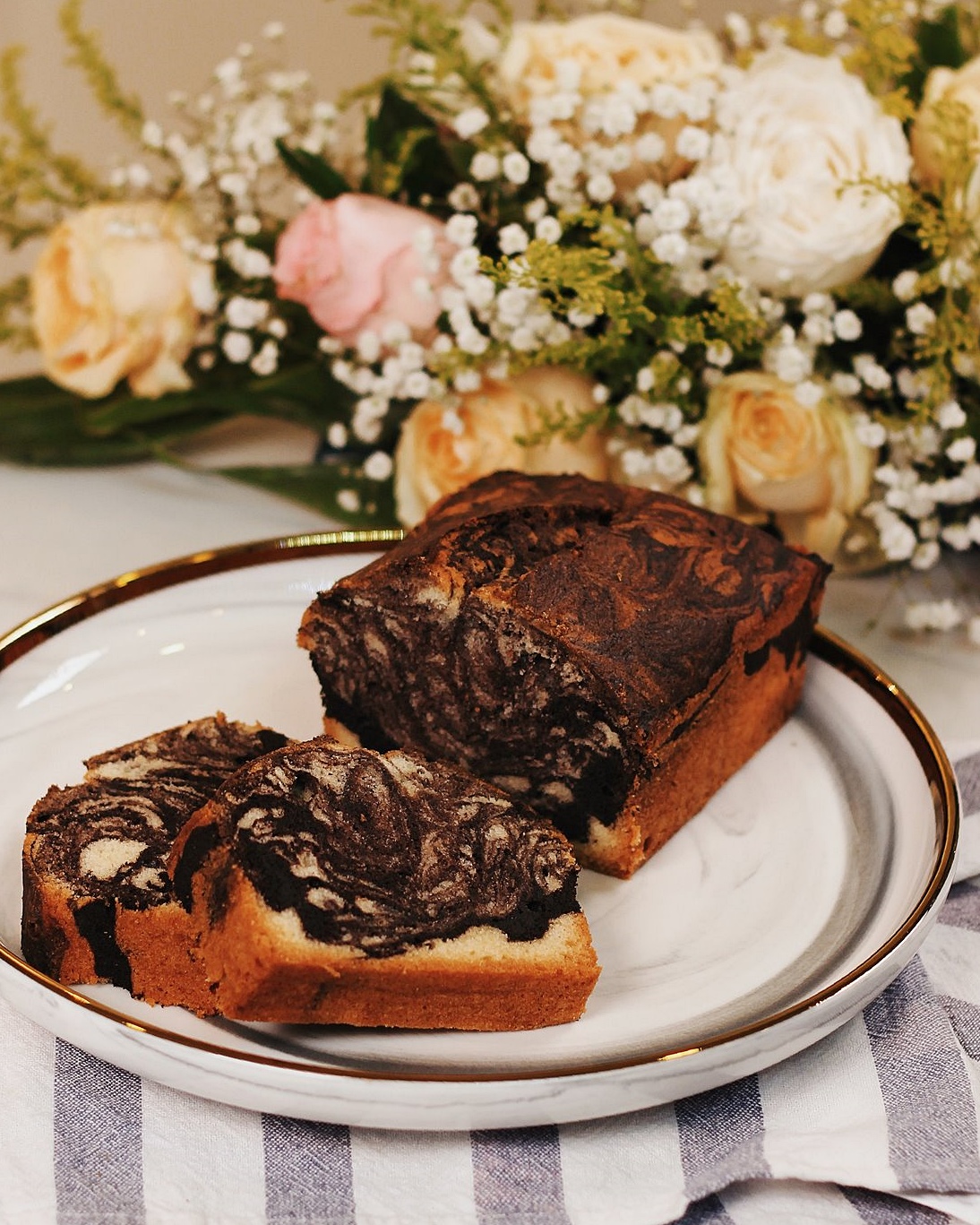 Trust me, this recipe is perfect to go with your morning cup of coffee. I also like to have a slice in the afternoon while I catch up with my drama in the office. I have used Gavia Natural Sweetener this time instead of regular white sugar to cut down my sugar and calorie intake. Gavia is a natural sweetener made from the Stevia plant. It is zero calorie and zero glycemic index sweetener which works well in both baking and cooking. The reason why I like Gavia is that it doesn't have a bitter after taste as compared to other sugar substitutes.
Marble Cake
One 7.9" x 4.3" loaf cake
Ingredients
200

grams

of unsalted butter

soften

180

grams

of white sugar or Gavia Natural Sweetener

3

eggs

beaten

1

tsp

of vanilla extract

170

grams

of plain flour

3/4

tsp

of baking powder

3

tbsp

cocoa powder

1 ½

tsp

charcoal powder
Instructions
Preheat your oven to 180C.

In a mixer or mixing bowl, cream softened butter and sugar until light and fluffy. I'm using Gavia Natural Sweetener which is made from Stevia.

Crack in an egg one at a time.

Then, drizzle in vanilla extract.

Gently stir in plain flour and baking powder.

You would want to mix cocoa powder, charcoal powder and hot water in another bowl into a paste in between.

Once your batter is well combined, portion out a third of the batter into another mixing bowl. Mix in your chocolate paste with the batter thoroughly.

Transfer half of the vanilla batter into the loaf pan. Then, transfer all of the chocolate batter for the second layer. Cover it with the rest of the vanilla batter as the third layer.

Using a fork, swirl the batter, go back and forth for a few times to make sure that the two batter are well marbled.

Bake it in the oven for about 1 hour and 15 minutes, toothpick inserted into the centre comes out clean.

Let cool completely before slicing it up. It can keep well for up to 5 days in room temperature.