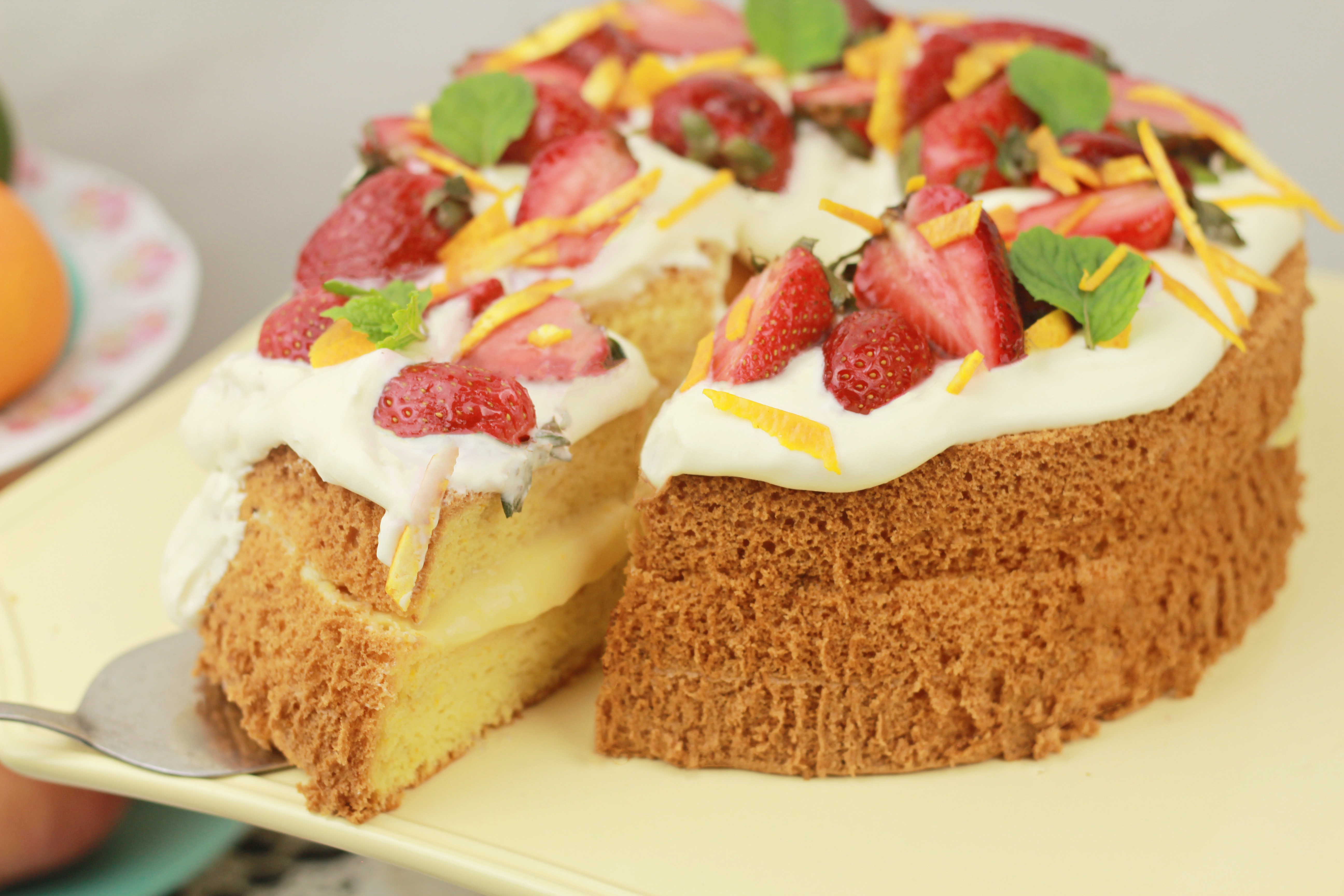 Orange Chiffon Cake with Orange Custard and Whipped Cream Cheese

Adapted from my Pandan Chiffon Cake, this is a foolproof zesty recipe. Orange Chiffon Cake! YUM.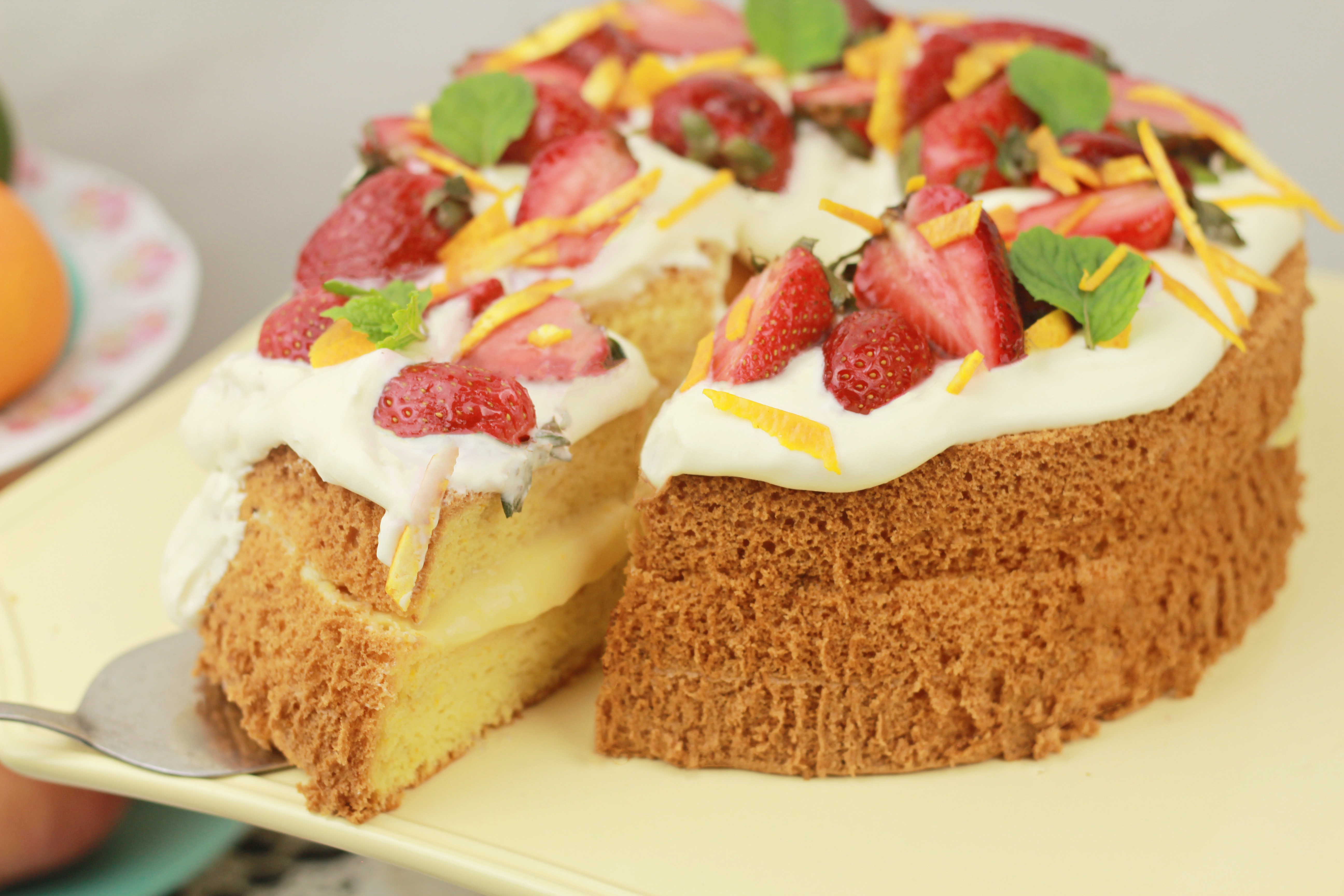 Sandwiched with orangy custard, creamed with whipped maple cream cheese frosting and top it off with strawberries. Not too sweet but still refreshing and creamy!

You could garnish it with orange zest and mint leaves. I'm lazy so I just spread both the custard and the frosting to give that very rustic homemade look.

To be honest, I am not a good cake decorator. I realized it was a little slanted. But, oh well…..

Orange Chiffon Cake
2015-10-21 14:39:46

Make 1 21-cm tubed cake
Egg White
5 egg whites
¾ tsp. of vinegar
(1/4 cup) 60 grams of white sugar
Egg Yolk Batter
5 egg yolks
(1/4 cup) 60 grams of white sugar
¼ tsp. salt
½ tsp. of orange extract
½ tsp. of vanilla extract
Zest of two oranges
(1/4 cup) 65 ml of vegetable oil
(1/4 cup) 65 ml of orange juice
(3/4 cup) 100 grams of plain flour
(2 tbsp.) 20 grams of corn starch
1 tsp. baking powder
Orange Custard
180 ml of milk
2 egg yolks
3 tbsp. of fine white sugar
1 tsp. of corn starch
1 tbsp. of plain flour
Zest of one orange
Whipped Maple Cream Cheese Frosting
(1/2 cup) 125 ml of Whipping cream, chilled
(4 oz.) 120 grams of Cream Cheese, softened
2 tbsp. of maple syrup
(250 grams) One pint of strawberries, halves
Mint leaves
Zest of orange
To make Orange chiffon cake
Preheat oven to 160C or 140C fan-forced.
For the egg whites,
In your stand mixer, whisk in egg whites and vinegar on high speed until frothy. Then, gradually add in sugar and continue whisking until stiff peaks.
Now start mixing the egg yolk batter,
In another bowl, whisk egg yolks, both extracts, orange zest, salt and sugar vigorously for about a minute until pale in color.
Add in oil.
Drizzle in orange juice.
Lastly, sift in plain flour, corn starch and baking powder.
Stir until well combined.
Fold in egg white mixture a large dollop at a time into the egg yolk batter.
Transfer into a 21 cm ungreased tube pan. Use a skewer and run around the batter to remove large air bubbles. Drop the pan to also remove large air bubbles.
Bake it in the oven for about 55 minutes to an hour.
Invert the cake with the pan immediately after baking and let it cool completely.
To make Orange custard,
Heat orange zest and milk until just under boiling point while whisking egg yolks, sugar, corn starch, and flour.
Then, slowly drizzle in milk while whisking egg yolk mixture constantly.
Transfer back and cook on medium-low heat until thickens.
Remove from heat and let it cool completely with a cling wrap touching the surface of the custard.
To make whipped maple cream cheese frosting,
Whip softened cream cheese and maple syrup until smooth and fluffy for about 30 seconds on high speed.
Then, slowly add in chilled whipping cream while mixing. Whip until stiff or soft peaks depending on your preference.
To assemble,
Once cooled, run a knife around the sides and bottom. (I have removed the cake from the pan and sliced it into half If you want to know how to remove chiffon cake from its pan, you could check my pandan chiffon cake video)
Slice the cake into half.
On the first layer, spread all of the orange custard you made earlier.
Sandwich the cake together.
Then, spread all of the whipped cream cheese you made earlier. You could pipe if you whip until stiff peaks.
Top it off with some fresh halves strawberries. I also like to garnish the cake with some mint leaves and orange zest.
TheZongHan https://thezonghan.com/