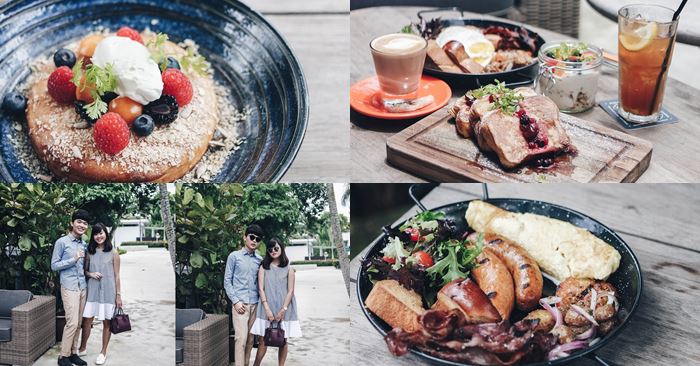 Portico Host – Instagrammable Weekend Brunch (Labrador Park MRT)

If you are looking for a perfect weekend brunch with your family and friends, you have come the right place! Portico Host has recently launched their new brunch menu! Only available during the weekends so make sure to check it out. Not only that you get to chose an array of specialty dishes from their new menu, the place is also insta worthy!
Craving a good classic french toast? You can try out their Brioche French Thick Toast here at Portico Host. Served with their in-house Mixed Berries Comport, you really can feel that the difference between ready-made syrup and homemade style. If you ain't a berry fan, you also could opt for Mascarpone Cheese or Maple Syrup. But in my option, I personally feel that you should give their Mixed Berries Comport a try.

I'm amazed that they are able to produce such a lovely huge and Fuffy Hotcakes and am loving it! This cake serve up to 4 people, it is really huge! I was surprised that it wasn't dense at all, I doubt you could get such a gigantic pancake elsewhere. Definitely very Instagrammable!

If you prefer something savory, you could try out their Wagyu Beef Burger with Japanese Seaweed French Fries. I really enjoyed the french fries and Japanese seaweed seasoning!

Want to have Big Breakfast instead? Go for their Host Big Breakfast Pan then! Their big breakfast consists of bacon, sausage, eggs, fresh tomato and herbs, mushrooms fricassee, brioche toast, and roasted potatoes. I love their roasted potatoes, even though it is so simple, it is so comforting. What a feast!

They also tried to recreate traditional taste with a modern twist with this Nonya Crepe. This dish reminds me of Nonya Kueh Dadar. Combining familiar taste like pandan and coconut cream with vanilla gelato, it is a good start. Yet, I'm not a big fan of the texture. Nevertheless, I am not a big fan of the traditional Nonya Kueh Dadar anyway.

Another worthy item to mention is their Granola. Delicious maple-sweetened Greek yogurt with crispy hearty oats, nuts, and a generous amount of fruit toppings, it is light and refreshing.

The place is very instagrammable, especially if you wanna look chic. So, make sure to wear something bold if you are going there. Who knows? You may the next fashion statement! But, do note that the new brunch menu items are only available during the weekends!
–
Portico Host
Contact: +65 6276 7337
Address: 01-10, 991B Alexandra Rd, 119970
–