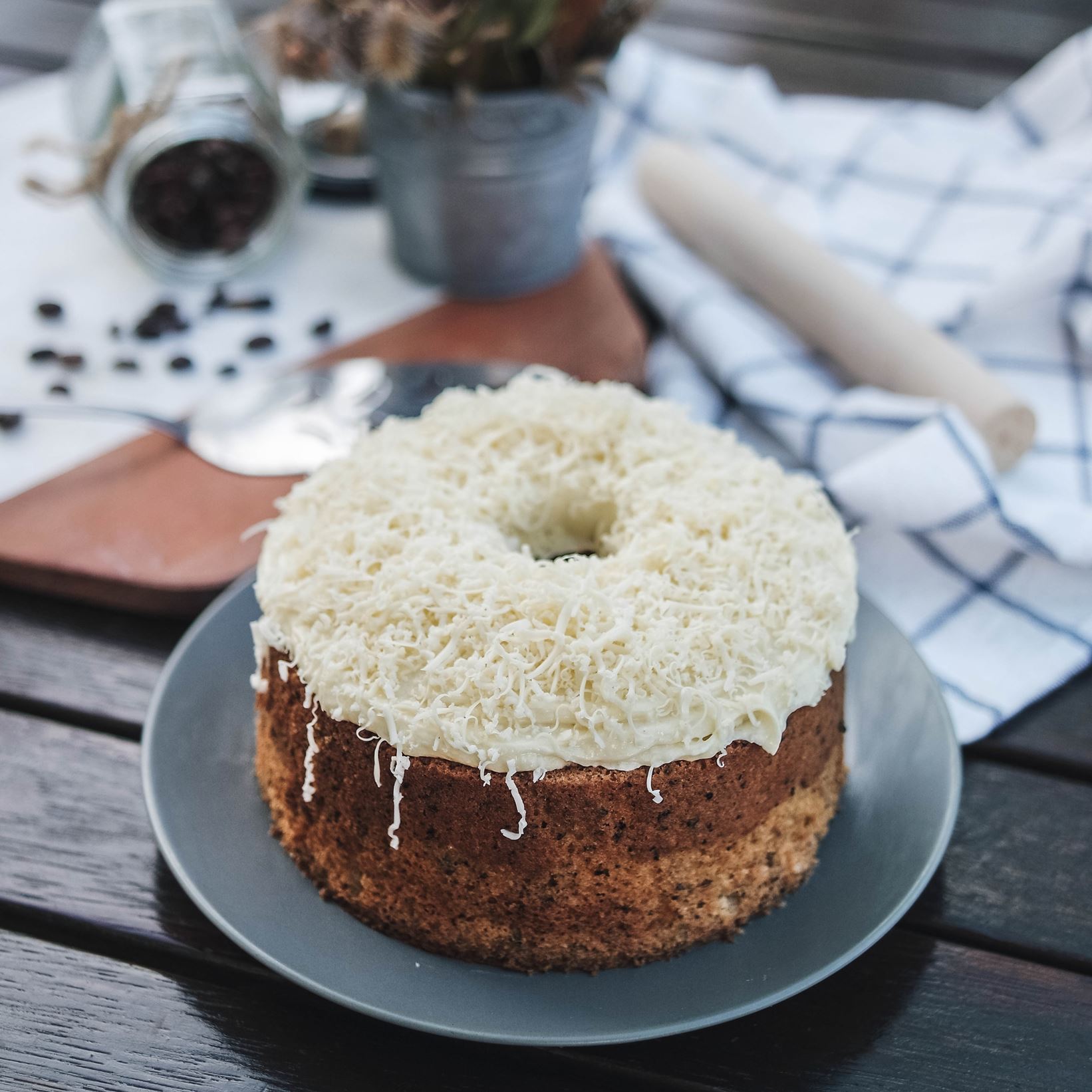 Jasmine Green Tea Chiffon Cake with Cheese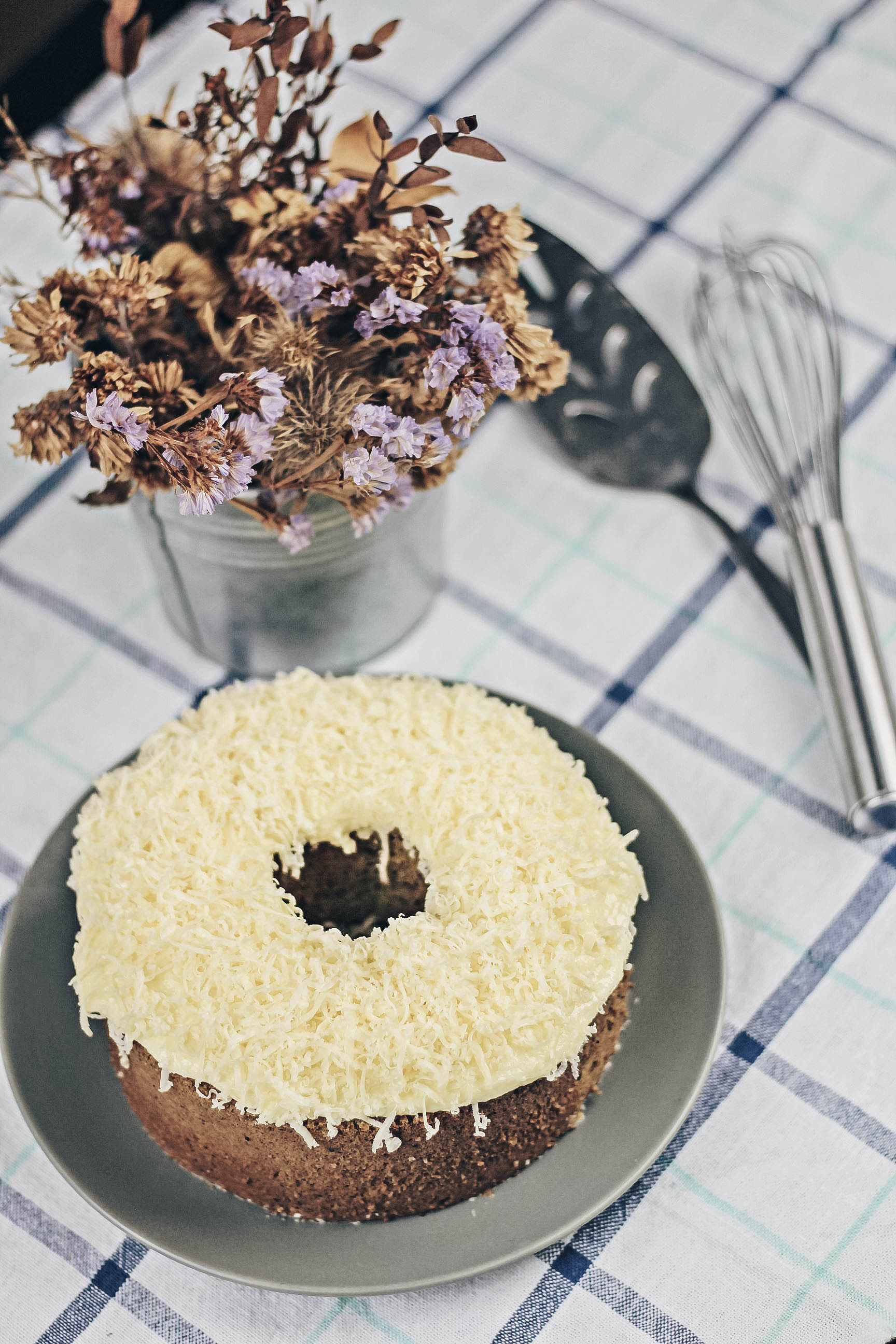 Recently, I have been quite obsessed with teas. I wonder, "Why not bake with it?". Which, resulted in this wonderful chiffon cake recipe.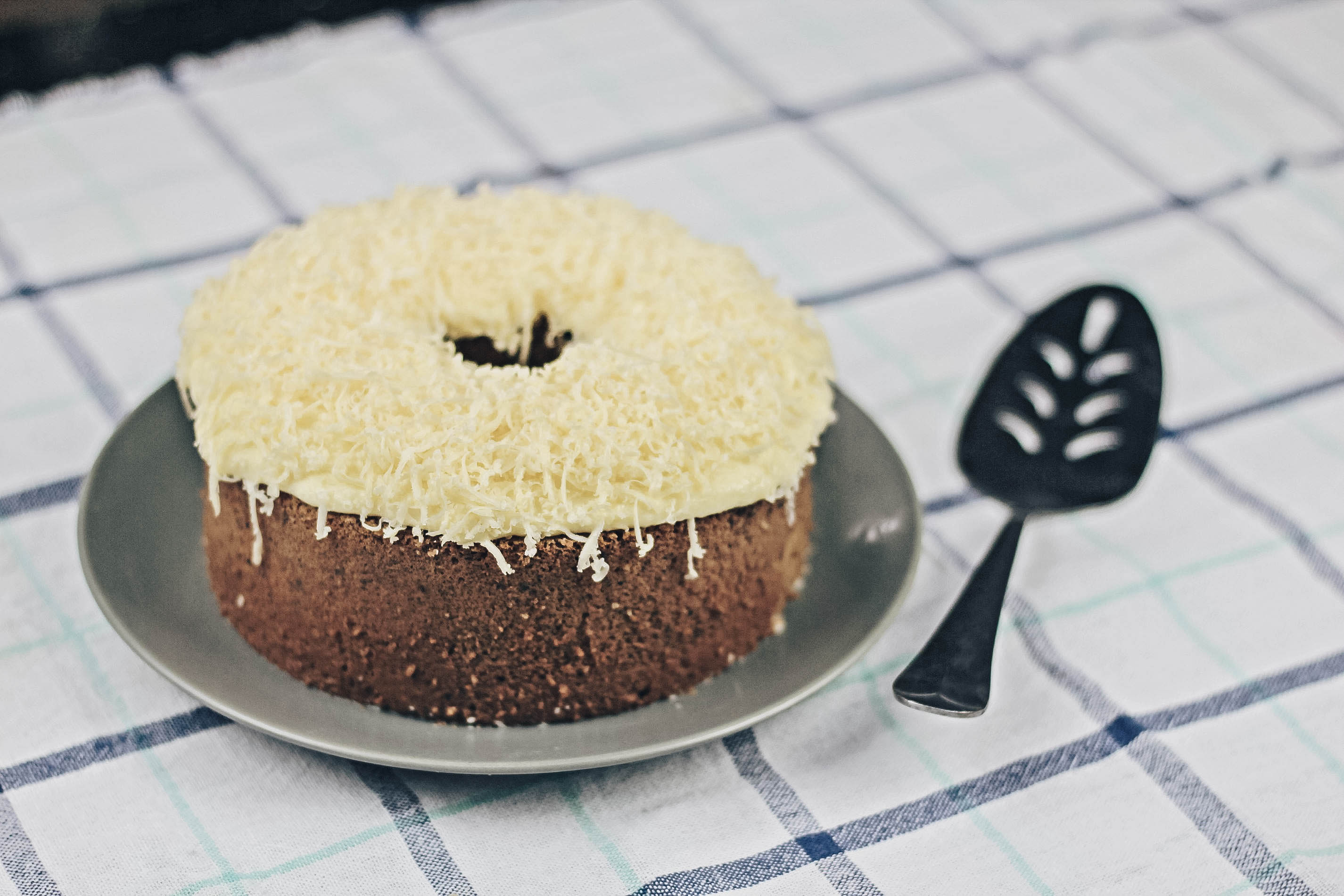 I know the combination of Jasmine Green Tea and Cheese sounds weird. But, the Cheese actually complements quite well with the flavor of the leaves.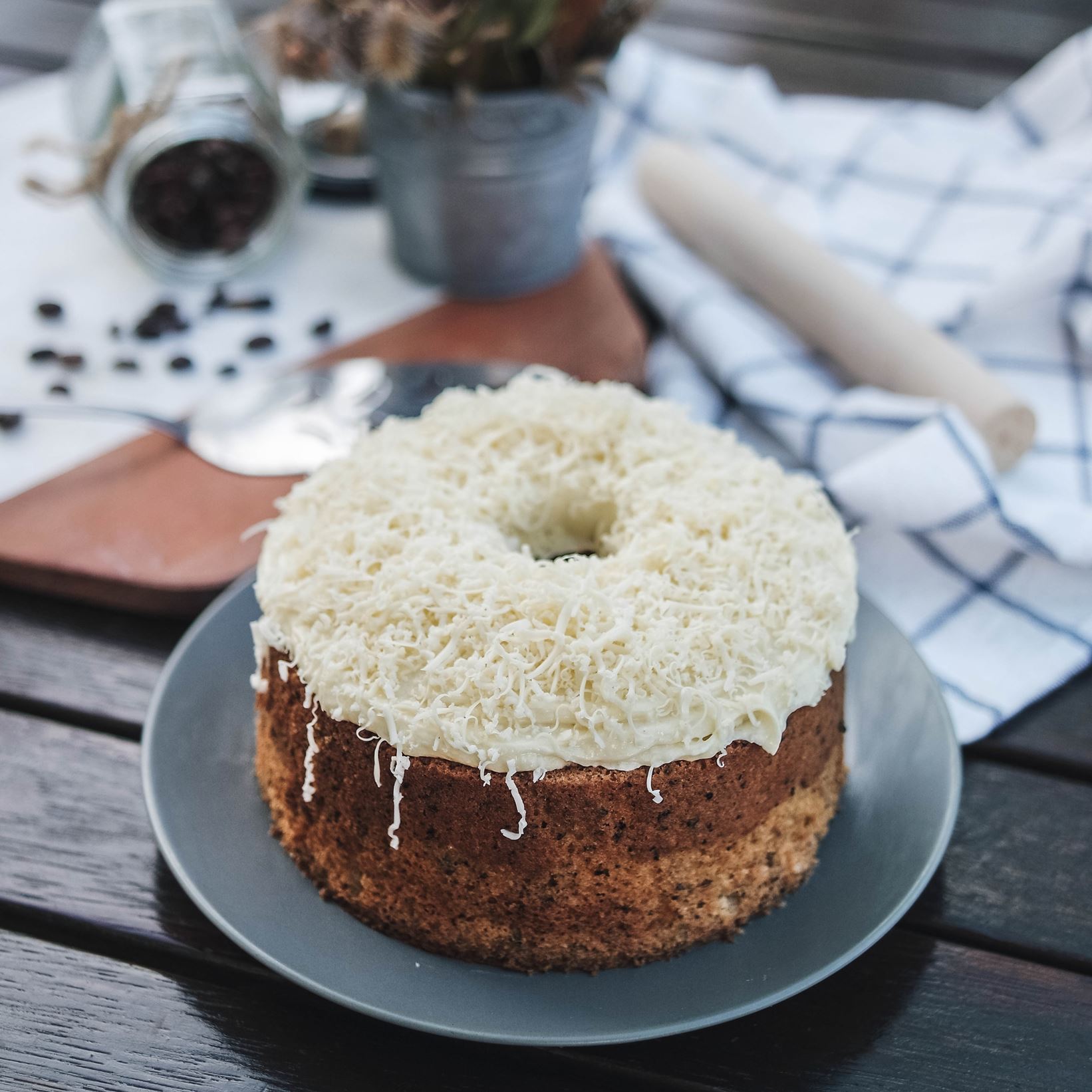 Jasmine Green Tea drink is a common choice for Singaporean. Though we don't really put cheese on our baked goods, I got my inspiration from Indonesia. Indonesians love to sprinkle shredded cheddar cheese onto their cakes. I was intrigued to try it out and when I got to try it, it was lovely.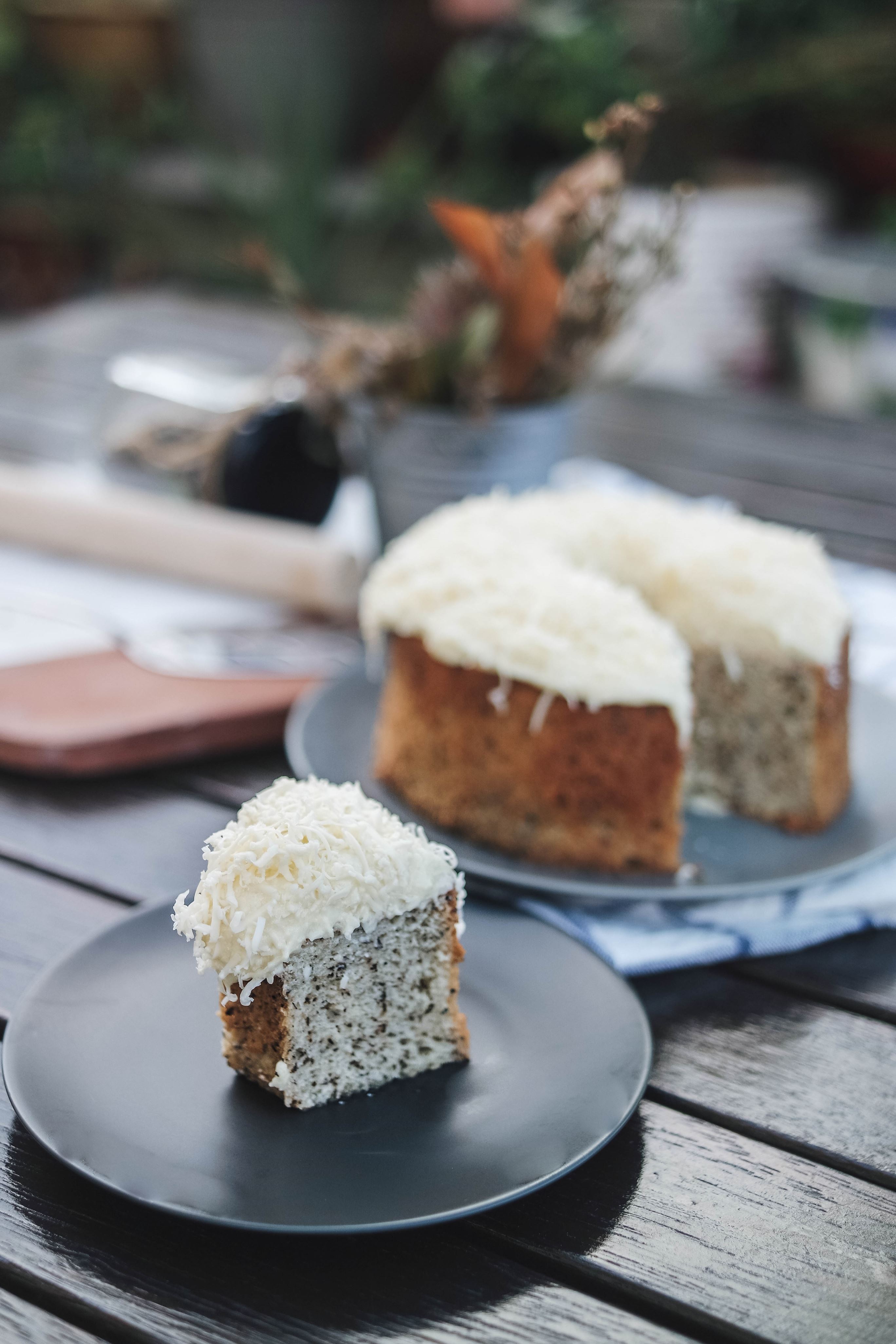 To extract all the flavors out from the tea leaves, I infused the leaves with melted butter. I find that this will yield you a stronger aroma. I also make sure to soak the chiffon cake with brewed sweetened tea. This would make sure that the cake will not dry out when chilling it in the fridge and also at the same time enhancing the flavour of the mild Jasmine Green Tea.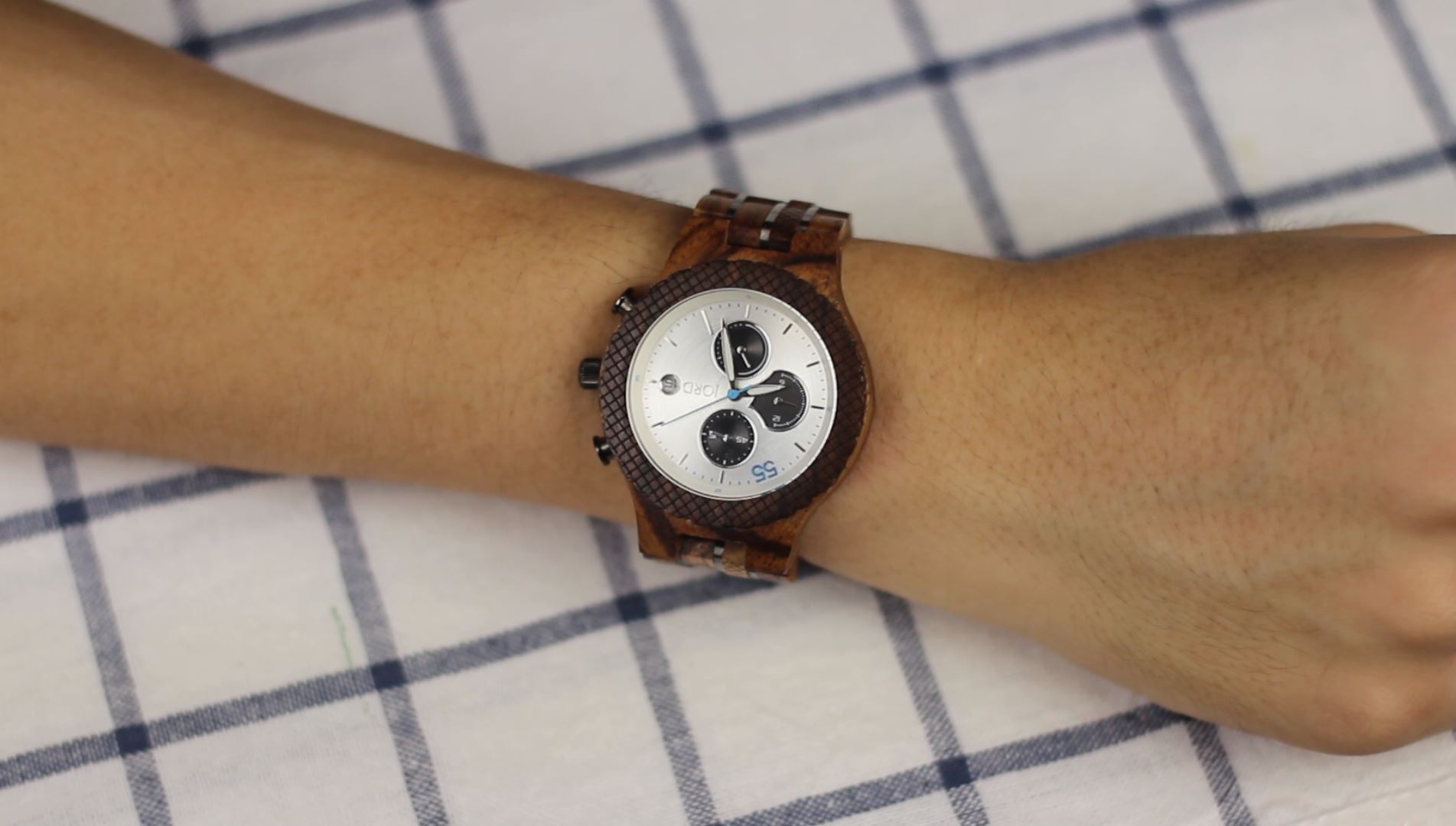 Check out JORD watches here!
I chose JORD CONWAY series is because I feel that the white balance well with the wood, at the same time making sure that it is suitable for any occasion, even when baking! #JORDWATCH #OOTD
Look at how I style up with JORD watches here!

Jasmine Green Tea Chiffon Cake with Cheese
2017-07-17 04:38:00

Egg White
2 egg whites
1/4 tsp. of white vinegar
3 tbsp. (45 grams) of fine sugar
Egg Yolk Batter
2 egg yolks
2 tbsp. (30 grams) of fine sugar
40 grams of plain flour
10 grams of corn starch
Matcha powder 1 tsp
1/2 tsp. of baking powder
1/8 tsp. of salt
2 bags of Jasmine Green Tea
4 tbsp. (60ml) of butter
4 tbsp. (60ml) of milk
Brewed Tea
125 ml of hot water
1 tbsp of sugar
1 pack of jasmine green tea bag
Frosting
60 grams of Full-Fat Cream Cheese, soften at room temperature
30 grams of unsalted butter, soften at room temperature
65 grams of icing sugar
2 tsp. corn starch
Instructions
Preheat oven to 170C
Melt butter and tea leaves in a pot until it started to boil. Shut off the heat and leave it to cool while you prepare your other ingredients.
For the egg yolk batter, in a bowl whisk egg yolks and sugar until pale and fluffy.
Drizzle in milk, mix well.
Followed by your infused melted butter.
Sift in plain flour, cornstarch, baking powder and matcha powder until just combined. Set aside.
In your mixer bowl, whisk egg whites and vinegar on high speed until frothy.
Then, gradually add in sugar while whisking on high speed until stiff peaks.
Fold in egg white batter into egg yolk batter a third at a time.
Transfer into a 6 inch ungreased chiffon cake pan.
Bake it in the oven at 170C for 35 minutes.
Let it cool upside down completely.
Use a thin knife carefully slide around the pan to remove the cake.
Brush the chiffon cake with brewed tea. Cover with a cling wrap and let it cool in the fridge while you make your frosting.
Whip softened cream cheese and butter until well combined.
Then stir in sifted icing sugar and cornstarch and continue to whip for awhile more until fluffy.
Spread evenly onto your cooled chiffon cake.
To serve, sprinkle shredded cheddar cheese and make sure to go over the top.
TheZongHan https://thezonghan.com/